Tata Motors will showcase an all-new powerful 1000 bhp T1 Prima race truck in Season 4 of the T1 Prima Truck Racing Championship. With over double the power in comparison to the other competing T1 race trucks, the all-new 1000 bhp T1 Prima race truck will further add exciting dimensions of speed and character to T1.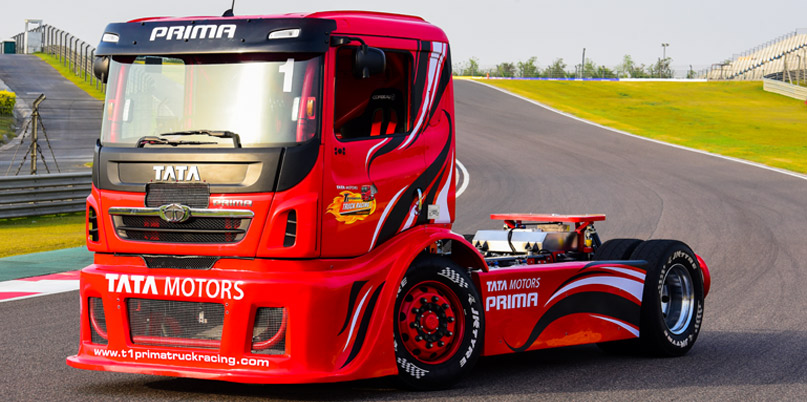 Speaking at the occasion, Mr. Ravindra Pisharody, Executive Director – Commercial Vehicles, Tata Motors, said, "After having hosted three successive T1 seasons, we at Tata Motors are happy to announce our next big innovation in the form of the 1000 bhp T1 Prima race truck. Built with specifications similar to that of trucks that race globally, the vehicle was developed in a record time 12 months – a demonstration of teamwork, speed and capability. With this new track based machine, we are truly ahead of contemporary; we are FUTURE READY and through T1 we've proved time and again to showcase a distinctive partnership between sporting and technological excellence for the Tata Motors brand."
The new Tata truck is powered by a 12-litre ISGe Cummins engine which delivers a power of 1040 HP @ 2600 rpm and a massive torque of 3500 Nm @ 1600 – 2200 rpm. The engine is mounted in the centre of the chassis for equal weight distribution and gets coupled with an all-new ZF 16-speed gear box. The T1 Prima is the fastest race truck developed by Tata Motors and can accelerate from 0 to 160 km/hr within 10 seconds.
The engine is designed with high performance rotating parts made of special materials to withstand high temperature & pressure that a race truck is subject to on a race track.
Season 4 of T1 Prima Truck Racing Championship will also have accomplished racers from FIA's European Truck Racing Championship (ETRC) taking part in the championship for the very first time. The ETRC will be represented by six racers from the rest of Europe, who will participate in in the PRO CLASS category alongside six British drivers from the British Truck Racing Association (BTRA), who have raced in T1 since the competition was first introduced in 2014. Among these are Spanish Antonio Albacete, three-time ETRC Champion (2005, 2006 & 2010), Hungarian Nobert Kiss, two-time ETRC Champion (2014 & 2015) and T1's first female driver Stephanie Halm.
India's only truck racing championship is organised by Madras Motor Sports Club (MMSC), with safety and performance standards as per the guidelines of the British Truck Racing Association (BTRA) and is conducted under the aegis of FIA & FMSCI.
Tata Motors has also associated with some of the country's leading automotive brands which include WABCO – Official Braking Technology Partner, JK Tyre – Official Tyre Partner, Castrol – Official Lubricant Partner, Cummins – Official Engine Technology Partner and Tata Technologies – Official Technology Partner.
Season 4 of the T1 PRIMA Truck Racing Championship will be held on Sunday, March 19, 2017, at the Buddh International Circuit (BIC), Greater Noida.
Tata Motors T1 Prima Truck Racing Championship – Image Gallery
Tata Motors 1000 bhp Prima Race Truck Specifications:
Engine: 1040 HP, 12-litre engine mounted in the centre of the chassis for equal weight distributions over axles.
Gearbox: 16-speed gearbox with hydraulic assisted gear shifting which gives comfort to the driver while shifting the gears
Chassis: Box type frame, specially made with 2 cross members only Sub-frame – reinforced with frame to enhance structural rigidity of frame, as well for packaging components
Racing Seat: Inclined (slipping mode) type
Steering Wheel: Detachable type fitted with 20-degree castor angle for better steerability and self-centring at corners.
Cabin: Day Cab fitted with Roll Cage
Engine Cooling System: Intercooler mounted vertically & Inclined mounted Radiator with 2 cooling fans inside the closed duct. Additional nozzles for water spray on Radiator & Intercooler to enhance cooling efficiency.
Braking: Front & Rear Axle mounted with Disc type brakes for higher braking efficiency & speedy cooling
Tyres & Wheel Rims: Racing specific slick type smooth tread tyres
Suspensions: 2 Leaf springs, pneumatic shock absorbers with 3 adjustment & displacement sensors
Brake Disc Cooling: Air pressurised water fed to brake discs through sensor based Nozzle Jets. Primary cooling through continuous water flow & secondary jet operated automatically on increase of Brake Disc Temp. Arrangement has 3 Aluminium Tanks with a total capacity 180 litres of water.
Fuel System: Light-weight 80 litre aluminium tank and fuel cooler
Power cut off switch: Mounted at rear, operated manually, as well as mechanically.
Electronics system: App Based (Wi-Fi enabled) remotely controlled diagnosis.
Driver Information System: Provision of Rear-View Camera, GPS etc. Display unit with Touch Screen
Save
Save
Save