INTRODUCTION
The fourth iteration of the Skoda Superb improves upon its predecessor's strengths by offering a more elegant design, increased space, enhanced comfort, and cutting-edge technology. Customers considering the new Škoda Superb can once again choose between a Combi estate or a hatchback model. The updated lineup includes seven Design Selections, providing various eco-friendly solutions, like sustainable materials in the upholstery. Additionally, it introduces innovative features such as Skoda Smart Dials and a new interior concept with a standalone 13-inch infotainment screen for added user-friendliness. The interior has a neat and roomy appearance. Škoda has also fine-tuned its powertrains for better efficiency, offering three petrol engines ranging from 110 kW (150 hp) to 195 kW (265 hp) and two diesel options with 110 kW (150 hp) and 142 kW (193 hp). Moreover, the lineup includes a brand-new plug-in hybrid powertrain exclusively available for the Combi estate and a fresh mild-hybrid variant. In terms of safety and assistance, the Superb introduces innovative systems like Turn Assist and Crossroad Assist for the first time.
The fourth-generation Superb introduces a fresh, more spacious interior design with a sleek and organized look, along with user-friendly operation. The all-new interior concept boasts a standalone infotainment screen, which can be as large as 13 inches. The gear selector has been relocated to the steering column, resulting in a cleaner, more spacious center console. For the first time in the Skoda Superb, you have the option to get a head-up display.
The new Škoda Smart Dials provide a quick and easy way to access various vehicle and infotainment functions. Additionally, the Skoda Superb adopts the new range structure with Design Selections, originally introduced with the Skoda Enyaq, offering themed option packages as well as individual choices.
New features include a Phone Box with wireless 15-watt fast charging and a cooling system for your smartphone. The Superb also introduces Ergo seats with ten air-controlled massage cushions, designed for improved comfort. In the Skoda Superb estate model, there's an electrically operated load cover among the 28 new Simply Clever features.
With a successful journey spanning over twenty years and across three model generations, the Škoda Superb has achieved remarkable milestones. The Superb made its debut in 2001, and to date, over 1.6 million units have been manufactured. Production facilities for the Superb are located in Kvasiny (Czech Republic), Solomonovo (Ukraine), Aurangabad (India), and Nanjing (China).
Throughout its history, the Superb has earned numerous international accolades and awards, with more than 30 of them being received in 2016 alone. Notably, the Superb Combi estate received the Red Dot Award for outstanding product design. From 2001 to 2008, the first-generation Superb saw 137,000 units delivered. The second generation, available from 2008 to 2015, achieved sales of 618,000 units. In 2009, it introduced the estate version of the Superb.
The third-generation Skoda Superb, launched in 2015, has seen the production of 845,000 units up to the present day. Among the major European markets for the third-generation Superb, Germany leads with 153,222 vehicles sold (up to September 2023), followed by the Czech Republic with 61,479 vehicles and the United Kingdom with 57,054 vehicles.
EXTERIOR
The fourth-generation Skoda Superb is available in two body styles: a hatchback saloon and a Combi estate. Both exhibit a more refined and sculptural design and feature second-generation LED Matrix beam headlights. The new Superb showcases the octagonal Skoda grille, the Škoda logo on the bonnet, and front apron trim strips finished in Unique Dark Chrome. Through several small adjustments, the all-new Superb achieves exceptional aerodynamics. Slight increases in length and height have further enhanced the interior's overall dimensions. Škoda is introducing six new colors for customers to choose from.
Enhanced Design and Streamlined Aerodynamics
Skoda Auto has made significant advancements in the aerodynamics of both the Superb hatchback and Combi estate models. These improvements include a more sloped windshield, a streamlined roofline, and an optimized roof spoiler, complemented by finlets on the Combi version. Additionally, various details have been fine-tuned, such as redesigned exterior mirrors, A-pillars equipped with rain deflectors, and a front bumper featuring Air Curtains. The wheels and tires have also been aerodynamically optimized.
As a result of these changes, the hatchback's aerodynamics have improved by ten percent compared to its predecessor, with the drag coefficient now at 0.23. For the estate version, the aerodynamics have improved by up to 15 percent, achieving a drag coefficient of 0.25. These enhancements contribute to reduced fuel consumption and emissions. An electrically operated active shutter is positioned behind the central front air intake to control air flow for engine cooling. Another automatically controlled feature is the front brake cooling system, which utilizes the airflow generated by the radiator fan. Furthermore, optimized deflectors ahead of the front wheels and upgraded underbody covers help streamline the airflow beneath the car.
New Octagonal Škoda Grille, Unique Dark Chrome Finish, and LED Matrix Beam Headlights
The front of the all-new Superb is characterized by the new octagonal Škoda grille, adorned with the Skoda logo on the hood and the trim strips on the front apron. These elements are finished with a special Unique Dark Chrome coating, similar to the lettering on the tailgate. Additionally, the new Superb offers optional second-generation LED Matrix beam headlights, which come as standard on the Skoda Superb L&K variant.
These sleek headlights incorporate two side-by-side BiLED modules, one for the low beam and another for the high beam, with a static, crystalline cornering light situated in between. The two BiLED modules comprise a total of 36 individual matrix segments, each of which can be controlled independently to prevent glare for oncoming traffic when using high beams or to illuminate road signs. They provide 40 percent more light compared to the first-generation lights. Beneath the BiLED modules, there is a slim LED strip resembling an ice block and taking the shape of a horizontal "L," serving as a parking light, daytime running light, and turn signal. The fog light offers ample visibility in adverse weather conditions.
The distinct appearance of the LED Matrix beam headlights is further enhanced by the Crystallinium design, accentuating their contours and enhancing their visual appeal. The basic headlamps consist of two LEDs for low and high beams, with a horizontal LED strip below serving as a parking light, daytime running light, and turn indicator.
The rear lights are noticeably more slender than in the previous model and are available in two versions. The top version, which comes standard with the L&K trim, adds dynamic turn signals and an animated Coming/Leaving Home function to the standard version included with the Essence and Selection trim levels. The upper section of the C-shaped rear light cluster extends into the tailgate, and the entire upper area of the rear lights, composed of new crystalline elements, is illuminated.
Both body styles now longer and taller
Both the hatchback and the Combi estate versions of the all-new Škoda Superb have increased in length and height compared to their earlier models, with the wheelbase remaining the same. Boot capacity has grown by 20 litres to 645 litres for the hatchback and by 30 litres to 690 litres for the estate. In the estate version, when the rear seats are folded down, the total boot capacity is an impressive 1,920 liters.
Six new exterior colours and alloy wheels up to 19 inches
The fourth-generation Superb offers a choice of six metallic and two solid colors. Among these, there are six new options, including the solid Purity White and metallic choices like Pebble Silver, Ebony Black, Cobalt Blue, Carmine Red, and Ice Tea Yellow. All new Skoda Superb models come with standard alloy wheels, which range from the 16-inch Sagitta rims in silver to the option of 19-inch wheels.
INTERIOR
The all-new Skoda Superb introduces a fresh interior concept with a streamlined center console that not only looks neat but also provides increased storage space. This change is due to the shift of the gear selector lever to the steering column. The all-new Superb offers Ergo seats with ten massage cushions that can be pneumatically adjusted for comfort. The updated lineup includes seven Design Selections within its range structure.
The new Skoda Smart Dials combine tactile and digital elements, offering an easy and quick way to access various vehicle functions. The flagship ICE Superb now features a standalone infotainment display, which can be as large as 13 inches. Additionally, there is an optional head-up display available, complementing the 10-inch Virtual Cockpit.
Škoda has placed a strong focus on sustainability, with all textiles in the new Superb made from 100 percent recycled materials. The Skoda Superb also incorporates several convenient features under the "Simply Clever" category, including an electrically operated load cover in the Combi estate model.
Completely digital displays and an organized center console with optional navigation:
The interior of the Superb stands out with its novel free-standing infotainment display, a first for this model, and an updated center console. The center console is characterized by its sleek and orderly appearance, offering more storage space than before, thanks to the relocation of the gear selector lever to the steering column. The Jumbo Box now boasts a total storage capacity of 5.5 litters. To enhance user-friendliness, there's a hand rest that ensures comfortable interaction with the central touchscreen display, which is available in 10 or 13-inch diagonal sizes.
The standard infotainment system includes a 10-inch central multi-touch display, offering features like DAB+ radio reception, gesture control, and voice command. The optional package includes navigation functionality, online radio, and a 13-inch screen. A 10-inch Virtual Cockpit comes as a standard feature, while an optional head-up display is now offered for the first time in the Superb.
Skoda Smart Dials combine digital and haptic elements
You'll find three versatile Škoda Smart Dials cleverly integrating both haptic and digital features positioned between the infotainment display and the center console. They are designed for easy operation through rotation and pressing, and each one boasts a 32-millimeter digital color display. These controls provide quick access to a range of vehicle functions and are finished with Unique Dark Chrome touches.
The two outer Smart Dials, for the driver and front passenger, are responsible for adjusting interior temperature, seat heating, and seat ventilation. The current function of each Smart Dial is displayed on the screen and can be changed by pressing it. As for the center Smart Dial, drivers can customize it to manage up to four functions such as adjusting the infotainment system volume, fan speed, air direction, smart air conditioning settings, driving modes, and map zoom. The configuration of the center Smart Dial can be personalized through the relevant infotainment system menu, with a long press used to switch between functions.
There are also four additional hardware buttons located between the dials that provide direct access to functions like windscreen ventilation, rear window heating, air recirculation, and automatic air conditioning. Additionally, a climate control menu will be introduced shortly, granting easy access to all heating functions for seats, steering wheel, windscreen, and rear window with a single Heaters button. Detailed customization can be done in the infotainment system's Air Conditioning menu.
In the all-new Skoda Superb, you'll discover a new Phone Box that facilitates rapid inductive charging at 15 watts for your smartphone, along with a cooling function during the charging process. Starting from the Selection trim level and up, the vehicle comes equipped with four 45-watt USB-C ports as a standard feature, with two located in the front and two in the rear. Additionally, an extra 15-watt USB-C port on the back of the interior mirror is included from the Selection trim level and onwards. These 45-watt ports can not only charge smartphones and tablets but also power laptops. Furthermore, from the Essence trim level and beyond, eight speakers integrated into the door panels and a central speaker in the instrument panel are included as standard. An optional Canton Sound System is available, featuring 14 speakers, including two surround speakers.
Seven Design Selections and an emphasis on sustainable materials
The Superb introduces the new Škoda range structure, presenting customers with a choice of seven Design Selections that incorporate thoughtfully coordinated colors and materials, inspired by modern living environments. The Studio Design Selection, featuring black and grey fabrics, comes as a standard inclusion with the Essence trim level. Additionally, the Selection trim level offers four Design Selection options. Skoda customers also have the flexibility to select from 13 themed option packages and 15 individual customization choices.
In a significant commitment to sustainability and the use of premium materials within the Superb's interior, Skoda Auto has made substantial efforts. All textiles, including the headliner, within the all-new Superb are crafted from 100 percent recycled materials. Even the leather used in the cognac-colored Suite and L&K Suite Design Selections undergoes tanning using wastewater from olive processing. Furthermore, Škoda's iconic umbrella and ice scraper are now fashioned from sustainable materials. The chrome elements in the interior have been substituted with the new Unique Dark Chrome trim. The two-spoke multifunction steering wheel carries the new Škoda logo, and all Design Selections come with sleek black louvres on the instrument panel. To enhance driver comfort, there is a knee pad on the side of the center console, designed to match the relevant Design Selection. The rear-view mirror is frameless and equipped with automatic dimming functionality.
Three seat variants and new Simply Clever features
The fourth-generation Superb provides a choice of three distinct front-seat configurations. The Studio Design Selection seats are upholstered with fabric and can be manually adjusted for both height and length. The Loft and Lounge Design Selections, equipped with fabric upholstery, introduce additional features, including manual adjustment for cushion length, electrically adjustable backrest angles, four-way lumbar support, and a three-air cushion massage function.
The Suite versions elevate comfort with heated and ventilated Ergo seats featuring perforated leather/leatherette upholstery, seat memory for both front seats, and Smart Comfort Entry. These seats also offer an improved massage function, employing ten pneumatically controlled air cushions that can be controlled through the infotainment menu or the seat trim.
Among the new additions to enhance convenience, the SkodaSuperb Combi estate now features an electrically operated load cover. The Jumbo Box located beneath the split and fold-up center armrest now includes a removable glasses compartment and a tray with a display cleaner. The Superb introduces smartphone pockets on the front seat backrests, and a new sliding rear center armrest with integrated cup holders and a tablet holder. Storage compartments in the front door panels provide space for items such as the Skoda umbrella.
List of 28 Simply Clever features available for the new Skoda Superb, depending on the trim level:
Smart Dials
Parking ticket clip
Ice scraper made from sustainable materials on the fuel filler flap
Pen holder, slot for coins and grip for removable sunglasses compartment in the glove box
Easy-open cupholder
Foldable bag hooks in the boot
B-pillar hooks
Misfuelling prevention device
Button-operated folding of rear backrest from the boot
Four lashing eyelets in the boot
High-visibility vest storage in all doors
Rear-view camera washer
1.5-litre bottle holder in the front and rear doors
Removable sunglasses compartment in the Jumbo Box
Storage tray in the Jumbo Box
Mobile phone pockets on the backs of the front seats
USB port in the rear-view mirror
Storage compartment in the driver's door panel, including umbrella made from sustainable materials
Two cargo elements in the boot
Funnel integrated into the lid of the windscreen washer tank
Electronic child lock
Optional:
Multi-purpose storage pocket under the boot cover for the hatchback version
Electrically operated load cover for estate
Multi-purpose storage pocket under the boot cover, now with additional bag hooks
Door-panel waste bin
Sleep package (special headrests, blanket)
Tablet holder on the headrest
Rear armrest with integrated cup/tablet holder, now adjustable lengthwise
Continuous internet connectivity enables a range of online capabilities.
The Superb's permanent internet connection supports "over the air" updates for the infotainment system, online-based route planning, and various mobile online services through Skoda Connect. These services encompass features like Proactive Service and Remote Access, which are part of Infotainment Online and Care Connect.
Additionally, the Superb Combi iV plug-in hybrid offers specific functions like Remote Charging, Remote Air Conditioning, and Departure Planner, with Plug & Charge to be introduced later. The infotainment experience includes access to apps such as Weather, News, Traffication, Calendar, Offers, and Pay to Park.
Furthermore, features like Navigation, ACC (Adaptive Cruise Control), additional color options, functions for ambient lighting, and High Beam Control can be conveniently added online through Functions on Demand.
POWERTRAINS
Škoda Auto offers six versatile, modern, and highly efficient powertrains for the all-new Superb, offering a performance spectrum ranging from 110 kW (150 hp) to 195 kW (265 hp).
Plug-in hybrid drive with new 1.5 TSI and larger high-voltage battery
The all-new plug-in hybrid system, built upon a 110 kW (150 hp) 1.5 TSI engine from the latest EA211 evo2 engine series, is exclusively offered for the Superb Combi estate. This system delivers a combined power output of 150 kW (204 hp). The power is transmitted to the front wheels through a 6-speed DSG transmission.
With a gross capacity of 25.7 kWh, the updated high-voltage battery is approximately twice the size of its predecessor. This larger battery enables an impressive all-electric range of over 100 kilometers according to the WLTP cycle. The battery can be rapidly recharged from zero to 100 percent within 2 hours and 30 minutes using domestic wallboxes and AC charging points, with a maximum charging rate of 11 kW. Charging at public DC fast charging stations is even quicker, taking just 25 minutes to charge the battery from 10 to 80 percent, thanks to a maximum charging rate of 50 kW. Additionally, energy is recovered during braking.
The Skoda Superb Combi iV's infotainment system comes with unique features designed to precisely locate charging stations, and it will also support Plug & Charge functionality in the future.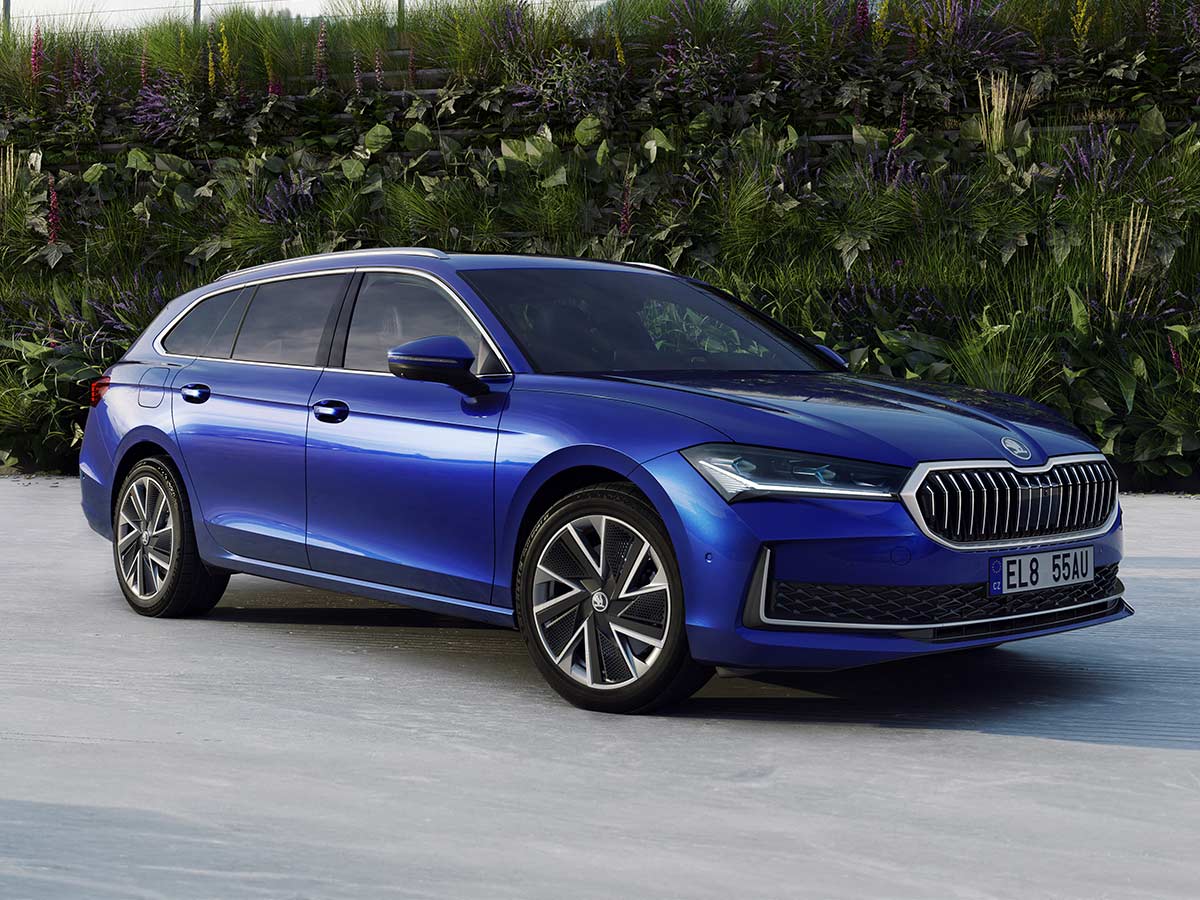 Entry-level engine with mild-hybrid technology, DSG as standard for all powertrains
The latest addition to the Superb's engine lineup is a 110 kW (150 hp) 1.5 TSI petrol engine, derived from the latest EA211 evo2 engine series and equipped with mild-hybrid technology. This introduction marks the debut of a 48-volt belt-driven starter-generator and a 48-volt lithium-ion battery in the Škoda Superb. Energy recovered during braking can provide electric power assistance to the combustion engine or enable the Superb to coast with the engine completely deactivated.
The fourth-generation Superb offers two additional petrol engines and two diesel options. Like the 1.5 TSI, all of these engines are paired with a 7-speed DSG transmission. The two 2.0 TSI engines deliver power outputs of 150 kW (204 hp) and, in the highest trim model, an impressive 195 kW (265 hp). The two 2.0 TDI diesel engines produce 110 kW (150 hp) and 142 kW (193 hp). The latter and the top-tier petrol engine come equipped with all-wheel drive as a standard feature. Furthermore, all engines conform to the Euro 6d emissions standard.
DCC PLUS
The all-new Superb offers an optional feature, the new DCC Plus, which comes as a standard feature in the Superb L&K model. This updated version utilizes two independently controlled valves to manage the suspension's rebound and compression phases, in contrast to the previous system where both functions were controlled by a single valve. This advancement allows for quicker adjustments in damping and a wider array of damping characteristics.
Drivers and passengers will immediately recognize the benefits of this improvement, resulting in swifter responses and the option for enhanced driving dynamics or increased ride comfort, depending on individual preferences. When configured with the appropriate DCC Plus setting, the car's body maintains greater stability and is less prone to vibrations and vertical movements, especially when navigating challenging road surfaces, cobblestones, or passing over manhole covers.
SAFETY
Regarding safety, the fourth-generation Superb will offer new intelligent assistance features, including Turn Assist and Emergency Steering Assist. Additionally, previously existing systems like Travel Assist, Side Assist, and Front Assist have undergone substantial enhancements. In case of an accident, Crew Protect Assist and up to ten airbags ensure the safety of occupants. Thanks to thorough testing and the most advanced technology, the all-new Superb prioritizes the utmost safety for its passengers.
Introducing New Intelligent Assistance Systems in the Superb's Fourth Generation
The fourth-generation Superb is equipped with a range of innovative and intelligent assistance systems, some of which are making their debut in this model series. These new features include Turn Assist, Crossroad Assist, Emergency Steering Assist, and Exit Warning. Additionally, there's an upcoming addition, Automated Emergency Braking – pedestrian rear, which will be incorporated in the near future.
Turn Assist, the latest-generation system, issues warnings and can automatically apply brakes when it detects an approaching vehicle while making a turn in the presence of oncoming traffic. Emergency Steering Assist enhances steering inputs during sudden evasive maneuvers if the driver's reactions are delayed or insufficient to prevent a collision. Electronic Stability Control (ESC) intervenes automatically to prevent oversteer or understeer. Emergency Steering Assist operates within speeds of 30 to 150 km/h, allowing it to be turned off in the infotainment menu but not permanently deactivated.
Crossroad Assist utilizes radar sensors and the front camera to alert the driver to crossing traffic, cyclists, or pedestrians when exiting a driveway or a blind exit. When necessary, it can trigger both visual and audible warnings and even apply the brakes automatically.
Exit Warning issues visual warnings in the exterior mirror and an audible alert if the door is opened while traffic is approaching from behind. It has a range of 35 meters and covers a 120-degree angle.
Effortless and Safe Parking with Intelligent Park Assist
The upgraded Intelligent Park Assist is designed to effortlessly park the Superb in both perpendicular and parallel parking spots. This enhanced system not only manages the steering but also controls the vehicle's speed, automatically coming to a stop when it detects an obstacle. For rearward parking, the upcoming Automated Emergency Braking – pedestrian rear will provide additional support.
In contrast to the previous Manoeuvre Assist, which relied solely on rear sensors to assess the vehicle's surroundings, the new system incorporates images from the improved Rear View Camera. This integration enhances its ability to detect pedestrians and children, further enhancing safety during parking maneuvers.
Functional enhancements for Travel Assist, Side Assist and Front Assist
Travel Assist has undergone further improvements, now offering enhanced visualization of nearby vehicles in the Virtual Cockpit. The Assisted Drive Basic package incorporates features like Adaptive Lane Assist and Adaptive Cruise Control (ACC). These systems work in conjunction with the navigation system to anticipate curves, intersections, and roundabouts. Traffic Jam Assist seamlessly combines the capabilities of Adaptive Cruise Control and Adaptive Lane Assist, facilitating automatic starting, braking, and steering in congested traffic situations at speeds up to 60 km/h, all while monitoring nearby vehicle movements.
The latest iteration of Side Assist extends its detection range for vehicles approaching from behind, increasing it from 70 to 90 meters, particularly beneficial on highways. This enhancement is made possible by more robust radar sensors positioned at the bumper corners. Front Assist now includes advanced cyclist protection. The new Attention and Drowsiness Assist replaces the previous Driver Alert, continuously monitoring driver behavior and assessing the level of potential driver fatigue.
While Driver Alert primarily relied on data from the electromechanical power steering, Attention and Drowsiness Assist access information from various vehicle control systems, including Lane Assist. This updated system can detect deviations from typical steering behavior at speeds over 70 km/h and continually evaluates the driver's actions to determine their fitness to continue driving. If signs of driver fatigue are detected, the system triggers visual and audible alerts in the Virtual Cockpit.
Crew Protect Assist, Emergency Assist and up to ten airbags protect the occupants
In the all-new Superb, a range of safety features is dedicated to protecting the occupants. When the vehicle's sensors detect emergency braking, panic stops, or an impending collision from the front, side, or rear, Crew Protect Assist takes action by automatically closing any open windows, including the panoramic roof if necessary. It also activates the hazard warning lights and tightens the front seat belts, enhancing safety measures.
In the unfortunate event of an accident, the Skoda Superb employs up to ten airbags to safeguard its occupants. This includes standard airbags for the driver and front passenger, as well as a driver's knee airbag. The standard equipment also features side airbags for the front seats and head airbags. Notably, this model series introduces a central airbag positioned between the front seats. For added protection, side airbags for the second row of seats are available as an optional feature.
Emergency Assist further mitigates accident risks in situations where the driver becomes unable to control the vehicle, possibly due to a medical emergency. If such a condition is detected, the system takes control of lane-keeping, activates hazard warning lights, and gently initiates braking to bring the vehicle to a halt. Following this, the latest-generation system automatically unlocks the doors, switches on interior lights, and activates eCall 15 seconds after the vehicle comes to a stop.
SUPERB L&K: The Pinnacle Model
In its fourth generation, the Škoda Superb ICE flagship once again positions the L&K as the top-of-the-line model. This version boasts distinctive exterior elements featuring Unique Dark Chrome accents and the exclusive L&K Suite Design Selection with the choice of black or cognac-colored leather/leatherette upholstery, giving it a unique and sophisticated appeal.
The Superb L&K comes equipped with a range of premium features, including LED Matrix beam headlights, DCC Plus for enhanced dynamic chassis control, and progressive steering for an improved driving experience. To elevate passenger comfort, Ergo seats with heating, ventilation, and a massage function featuring ten air cushions are included.
This model is not only about luxury but also offers outstanding audio quality with a Canton sound system comprising 14 speakers, ensuring exceptional acoustics. The Superb L&K is available in both hatchback and Combi estate configurations and can be configured with a variety of powertrains to meet individual preferences.
Elevated Elegance with Unique Dark Chrome and Abundant Standard Features
The Skoda Superb L&K offers a combination of refined exterior aesthetics and a comprehensive set of standard features. This trim level, paying homage to the company's founders, Václav Laurin and Václav Klement, is compatible with all available powertrain options and showcases numerous exterior elements accentuated with Unique Dark Chrome. These elements encompass the framing of the Škoda grille, detailing on the front apron and rear diffuser, and the Škoda lettering at the rear. For the Combi estate version, there are exclusive anodized silver-finished roof rails.
Standard inclusions comprise 18-inch Belatrix polished anthracite alloy wheels and L&K badges on the front fenders. The vehicle also comes equipped with LED Matrix beam headlights, LED rear lights featuring animated indicators, and an electric tailgate with a virtual pedal for effortless operation. Adding to the driving experience, DCC Plus and progressive steering ensure the versatility to deliver both sporty and exceptionally comfortable driving dynamics.
L&K Suite Design Selection with Black or Cognac Leather/Leatherette
The Skoda Superb L&K presents the exclusive L&K Suite Design Selection, featuring standard perforated black leather/leatherette upholstery, with an optional choice of cognac-colored leather/leatherette. It's important to note that all leather used in this interior is sustainably tanned. The headrests are elegantly embossed with the Laurin & Klement lettering.
The Ergo seats, which come with heating and ventilation, offer a multitude of features, including seat memory with Smart Comfort Entry and a massage function that utilizes ten pneumatically controlled air cushions for maximum comfort. The dashboard and door panels are adorned with Softtouch Kida decorative trim, complemented by Unique Dark Chrome trim accents and ambient lighting.
The door panels and knee pads are upholstered in synthetic leather that matches the seat upholstery's color. Additionally, the upper section of the instrument panel showcases double stitching in either grey or cognac. This premium configuration also includes a sliding rear center armrest and a top-tier Canton sound system equipped with 14 speakers.