The 2024 Honda Ridgeline is geared up for both tough work and thrilling play, boasting enhanced off-road capabilities, refreshed aesthetics, and an upgraded tech-infused interior. The first-ever Honda Ridgeline TrailSport takes off-road prowess to the next level, catering to weekend adventurers with a range of new features like a specially tuned suspension, all-terrain tires, and robust steel underbody protection.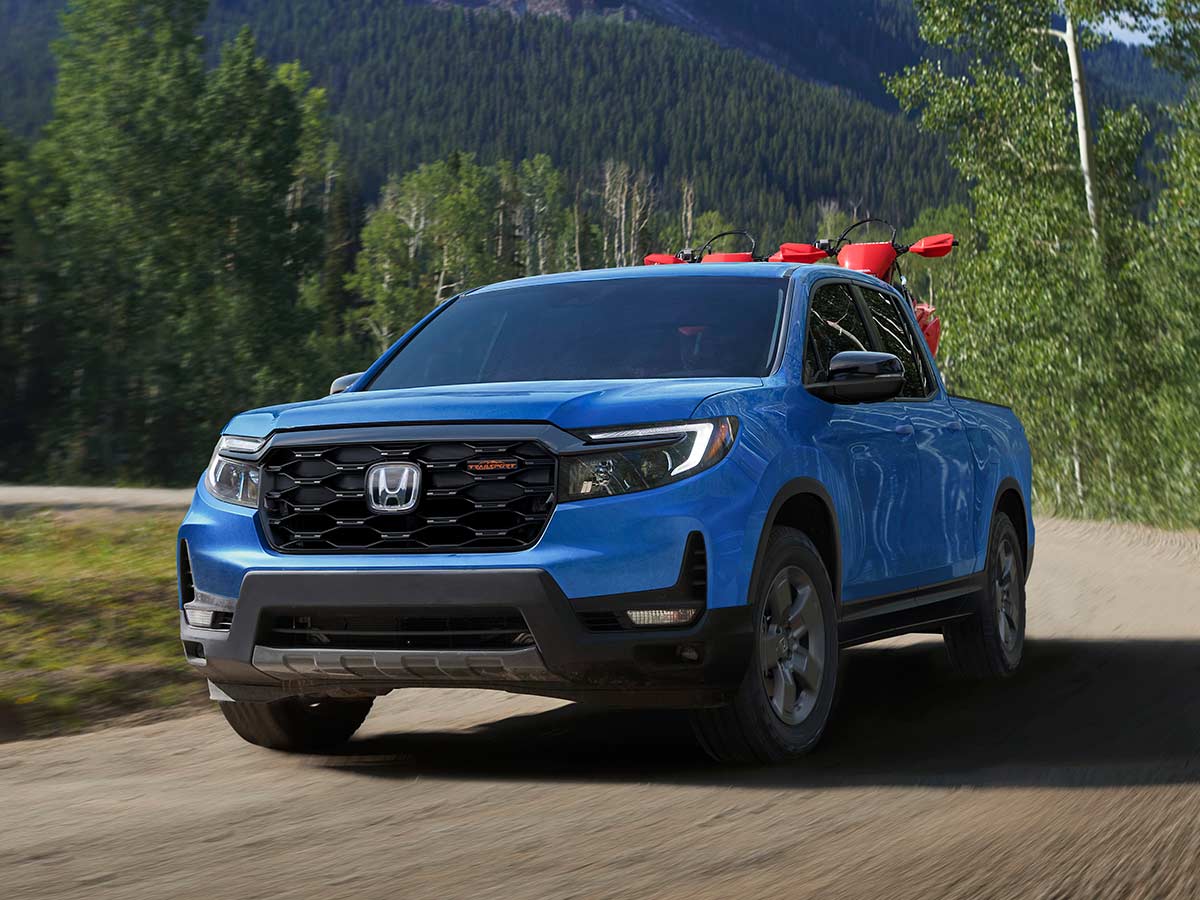 "With every new TrailSport model we bring to market, Honda light trucks get more rugged than ever and the increase in Ridgeline's off-road performance continues that trend," said Lance Woelfer, assistant vice president of Honda Auto Sales, American Honda Motor Co., Inc. "Our more rugged Ridgeline will continue its strong momentum with sales up over 20% this year."
To elevate the rugged appearance of the Ridgeline, the tailgate proudly features the "RIDGELINE" insignia, and the grille boasts a fresh, sporty mesh design.
Inside the cabin, advanced technology has been smartly integrated to enhance the Ridgeline's overall experience. As a standard feature, a new 7-inch digital instrument panel is now present, offering a fully digital tachometer on the left and a traditional speedometer on the right. This display also allows users to select various functions, including Honda Sensing settings, vehicle information, and more.
All Ridgeline trims come with an upgraded 9-inch color touchscreen that operates with a faster processor for seamless performance. Furthermore, wireless compatibility with Apple CarPlay and Android Auto is now a standard feature, and the integrated navigation system in the Ridgeline has been streamlined with new graphics and simplified menus. For the Honda Ridgeline Black Edition, speaker performance has been improved to enhance the premium audio system's listening experience.
To enhance both comfort and practicality, all 2024 Honda Ridgeline models now feature an updated center console that includes a spacious integrated armrest and expanded storage capacity. This new center-console storage compartment is designed to accommodate a full-size tablet, and there's also a larger storage tray located in front of the gear shifter, capable of holding two large smartphones side by side and equipped with a Qi-compatible wireless charging pad.
The 2024 Honda Ridgeline will be offered in four different all-wheel drive trim levels: Sport, RTL, the all-new TrailSport, which includes specialized off-road equipment, and the premium Black Edition.
Ridgeline can be further personalized through various post-production option packages, with the popular HPD Package being a standout choice. Drawing inspiration from Honda's racing heritage, the Ridgeline HPD Package enhances the pickup's rugged appearance by featuring a unique grille design, black fender flares, aggressive wheels, and distinctive graphics.
2024 Honda Ridgeline TrailSport
Designed with adventurous weekend getaways in mind, the new Ridgeline TrailSport introduces several off-road enhancements to the Honda pickup truck. It boasts an off-road-tailored suspension, equips all-terrain tires, and fortifies its underbody with steel protection to safeguard the oil pan against potential off-road obstacles like rocks.
The Ridgeline TrailSport's suspension features exclusive tuning with distinct spring rates, damper valve adjustments, and stabilizer bars. These modifications enhance articulation and improve off-road ride quality while preserving the Ridgeline's exceptional on-road comfort and its industry-leading handling.
Furthermore, the inclusion of trail-ready all-terrain tires elevates the Ridgeline TrailSport's rugged capabilities to another level. The standard General Grabber A/T Sport tires (245/60R18) offer significantly improved traction on various terrains, including dirt, sand, mud, rocky paths, and snow, all while maintaining a quiet and comfortable performance on the road.
Engineered and put to the test in some of the world's most demanding off-road environments, such as the Imperial Dunes in Glamis – California, and Dubai – United Arab Emirates (UAE), Honda's innovative i-VTM4 torque-vectoring all-wheel drive system significantly elevates the Ridgeline's off-road capabilities. This system comes standard on all Ridgeline models and enhances both control and traction management in various driving conditions. It automatically directs up to 70% of the engine's torque to the rear wheels and continuously adjusts the distribution of this torque between the rear wheels based on real-time driving conditions at each wheel.
In off-road scenarios, the i-VTM4 system continues to allocate torque where it's most beneficial, aiding in maintaining traction and stability, particularly in challenging terrain like mud and deep sand. It even performs admirably in extreme situations, such as when one rear wheel loses contact with the ground, as it redirects power to the wheel that maintains contact to assist in propelling the vehicle forward and maintaining momentum. For added control, the Ridgeline offers the standard four-mode Intelligent Traction Management, allowing drivers to customize the i-VTM4 system according to the specific terrain, including sand, snow, mud, and paved roads.
To achieve a more robust appearance, the off-road-ready Ridgeline TrailSport distinguishes itself with a distinctive grille featuring a rugged mesh design, black trim on the door pillars and exterior mirrors, and a black crossbar positioned above the grille. Additionally, TrailSport's front skid garnish is elegantly painted in Pewter Gray to match the finish of its fresh 5-spoke, 18-inch wheels. The new grille and tailgate of the Ridgeline TrailSport models proudly display vibrant orange 'TrailSport' badges.
Exclusive to the TrailSport range, the recently introduced Diffused Sky Blue paint color, previously featured on the 2024 Pilot TrailSport, enhances the model's adventurous essence and rugged design. To facilitate navigation through narrow trails, the Ridgeline TrailSport is equipped with power-folding mirrors.
Inside the new Honda Ridgeline TrailSport's cabin, distinctive orange ambient lighting and orange contrast stitching adorn the steering wheel, seats, and door panels. The TrailSport emblem is embroidered onto the front seat headrests and molded into the standard all-season rubber floor mats. The spacious Ridgeline cabin ensures exceptional passenger comfort and rear-seat legroom, featuring a flat floor and foldable 60/40-split rear seat bottoms, offering the versatility to transport long and tall items within the cabin.
Every Ridgeline pickup truck, including the new TrailSport, comes standard with the comprehensive Honda Sensing suite of safety and driver-assistive technologies. This includes the Collision Mitigation Braking System (CMBS) with Forward Collision Warning (FCW), Lane Keeping Assist System (LKAS), Road Departure Mitigation (RDM) with Lane Departure Warning (LDW), and Adaptive Cruise Control (ACC). A rear seat reminder system is also a standard feature across the lineup.
Rugged Platform and Features
Underpinning Ridgeline's extraordinary packaging, capability and driving character is its rugged unibody construction. This includes highly rigid, fully boxed frame components and a durable independent rear suspension system that enhances stability and responsiveness. This distinctive design and advanced chassis not only provide a superior level of driving refinement and agile handling, surpassing what traditional body-on-frame competitors can offer, but they also allow for an impressive payload capacity of 1,583 pounds. Additionally, the Ridgeline is capable of towing up to 5,000 pounds, making it more than sufficient for a wide range of uses, including hauling boats, campers, or toy haulers that are integral to adventure for many customers.
Another advantage of the Ridgeline is its notably wide standard bed, capable of accommodating 4-foot-wide items, such as plywood and drywall, between the wheel wells. Crafted from a durable glass fiber-reinforced SMC composite, this bed is resistant to dents and scratches, eliminating the need for a separate bed liner. To ensure secure load management, the bed also features eight tie-down cleats, each capable of withstanding 350 pounds of force.
Beneath the bed floor, the Ridgeline boasts a unique and exclusive feature – the In-Bed Trunk, which is both washable and lockable. This additional 7.3 cubic feet of secure storage space serves a versatile purpose and can even function as a cooler when filled with ice, making the Ridgeline the ultimate tailgate vehicle at sporting events, picnics, and social gatherings.
Speaking of tailgates, the Ridgeline's innovative Dual-Action Tailgate operates in two distinct ways. It can open downward like a standard truck tailgate or swing open to the side like a door. This dual functionality provides users with convenient access options for both the cargo bed and the In-Bed Trunk. When in the downward position, it extends the 5-foot, 4-inch bed to over seven feet, capable of handling dynamic loads of up to 300 pounds, such as a motorcycle or ATV. The inner surface of the tailgate features two molded-in seats, adding to the Ridgeline's suitability for impromptu "tailgate party" gatherings.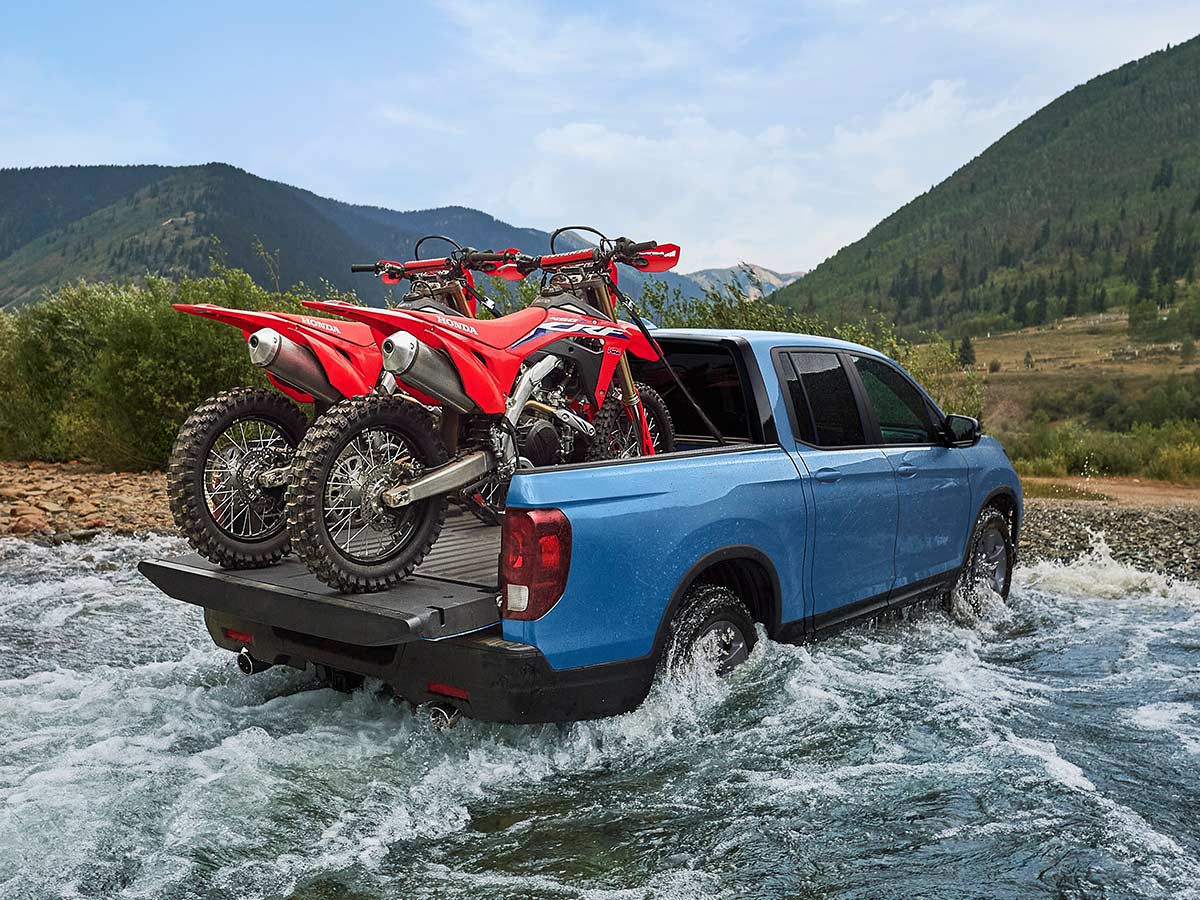 Ridgeline Manufacturing
The Honda Ridgeline and Ridgeline TrailSport will continue to be produced in the United States, exclusively at Honda's Lincoln, Alabama manufacturing facility, upholding Honda's four-decade-long dedication to creating products in close proximity to their customer base.