Race-proven off-road technologies include DSSV dampers, a factory lift and more to create Chevy's flagship heavy-duty off-road pickup
HD ZR2 builds upon Silverado HD's already impressive roster of HD truck features to accomplish the toughest work with smart trailering tech and formidable powertrains
A ZR2 family complete: HD ZR2 creates trio of flagship, off-road performance pickups
Silverado HD ZR2 Bison surprises with ultimate off-road capability, in collaboration with American Expedition Vehicles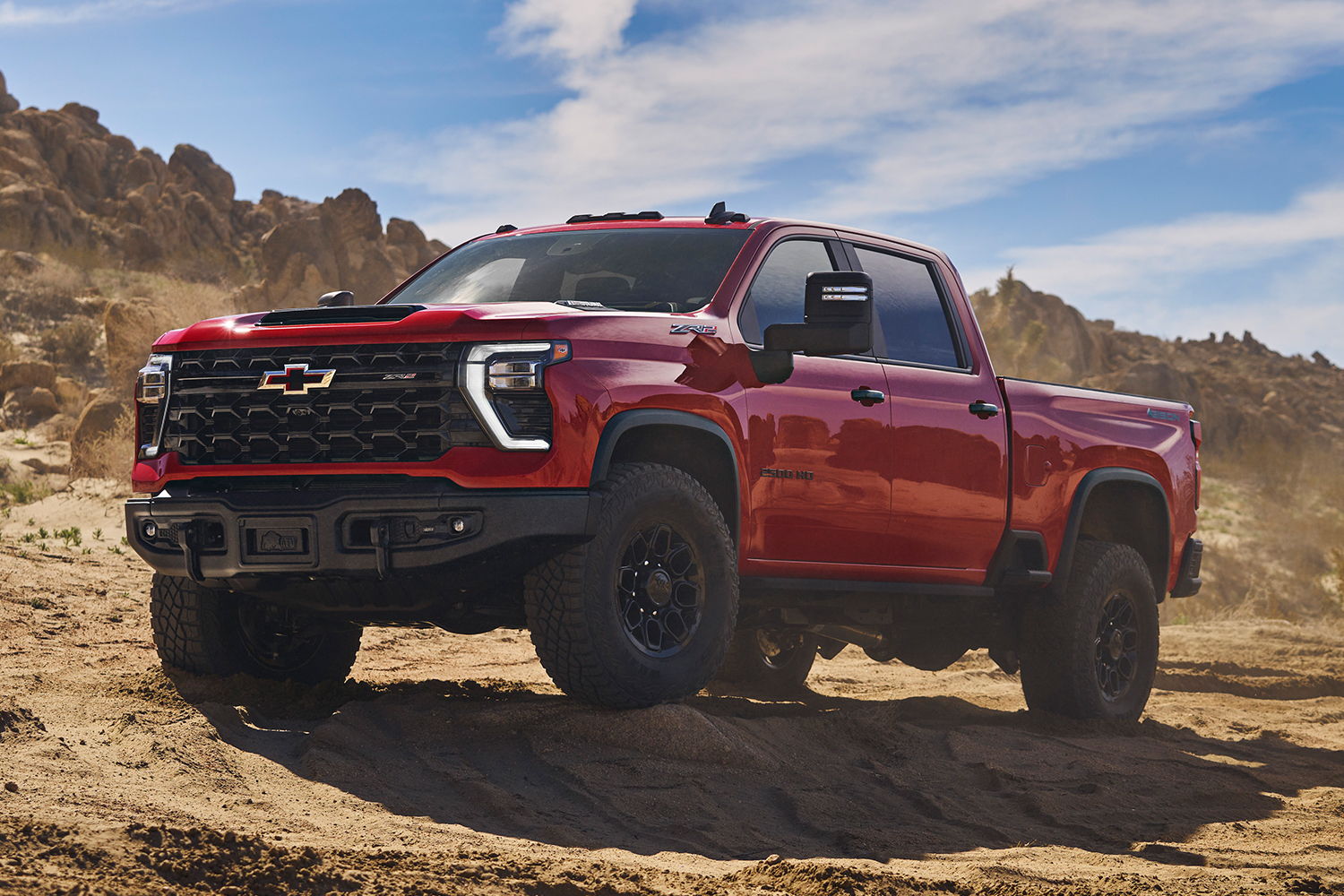 The off-road capability synonymous with Chevrolet's ZR2 badge debuts for the Silverado HD with the introduction of the 2024 Silverado HD ZR2 – the brand's flagship heavy-duty off-roader. Elevating the Silverado HD's off-road credentials to even further heights, the 2024 Silverado HD ZR2 Bison debuts as part of the Chevy trucks family as well.
Chevrolet will soon offer a trio of flagship, off-road performance pickup trucks for anyone ready to explore the trails in Colorado ZR2, Silverado 1500 ZR2 and the first-ever Silverado HD ZR2.
Both the HD ZR2 and HD ZR2 Bison bring race-proven technologies and enhanced off-road capability to the refreshed 2024 Silverado HD lineup, with the specialized ZR2 Bison featuring unique equipment from premium off-road aftermarket manufacturer American Expedition Vehicles, for those seeking the ultimate capability in their adventures.
"The all-new Silverado HD ZR2 and HD ZR2 Bison provide the off-road performance our customers have come to expect from a ZR2, with the towing and payload capabilities our HD customers demand," said Michael MacPhee, director of Chevrolet Trucks Marketing. "They also expand the Silverado HD lineup, offering more choices for customers to find the perfect truck for work and off-road adventure."
Offered exclusively in the 2500 Crew Cab configuration — with the standard 6.6L gasoline engine or available 6.6L Duramax Turbo-Diesel — the Silverado HD ZR2 and HD ZR2 Bison leverage Chevrolet's off-road racing success with a defined set of upgrades built from proven off-road prowess. Whether that's crawling trails, tackling tough terrain or towing adventure toys on the weekend, the Silverado HD ZR2 and HD ZR2 Bison can handle it all.
The Silverado HD ZR2 does this without sacrificing on-road comfort or heavy-duty truck capability, embracing the same hallmarks that make the Silverado 1500 ZR2 a winning combination.
As for capability, the max payload for the Silverado HD ZR2 is 3,397 pounds (gas engine), while the max trailering rating is an impressive 18,500 pounds, when equipped with the available Duramax Turbo-Diesel to ensure owners don't have to leave behind any part of their adventure – big or small – when hitting the trail.
"The Silverado HD ZR2 is for those who want it all: For when you need to haul equipment to the jobsite during the week, then the camper and family off the beaten path on the weekend," said Sahar Nasif, program engineering manager, Silverado HD ZR2. "It's for those who want their tow rig to be just as cool as the toys it's hauling."
The HD ZR2 is instantly recognizable with the ZR2 family's front grille, which represents the expressive styling the ZR2 family of trucks values. Unique wheel opening moldings featuring integrated mud guards, ZR2 badging on the grille bar and a higher stance further strengthen HD ZR2's image. Both trucks also wear the "flow-tie" emblem. The suspension is raised approximately 1.5 inches (38 mm), front and rear, compared to other Silverado HD 4WD models.
Its off-road-capable features and content also include:
Specific front upper and lower control arms and specific steering knuckles
Multimatic DSSV Dampers
Larger steel transfer case skid plate and front aluminum skid plate
Rear e-locker
35-inch Goodyear Wrangler Territory MT tires mounted on 18 x 9-inch aluminum wheels.
HD ZR2 also includes a new Off-Road Mode, which incorporates learnings from the Colorado ZR2 and Silverado 1500 ZR2. When engaged, it adjusts various vehicle calibrations, such as the anti-lock brakes, traction control and stability control, to optimize their performance for off-road driving. In addition, Off-Road Mode alters throttle progression and transmission shifts, and the locking rear axle does not have a speed limitation.
HD ZR2 Bison: AEV collaboration raises the off-road bar
The HD ZR2 Bison was developed in collaboration with AEV to provide a factory package for the most avid off-roaders. It builds on the HD ZR2's standard features, adding:
Exclusive gloss black, 18-inch AEV wheels
Distinctive cut high-approach, stamped-steel front bumper with integrated recovery points and winch provisions
Unique stamped-steel cut rear bumper with recovery points
Tough, stamped steel underbody skid plates for the front of the vehicle, steering rack, exhaust and transfer case
Bison models also receive unique exterior badging and other identifying cues, including the AEV logo on the front-seat head restraints.
Additionally, both the HD ZR2 and HD ZR2 Bison benefit from the functional features shared across the Silverado HD range, including the DuraBed cargo box that optimizes every square inch for maximum cargo capability, the corner step rear bumper, BedSteps, power tailgate, a 120-volt power outlet, available six-position Multi-Flex tailgate and more.
IN FOCUS: Race-Proven Multimatic DSSV dampers
The Silverado HD ZR2's racing-derived Multimatic spool-valve dampers are designed to blend maximum off-road capability with on-road comfort. Pioneered on the Colorado ZR2 racing program and torture-tested with the help of Chad Hall Racing in the Best in The Desert off-road racing series, their unique spool-valve design (with three separate spools), compared to conventional shim-type dampers, offers unlimited tuning variability to control damping. That translates into more precise damping performance, for a greater feeling of control on and off the road.
Redesigned interior with ZR2 flair
The HD ZR2 and ZR2 Bison also feature the 2024 Silverado HD lineup's redesigned interior. Built for excellent work-ready functionality and next-level technology integration, the cabin boasts features HD truck buyers expect with a blend of premium materials and off-road prowess, as found in the Silverado 1500 ZR2.
The interior's dark trim accents complement the Jet Black and Graystone leather-appointed surfaces. Care also went into selecting materials that are simple to wipe clean after a day in the dirt.
The instrument panel houses a best-in-class 13.4-inch-diagonal infotainment screen and expansive 12.3-inch-diagonal configurable driver information center that become the focal points of the driver's command center. The infotainment screen and other controls are also canted toward the driver, strengthening the command center perspective. Smart, off-road technology includes an available 15-inch Head-Up Display with an off-road inclinometer and HD Surround Vision for the Silverado HD ZR2 and HD ZR2 Bison.
A redesigned wireless phone charger area as well as a flow-under console, which offers the spaciousness of a bench seat while retaining the functionality of a center console, round out HD ZR2's efficient use of interior space.
Coming in Q3 2023
Production of the 2024 Chevrolet Silverado HD ZR2 and ZR2 Bison begins later this summer, at General Motors' Flint Assembly plant in Michigan. Pricing will be announced closer to the start of production.