Range Rover Sport PHEV (Plug-in hybrid) climbs towering 45-degree, 999-step staircase in world-first Dragon Road challenge at Heaven's Gate rock arch in China. The Range Rover Sport P400e model was piloted by Le Mans class-winner and Panasonic Jaguar Racing reserve and test driver Ho-Pin Tung.
Can't see the video here? Head to the Autobics YouTube Channel.
The new Range Rover Sport PHEV has set a new world record by becoming the first vehicle to climb the stairs to the natural rock arch of Heaven's Gate. The epic climb consists of a dizzying 99 turns and 999 daunting steps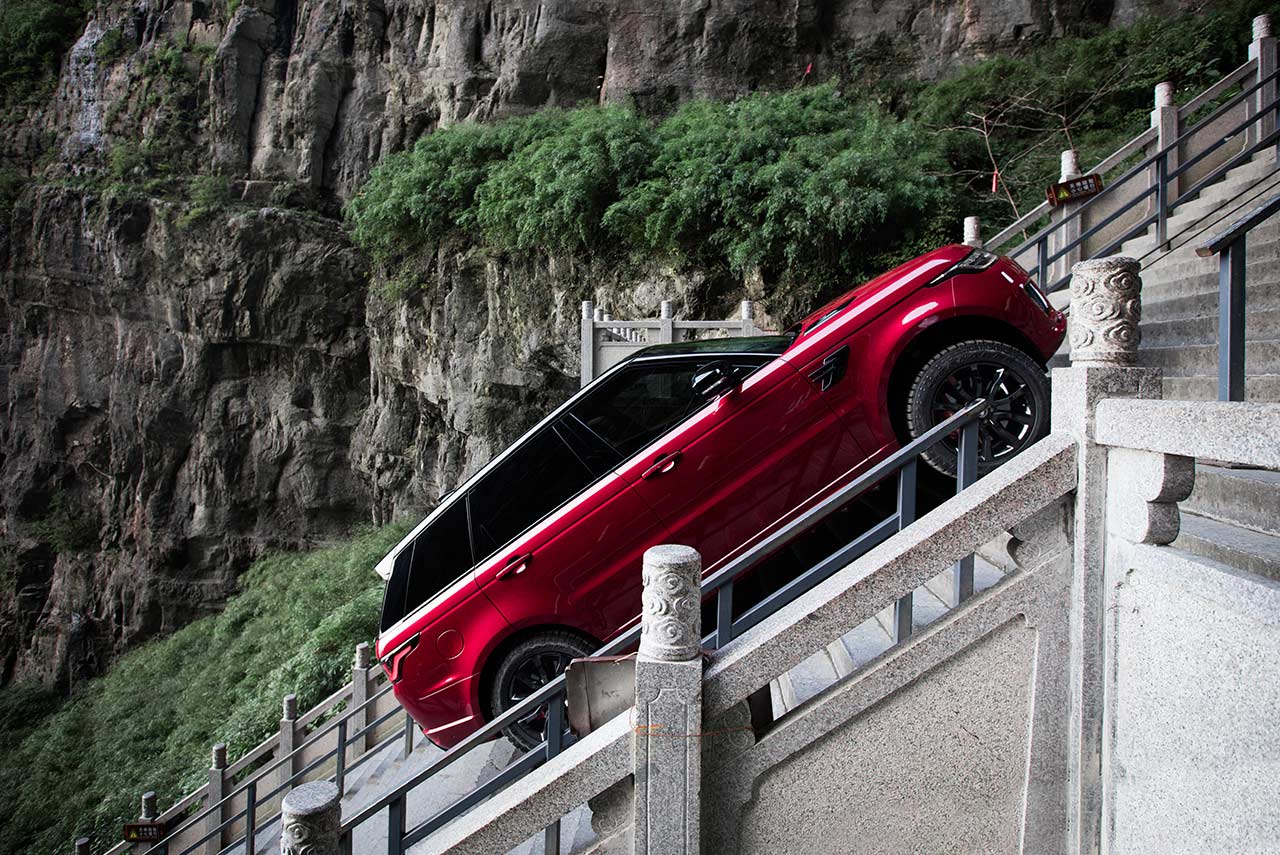 The challenge began at the bottom of the legendary 11.3km Tianmen Mountain Road also known as the Dragon Road. Behind the wheels of the Range Rover Sport P400e was Panasonic Jaguar Racing's Ho-Pin Tung. The SUV was not modified at all, the Terrain Response 2 system made achieving this feat easier.
At the summit of the road, the Formula E driver optimized Terrain Response for the second part of the challenge, conquering the towering 45-degree staircase of 999 steps leading to China's legendary Heaven's Gate using a combination of Ingenium petrol and electric battery power.
The new PHEV powertrain gives the Range Rover Sport a zero-emission EV range of up to 50km when fully charged. It is equipped with a 300PS Ingenium petrol engine and a 116PS electric motor which was used by Ho-Pin Tung to complete the challenge. The performance SUV showcased its capability by climbing the steep staircase to the natural rock arch.
The Dragon Challenge is the latest in a series of adventures completed by the Range Rover Sport after the PHEV model made its debut in a race against two-time open-water swimming world champion Keri-anne Payne and endurance athlete Ross Edgley in Devon, UK.
Previous exploits include a record-setting hill-climb at Pikes Peak, USA, a record crossing of the 'Empty Quarter' desert in the Arabian Peninsula and a 2,170m descent of the legendary Inferno downhill course in Mürren, Switzerland.