Automobili Lamborghini has launched the all-new Lamborghini Urus, the first Super Sport Utility Vehicle in India. The SUV creates a new niche in the luxury segment with benchmarking power, performance and driving dynamics, unparalleled design, luxury and daily usability.
Can't see the video here? Head to the Autobics YouTube Channel
Lamborghini Urus Price (India):
Lamborghini has priced the Urus in India at INR 3 Crore (Ex-showroom)
Click Here to Know More about the Lamborghini URUS
The Lamborghini Urus is powered by a new front-mounted, 4.0 litre V8 twin-turbo engine which produces 650 hp (478 kW) and 850 Nm of maximum torque. The Urus claims one of the highest specific power output of 162.7 hp/l in its class and the best weight-to-power ratio at 3.38 kg/hp.
The Super Sport Utility Vehicle can accelerate from 0-100 km/h in 3.6 seconds and reach 200 km/h from zero in just 12.8 seconds. The Lamborghini Urus has a top speed of 305 km/h making it the fastest SUV available in the market as of now. Braking is no less impressive, the Urus can come to a complete stop from 100 km/h in 33.7 m.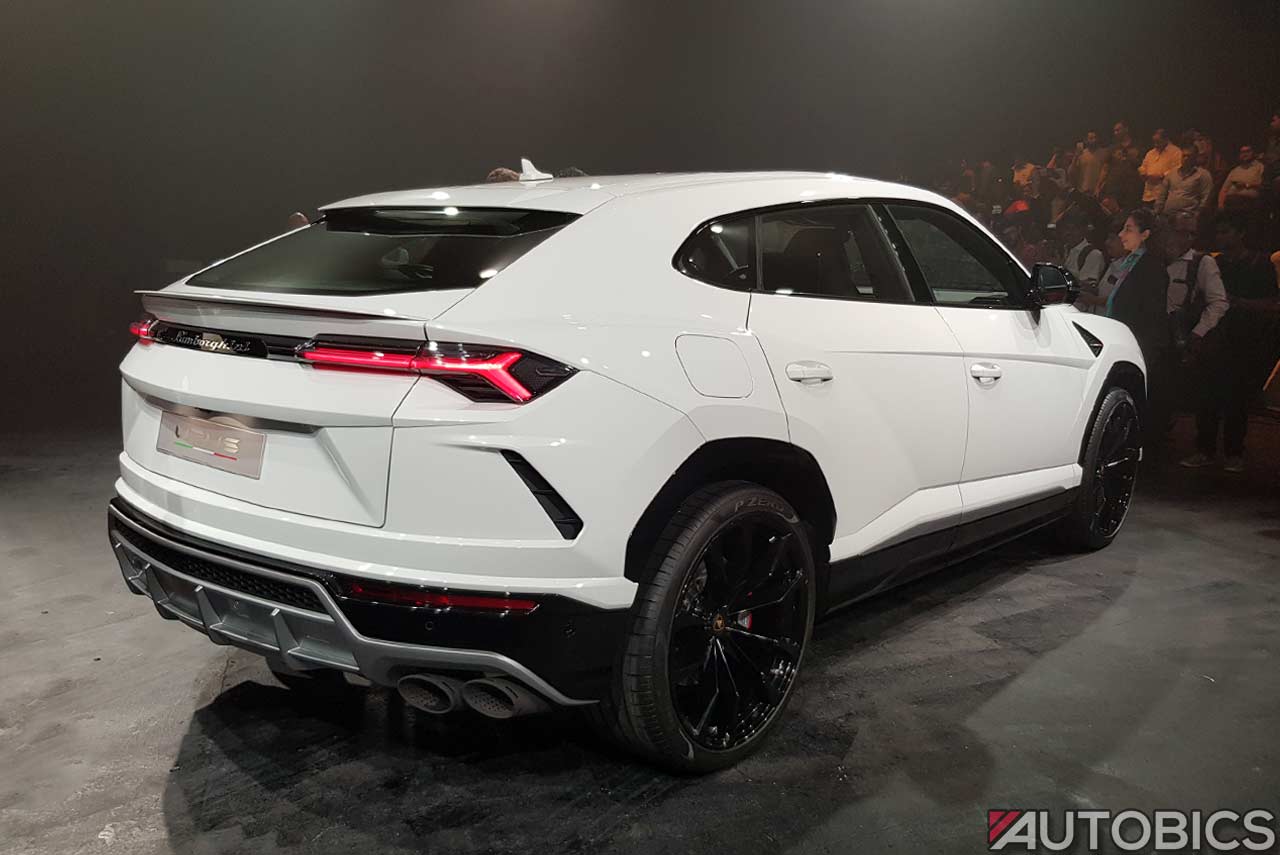 The Lamborghini Urus is as much a luxury SUV as the most powerful, with a super sports car dynamism to be enjoyed by both driver and passengers. The Urus provides easy driving in the city, maximum comfort during long journeys, thrilling super sports car dynamics on the road and track, and versatile off-road abilities in a range of environments.
The luxury SUV is equipped with a four-wheel drive system which delivers safe, highly-responsive driving dynamics on every road and surface, in all weather. The rear-wheel steering provides increased agility and a reduced turning circle for increased manoeuvrability, while the active torque vectoring via a rear differential optimizes the driving dynamics of the SUV.
The driver of the Lamborghini Urus can choose from the six driving modes. The Tamburo driving mode selector on the center console controls all dynamic vehicle systems and allows the selection of driving dynamics according to surface conditions or drivers' preference, via STRADA, SPORT and CORSA as well the additional NEVE (Snow) mode. The Urus also gets two optional off-road settings TERRA (off-road) and SABBIA (sand).
The adaptive damper concept is automatically adjusted to different driving modes through ANIMA or can be fully customized by the driver via the EGO mode, choosing the required rigidity for a very comfortable ride to an extremely sporty, aggressive setting dependent on driving style and road conditions.
Lamborghini Urus India Launch Images:
"The Lamborghini Urus, worlds first super SUV is a pure reflection of commitment to excellence imbibing Lamborghini DNA to create a unique never seen before product. Urus, is going to be a game changer worldwide offering appearance, performance, technology and innovation; like a true Lamborghini. India, as a market for Lamborghini is playing a very interesting role step by step into the overall sales globally. Urus will change the game for Lamborghini in India in terms of volumes and we expect to grow our volumes 2.5-3 times, further strengthening our presence in this country," commented Mr. Andrea Baldi, General Manager of Lamborghini Asia Pacific on the launch of the URUS in India
"Lamborghini has been a pioneer in creating a niche within the SUV segment by introducing the world's first Super Sport Utility Vehicle, Urus. We have made it possible, with the Urus by redefining possibilities and creating a unique class of its own. The Urus, imbibes Lamborghini DNA and opens new doors for customers to experience an unprecedented SUV performance with a distinctive dynamic design and versatility for everyday usability. Given the preference for SUV cars among Indians, we believe that Urus is going to be an exciting and important product and will open up a completely new segment of customers for us in India," said Mr. Sharad Agarwal, Head, Lamborghini India.