Porsche has released a series of five Macan finished in in its iconic motorsport livery designs. The aim of these specially created Porsche Macan SUVs is to bring the company's success on the racetrack to the roads of Singapore.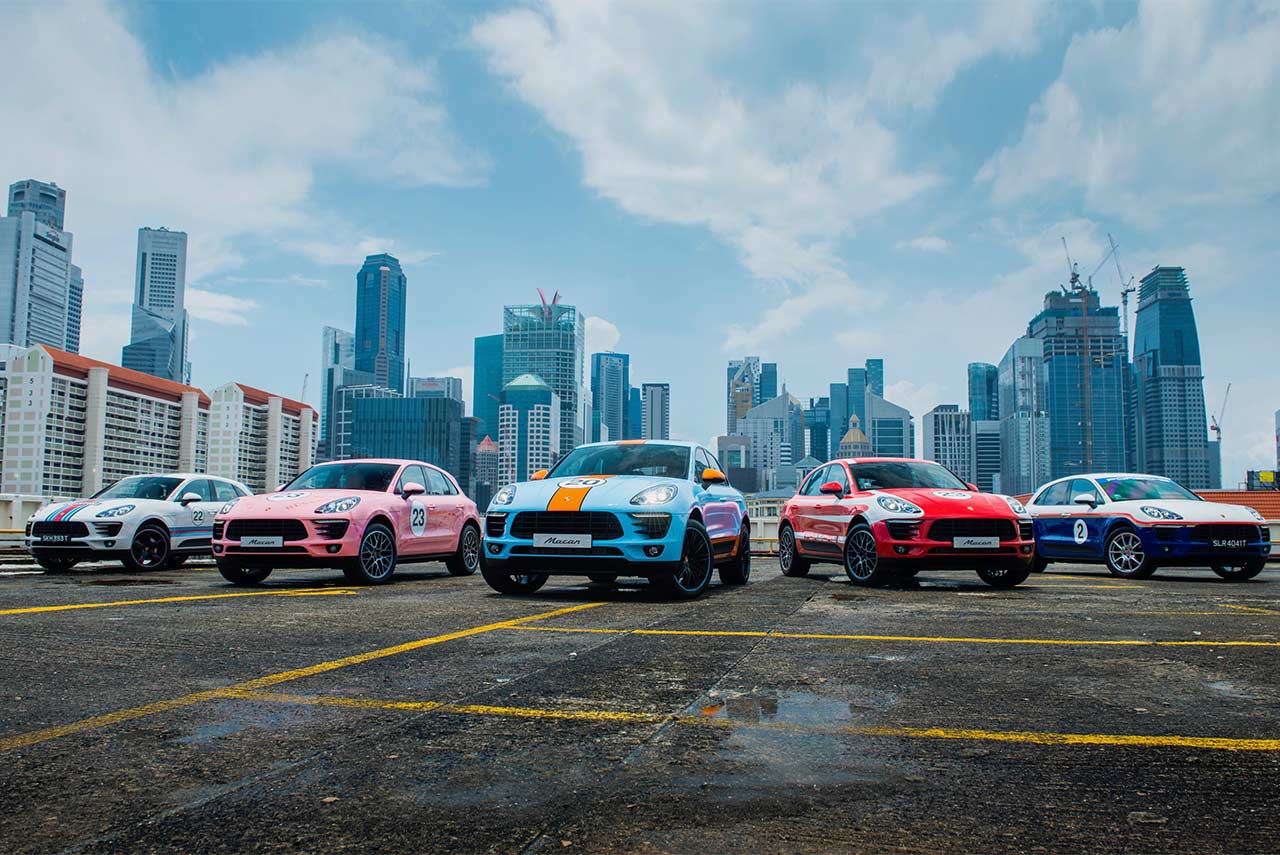 Five iconic locations in Singapore were chosen to showcase these Porsche Macan special models. The locations chosen represent an integral part of Singapore's history and highlight the country's diverse culture and heritage.
24 hour Le Mans Porsche Racing Cars – Images:
Porsche Macan "Martini Racing" at Holland Village, Singapore:
The Martini Racing livery is one of the world's most timeless and iconic motorsport liveries. It embodies the passion for motorsport and innovation in its design. It sports the historic combination of blue, red and silver and was first donned on the Porsche 917 in 1970 on the Hockenheim circuit in Germany.
Porsche Macan "Rothmans Design" at Armenian Street, Singapore: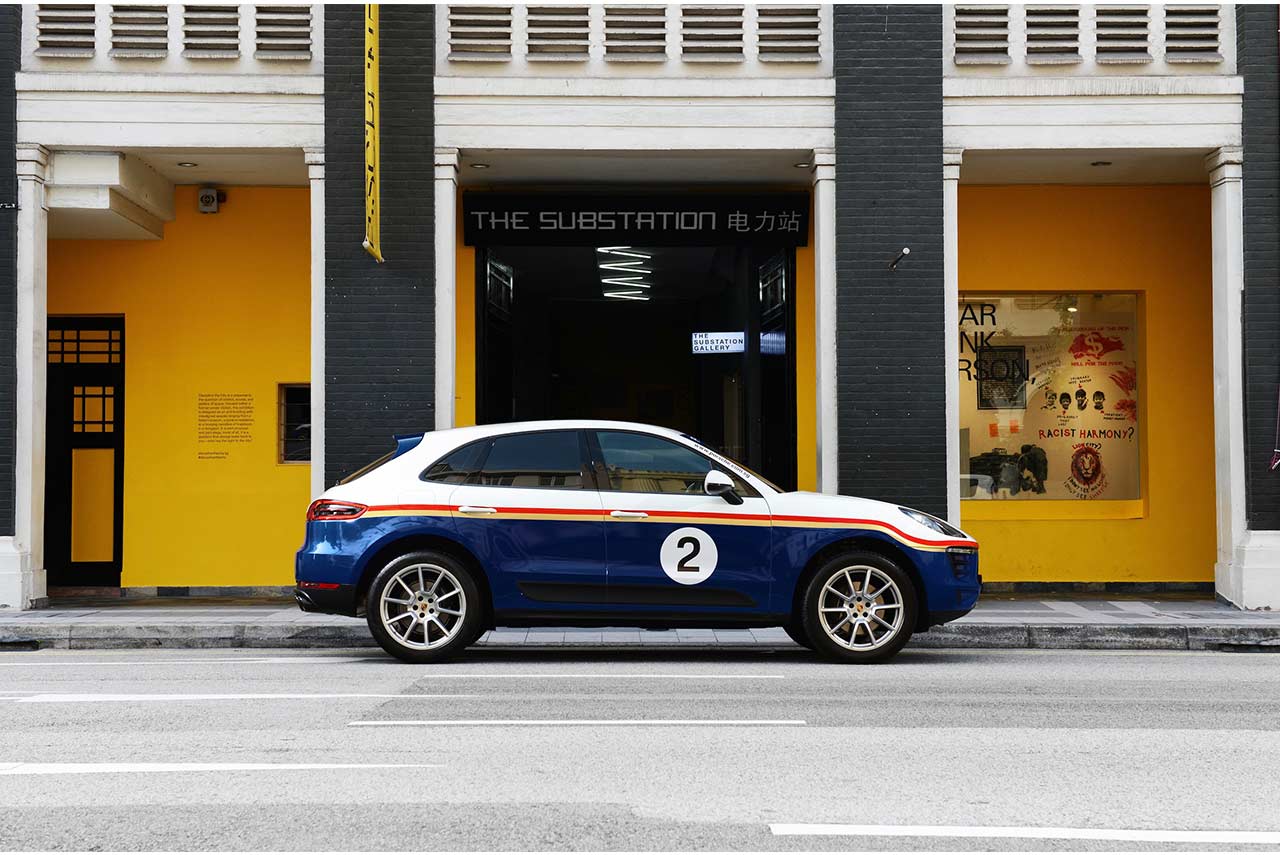 This Rothmans Design theme pays tribute to the Porsche 956 which debuted at the 1982 Le Mans. The Porsche 956s won a triple victory where the cars finished neatly in their number order: one, two and three. It also drove past the finish line in a record-breaking time of 6:11.13 minutes at Nurburgring.
Porsche Macan "Pink Pig" at Chinatown, Singapore:
The Pink Pig with the power of a horse is deeply etched in Porsche's racing history. In 1971, a one-off experimental car the Porsche 917/20 was sent into the race and came out to be the fastest car during the pre-race qualification session. To make it stand out Porsche Style decided in to paint the race car in pink colour and labelled each of the body parts according to butcher-style cut. It was the most frequently photographed race car of the year and is still very popular among the Porsche Museum visitors in Stuttgart, Germany.
Porsche Macan "Salzburg Design" at Ann Siang Hill, Singapore:
Red symbolises the colour of the Porsche 917 KH, the first Porsche to secure the first of 19 impressive Le Mans victories. The iconic red Porsche first made its debut 45 years ago on June 14, 1970, where Hans Hermann and Richard Attwood secured Porsche's first victory at Le Mans.
Porsche Macan "Gulf Design" at Haji Lane, Singapore: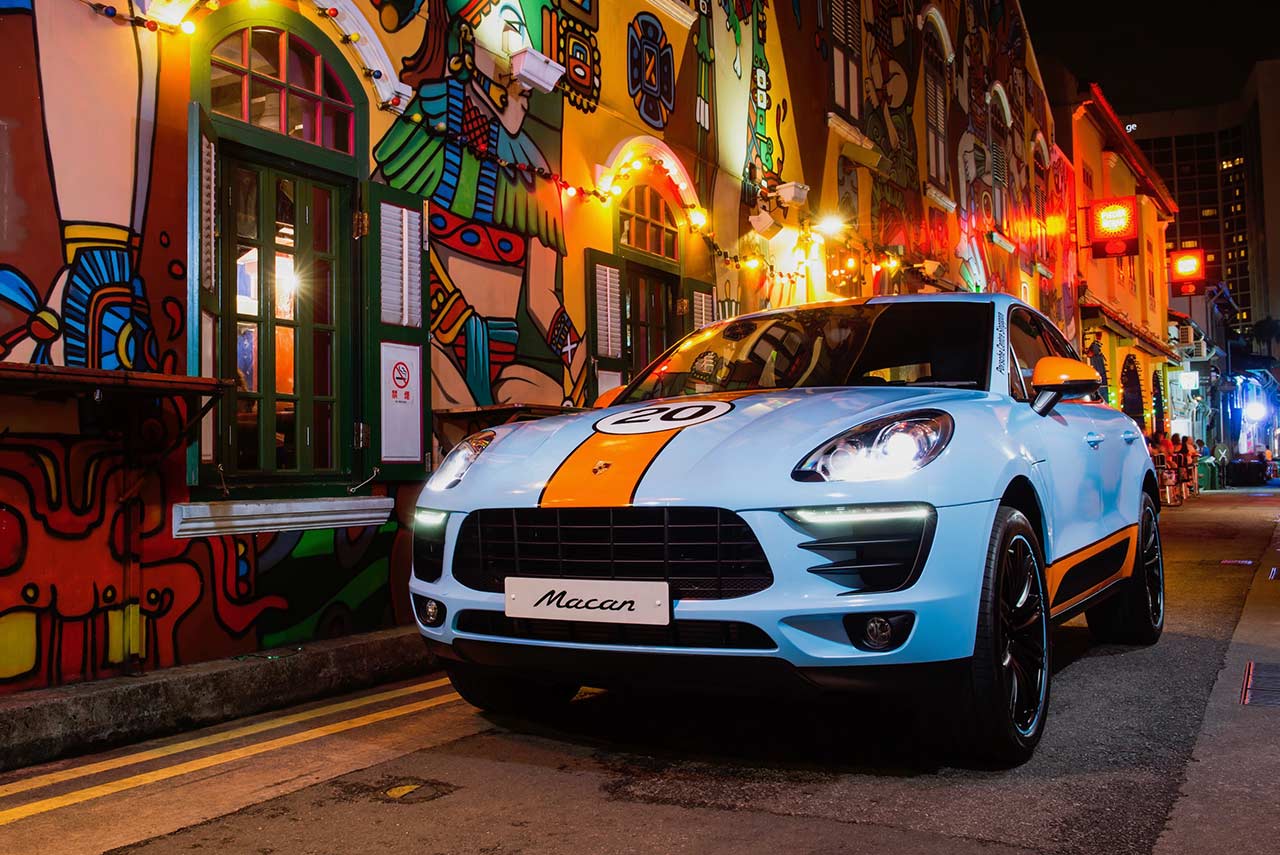 The light blue colour Gulf Design has to be one of the most famous liveries seen on a Porsche car. It was John Wyer, who successfully convinced Gulf Oil to sponsor his new car, the Mirage M1 before he came to represent Porsche. At that time, Gulf Oil had just purchased a smaller firm that featured a blue and orange colour scheme. The company picked those colours for the cars that Wyer raced during the 1970 and 1971 Le Mans which led the Porsche team to the world championships. This blue and orange Porsche 917 also became the star car in Steve McQueen's legendary racing movie, Le Mans, in 1971.