It was in the year 1947 when a Ferrari 125 S was fired up, it was the first car to bear Enzo Ferrari's name. This year marks the 70th Anniversary of the Italian brand and it is being celebrated in style by owners and fans all across the world.
Ferrari's 70th Anniversary Mumbai Drive Flag-Off Video:
Can't see the video here head to Autobics YouTube Channel
The occasion was celebrated in Mumbai on 17th December 2017 and was organized by Navnit Motors, the official dealer for Ferrari in the city. Fans got to see an exhilarating parade of 25 Ferrari supercars, a feat India had never witnessed before. The high-octane itinerary drew crowds of people, who gathered to witness an event that truly encapsulated the timeless glamour and breathless exhilaration of the iconic Maranello stable.
Also Read: Ferrari celebrates 70 years of Excellence, Craftsmanship and Innovation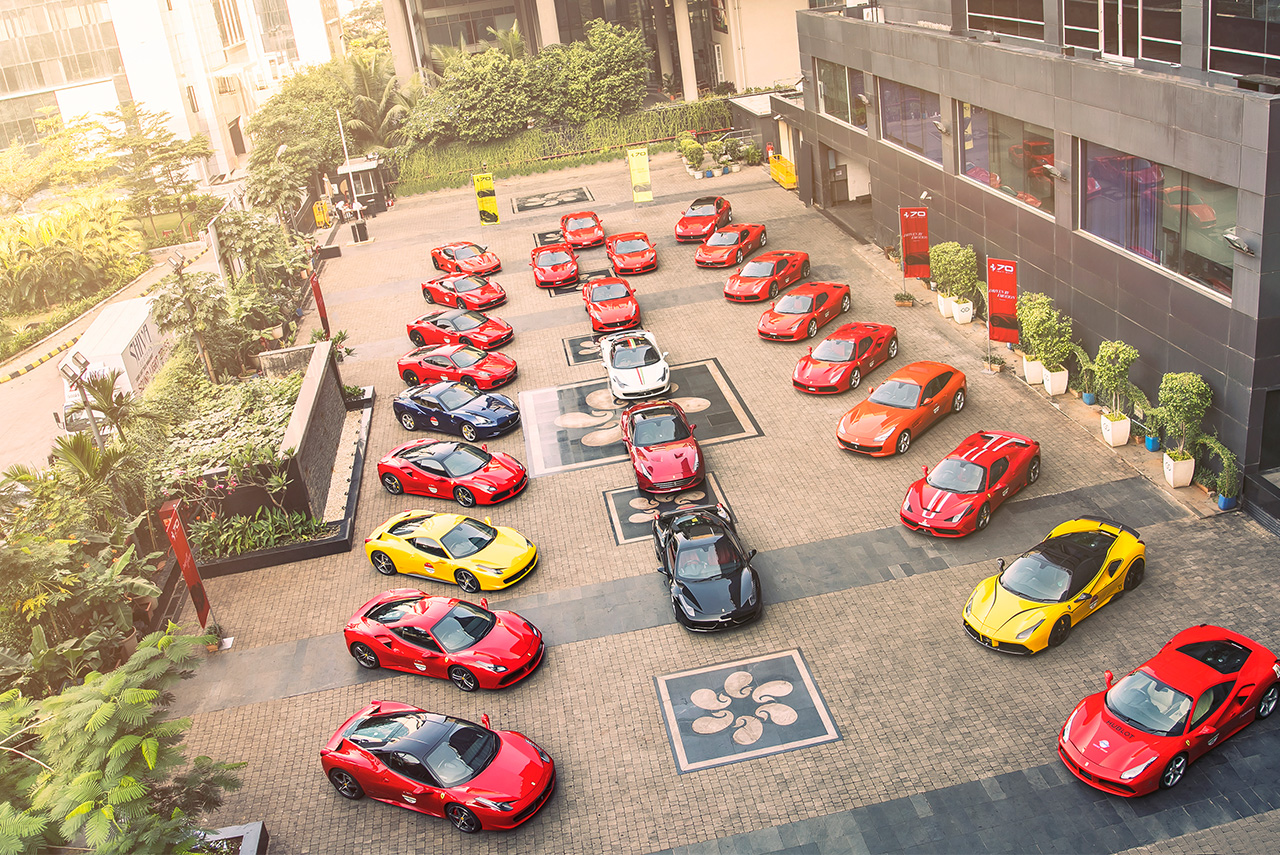 The leisure drive into the heart of Mumbai city was filled with memorable moments, including a pit-stop and photo opportunities. The drive culminated at the Festival Square, High Street Phoenix, followed by a gourmet lunch at the Sahib Room & Kipling Bar, St. Regis Hotel. Guests then had a moment to unwind and relax, before preparing for the evening's festivities; a glittering Dinner within the Zenith Suites.
A special website www.ferrari70.com has been created to showcase the celebrations as they unfold throughout the year as well as to introduce the pivotal moments and individuals in the company's history.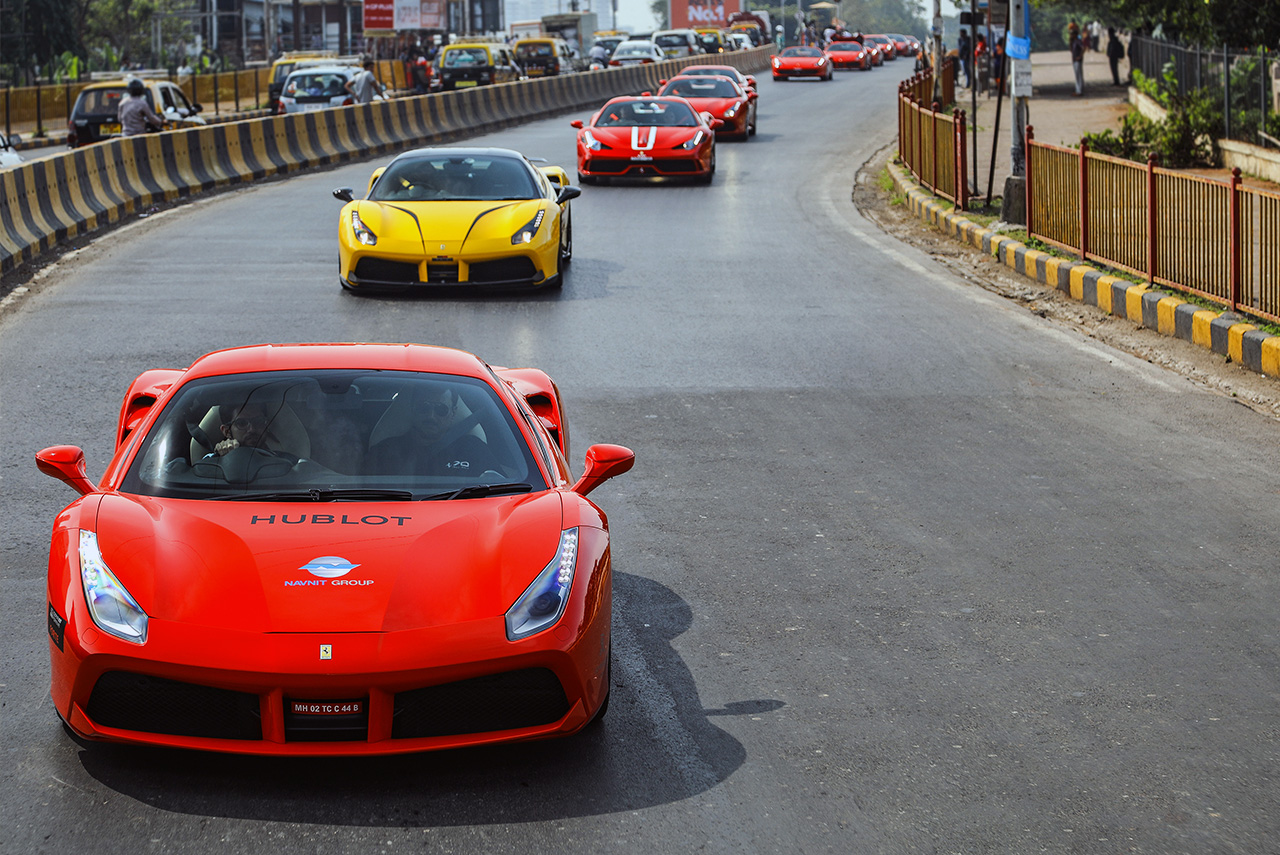 Ferrari history at a glance:
1947 – Ferrari is founded
1950 – Ferrari makes F1 debut
1951 – First win in Formula One with Jose Froilan Gonzales
1952 – Alberto Ascari wins the first Formula 1 Championship
1958 – Mike Hawthorn becomes F1 World Champion in a Ferrari 246 F1
1962 – Unveiling of the 250 GTO, winner of the International Championship for GT Manufacturers in 1962, 1963 and 1964
1964 – John Surtees becomes Formula 1 World Champion with the 158 F1
1967 – Three Ferraris – two 330 P4s and a 412 P –deliver a spectacular 1-2-3 parade finish in the 24 Hours of Daytona
1968 – The 365 GTB4 (Daytona) is unveiled at the Paris Motor Show
1969 – Fiat becomes a Ferrari shareholder
1972 – The Fiorano Circuit, Ferrari's test track, is officially opened
1975 – Niki Lauda takes the Formula 1 World Champion title in the 312 T
1981 – Gilles Villeneuve delivers first ever victory in a turbocharged F1 car in the 126 K at Monaco
1984 – The Ferrari Testarossa is unveiled at the Paris Motor Show
1987 – The F40 debuts at the Frankfurt Motor Show
1988 – 14 August: Enzo Ferrari passes away at the age of 90
1993 – The marque's first single-make championship, the Ferrari Challenge, is launched
1998 – The new Renzo Piano-designed GES Wind Tunnel opens
2004 – Ferrari sets a new F1 record of 6 Constructors' and 5 Drivers' World titles in a row
2006 – The exclusive XX programme, designed to deliver extreme performance to top clients, debuts
2007 – Kimi Räikkönen and the Scuderia Ferrari are World Champions
2013 – The Cavallino Rampante's first hybrid model, the LaFerrari, goes into production
2015 – Ferrari is listed on the New York stock exchange
2016 – The LaFerrari Aperta, an iconic model celebrating the marque's 70th anniversary, is launched at the Paris Motor Show
2017 – The latest addition to the Ferrari family, the 812 Superfast, debuts at Geneva.
Advertisement