Bajaj Dominar 400 – Trans-Siberian Odyssey Highlights:
1st Indian motorcycle to complete the world's toughest motorcycle tour – Trans-Siberian Odyssey
Covered 15,600 km across 6 countries in 53 days on the toughest of terrains without a single breakdown, no part change and no back-up
The only Indian bike to do the Charyn Canyon and the ride the Road of Bones
Bajaj Dominar 400 has created history by becoming the 1st Indian motorcycle to conquer the world's toughest journey – The Trans Siberian Odyssey. Three riders on three Dominar bikes covered a distance of 15,600 km across 6 countries over a span of 53 days.
The three passionate hyper riders – Deepak Kamath, Dilip Bhat and Sudhir Prasad who completed this challenging journey were felicitated at an event in Mumbai by Bajaj Auto for their outstanding spirit and achievement.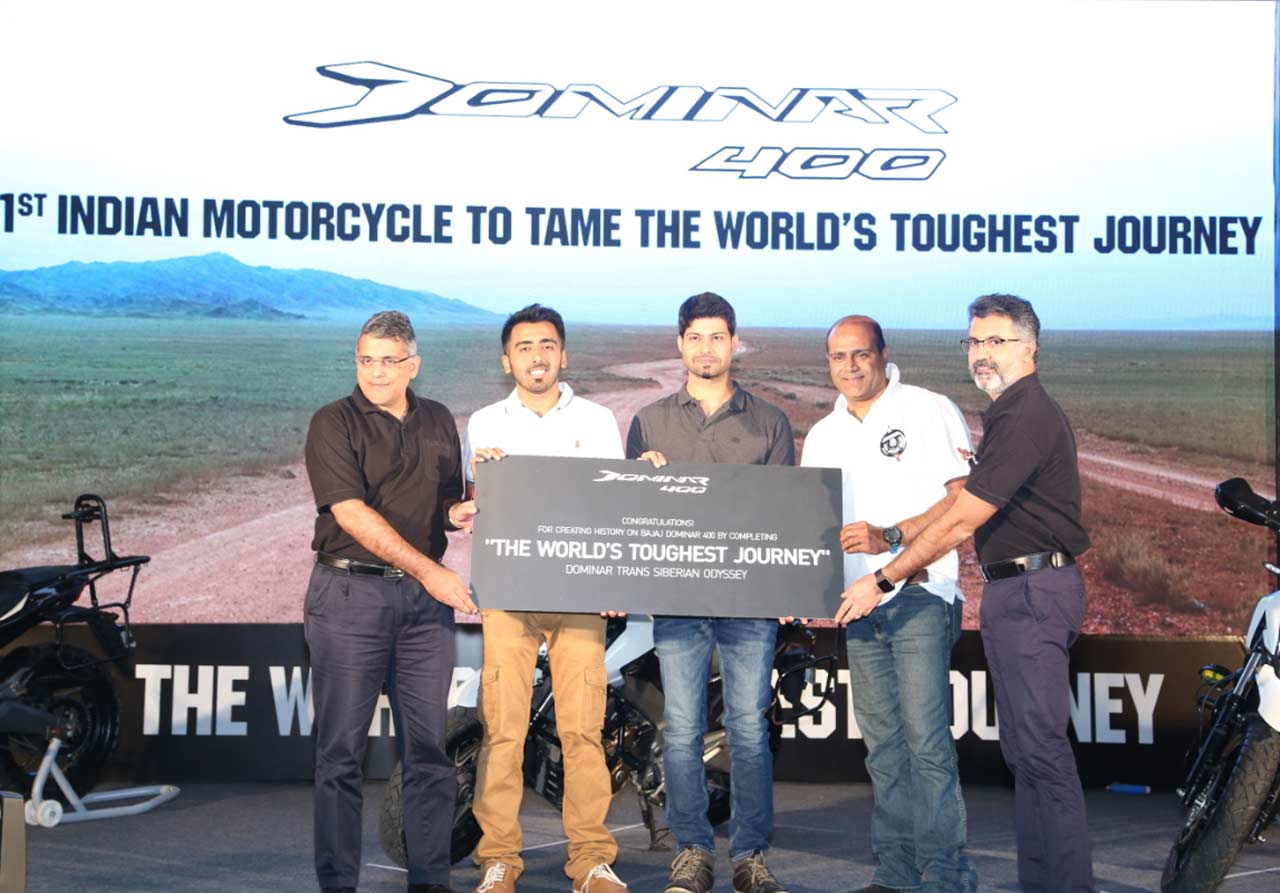 The riders covered nearly 390 km each day and came across all kinds of terrain such as high altitude passes, grasslands, river beds, sand, rocky terrains, dirt trails, steep gradients, loose gravel, and harsh extreme temperatures. The traveled through Uzbekistan, Tajikistan, Kyrgyzstan, Kazakhstan, Russia, Mongolia and back into Russia.
The group was traveling without any service support or back-up. They rode their Dominar bikes to some of the world's most difficult of terrains on this Trans-Siberian Odyssey. This included more than 3000 km of the famous Stalin era Road of Bones. The Bajaj Dominar 400 also became the only Indian bike to tame Charyn Canyon which is also known as the little brother of Great Canyon. It features a sheer drop of over 100 meters at a 45-degree incline. Two-wheelers are banned at the Charyn Canyon which the riders found out only after reaching down.
The Dominars used for the feat had some modifications which included a tall add-on visor, raised fender, Ralco knobby tires, metal bash plate, a customised crash guard with accessory mounting points and a custom luggage carrier. The bikes also had raised handlebars, hand guards and provisions to charge their devices. Out of these three modified Dominar bikes, one had a custom seat as well. Mechanically, all three of them were stock and no changes whatsoever were done says the company.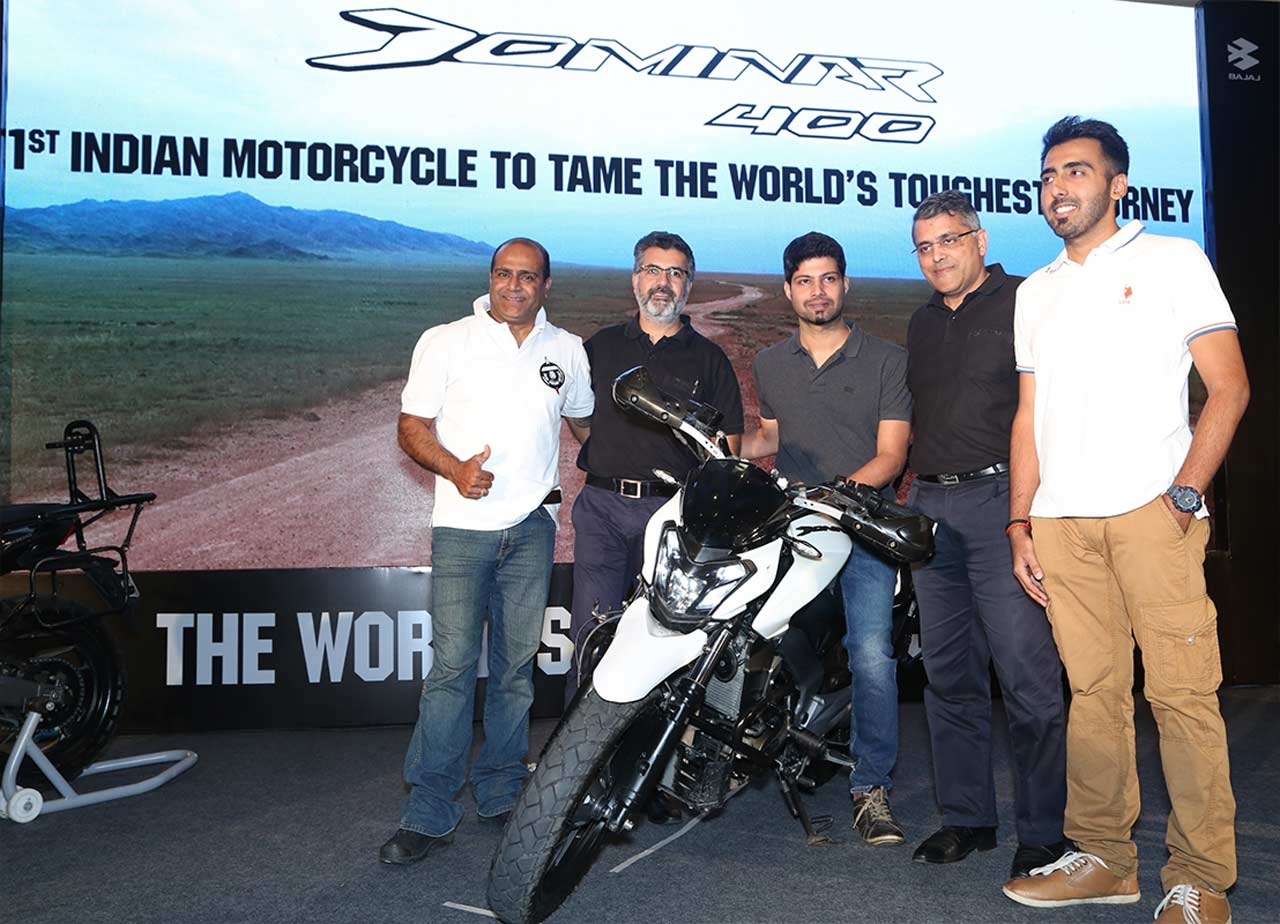 To celebrate this milestone in the Indian motorcycling history, the 3 Dominars which have completed the Trans-Siberian Odyssey and their riders will now embark upon a victory tour across the country. They will visit the Bajaj Auto dealerships in 10 key metro cities where fellow Dominar owners can meet them, learn from their experiences and even ride with them.
This victory lap will start on the 19th Nov and the riders will start off from Pune to Mumbai. From here they will be in Bangalore on the 26th Nov and thereafter in Cochin on 3rd Dec. The next stop will be Chennai on 17th Dec followed by Hyderabad on 24th Dec. Kolkata will be visited on the 31st Dec while Lucknow will be reached on 7th Jan. The riders will be in Delhi on 14th Jan and then in Ahmedabad on 21st Jan. Finally, the riders will ride back to Pune.
Bajaj Dominar 400 Modified for Trans-Siberian Odyssey Images:
"Dominar 400 has redefined the long-distance riding. While riding to Leh & Ladakh during the three months of summer is considered to be the touring benchmark in India, the Dominar 400 allows motorcyclists to raise the bar to altogether another level. The fact that the grueling Trans-Siberian Odyssey was completed using stock Dominars without any major part change or breakdown is testimony to the superior design, quality and technology of the Dominar 400," commented Mr. Eric Vas, President – Motorcycle Business, Bajaj Auto Ltd.
"We are here to celebrate this milestone achieved by hyper-riders Deepak Kamath, Dilip Bhat, Sudhir Prasad and their Dominars. Covering an average of 390 km every day for 53 straight days across the most varied and toughest of terrains with no service back-up is a commendable motorcycling feat that speaks volumes about the grit, determination and toughness of both the hyper-riders and their Dominars," further added Mr. Eric.
Bajaj Dominar 400 Trans-Siberian Odyssey Images:
Key Details of the Bajaj Dominar 400 Trans-Siberian Odyssey:
Leg 1: Uzbekistan – Tajikistan – Kyrgyzstan: 1600 km
Pamir highway, Second-highest altitude highway in the world known as 'Road from Hell', Unpaved treacherous roads. Temperature around 3 degrees.
A section of the historical old silk route, this is known as the Pamir Highway. Over 1600 km in length, the road is mostly an unpaved and un-asphalted surface of gravel and sand. The road is damaged and in a dreadful condition in places because of erosion, earthquakes, landslides, and avalanches. The Pamir Highway is the second-highest altitude international highway in the world and is sometimes referred to as "The Road from Hell". The Pamir highway is mostly one-lane and goes along a deep valley with no barriers between the road and the cliff. Any riding mistake can have a deadly consequence.
Leg 2: Kyrgyzstan – Kazakhstan: 2400 km
Mountainous terrain and high altitude passes, treacherous hair pinned roads.
Kyrgyzstan is a high mountain and landlocked country. Over 90% of the country is mountainous terrain and involves crossing many a mountain passes at dangerous inclines. The road also boasts of some of the most beautiful lakes that include Song Kul Lake and Issyk Kul Lake. Kyrgyzstan also has one of the most famous hair pinned roads in the world.
Leg 3: Kazakhstan – Russia: 1980 km
Mountainous terrain, Charyn Canyon, Steep gradient of 100 feet with 45-degree incline, High-speed roads.
This section has the famous Charyn Canyon which is considered inaccessible to normal vehicles due to a sheer drop of over 100 feet with a 45-degree incline, two-wheelers are banned from entering into this canyon. There is no scope of return if any bike falters in this section. Dominar became the first bike to conquer the Charyn Canyon while traveling from Kazakhstan into Western Russia. This section had some of the most beautiful high-speed roads in the world. Over 1980 km of sustained high speed cruising with speeds in excess of 120 km per hour is a rider's delight. The journey touches Sarkand and Semey before entering Russian at Barnaul.
Leg 4: Russia – Mongolia – Russia: 3440 km
Traverse through Alta-Krai region, High-speed roads, desolate, uninhabited lands of Mongolia & Russia.
Gateway to the real adventure begins here as the bikes made their way in Russia passing the beautiful Alta-Krai region. The journey covered traveling through the vast open lands of Russia & Mongolia. The highlight of this 3400 km journey was scaling up a massive hillock to oversee lake Gusinoye, just ahead of the Mongolian border. The riding was through long stretches with no signs of people or support making it very precarious.
Leg 5: Russia – Kolyma Highway: 4600 km
M56 Kolyma highway, All-weather gravel road, pinnacle of long distance riding.
This section included the Road of Bones – Kolyma Highway. The Kolyma Highway is also known as the Road of Bones because the skeletons of the forced labourers who died during its construction were used in many of its foundations. The road is treated as a memorial and is now a frequently maintained all weather gravel road. The journey has mixed punishing terrain and connects Skovorodino to Kyubeme, it is considered to be the pinnacle of adventure, for riders and drivers alike.
Leg 6: Russia – The Road of Bones – The Old Summer Route: 1580 km.
Challenge for adventure motorcyclists, washed-out bridges, streams, harsh freezing weather conditions.
The ultimate 1580 km of the journey has a 420 km section via Tomtor which is largely unmaintained and completely abandoned. This section is known as the Old Summer Route and remains one of the greatest challenges for adventure motorcyclists. With a surface of compacted gravel or clay, the old summer road is in a state of disrepair with washed out bridges and roads reclaimed by streams. The road is a torture test for the bikers and the bike. There is no clear record of any adventure motorcyclists having accomplished this route without assistance (back up support vehicle). The Bajaj Dominars have become the 1st Indian bikes to reach Tomtor.