Celebrating its 115th Anniversary year, Harley-Davidson has launched four all-new Softail models in India. The new line up includes Street Bob, Fat Bob, Fat Boy and Heritage Classic. These models merge the hard-riding performance of the Dyna line with the unparalleled custom look of the Softail line.
Designed under the largest Product Development Project in company history, these new motorcycles feature a stiffer and lighter steel frame built to harness the high torque output of the new dual-counterbalanced Milwaukee-Eight 107 engine. The aggressively styled 2018 Softail models are faster, lighter and better handling than any of their Big Twin cruiser predecessors, thanks to the high-performance dual-bending valve front suspension and an easily adjustable hidden rear monoshock.
2018 Harley-Davidson Softail motorcycles Features:
Unique Daymaker Signature LED Headlamps on all models
Improved electrical system charging, more than doubled at idle speeds
Easily adjustable rear shock pre-load settings (method varies by model)

 Under seat spanner wrench: Street Bob
External hand adjustment knob: Fat Bob, Fat Boy
 Under seat socket adjustment: Heritage Classic

New instrumentation
Keyless ignition and security system standard
Steering head mounted USB charge port
New fuel tanks
2018 Harley-Davidson Street Bob: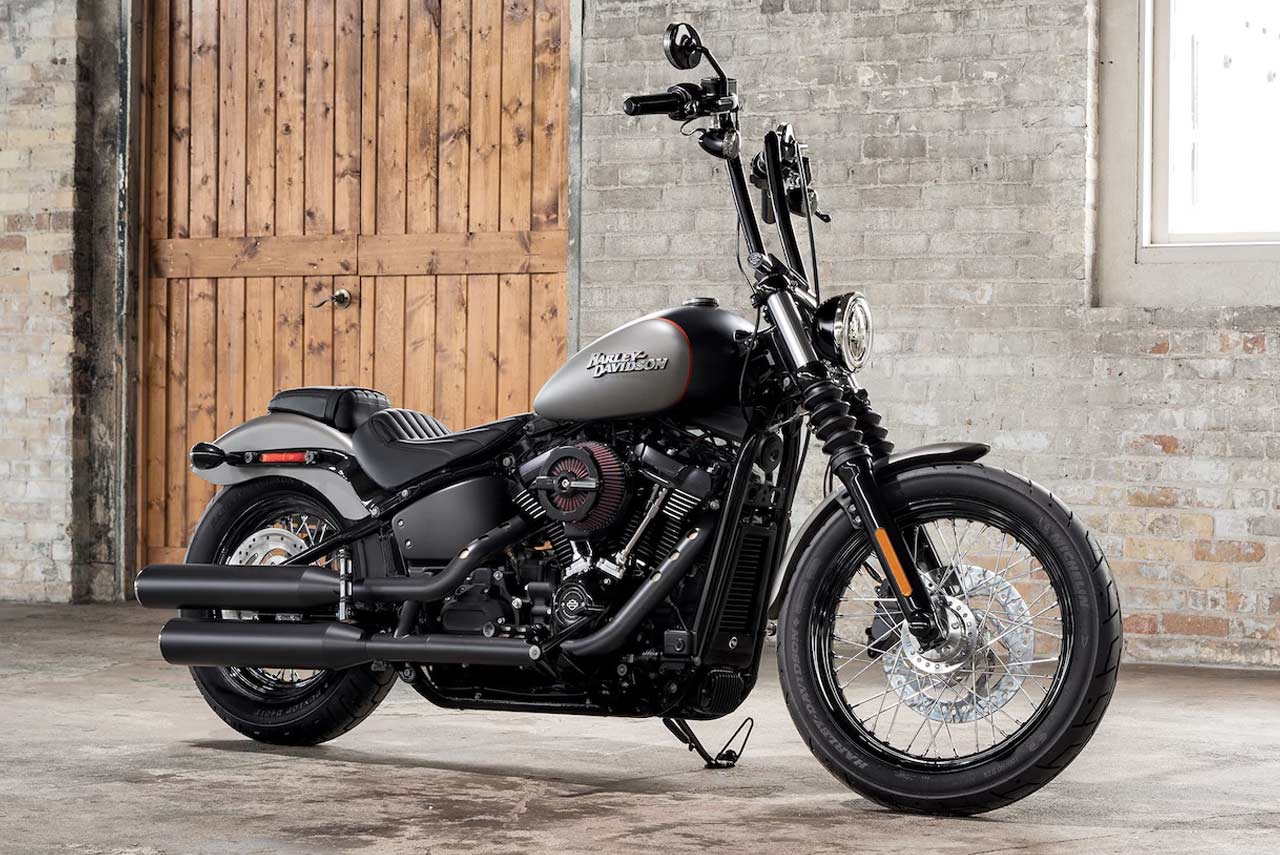 A bare-bones bike with go-anywhere DNA, the Street Bob motorcycle has a fists-in-the-wind attitude with nothing extra to weigh it down.
Key Features:
Smooth-top 13.2 litre fuel tank
Black spoke wheels with chopped fenders
Low-profile riser-mounted digital instrument screen
7 kg weight reduction to previous model
Lowest MSRP in Softail line
2018 Harley-Davidson Street Bob Price:
The new Harley-Davidson Street Bob is priced at INR 11,99,000/- (ex-showroom Delhi)
2018 Harley-Davidson Fat Bob: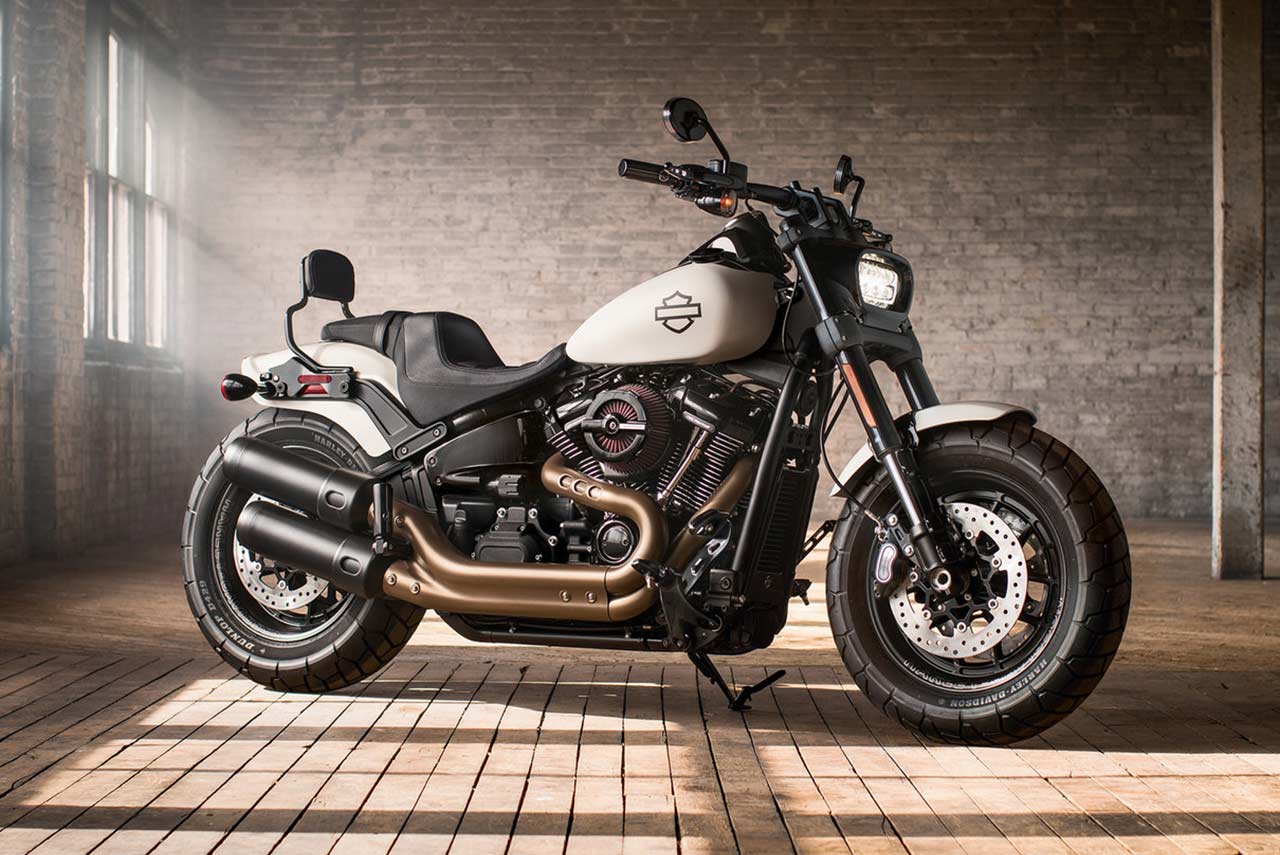 Tarmac-eating traction, pothole-devouring suspension, agile cornering and a blacked-out take-no-prisoners look make the Fat Bob a groundbreaking motorcycle that could only come from Harley-Davidson.
Key Features:
2-1-2 upswept performance exhaust with a custom finish
Largest aggressively treaded tires from the Motor Company: 150 mm front and 180 mm rear
Dual disc front brakes
13.2 litre fuel tank
15 kg weight reduction to previous model
Inverted 43 mm cartridge style front forks
2018 Harley-Davidson Fat Bob Price:
The new Harley-Davidson Fat Bob is priced at INR 13,99,000/- (ex-showroom Delhi)
2018 Harley-Davidson Fat Boy:
The legendary Fat Boy motorcycle that defined contemporary custom style for decades has outdone itself. Ripped and refined satin-chrome finishes deliver a bold, muscular styling statement showing off its powerful engine and new and improved ride and handling.
Key Features:
Aggressive, steamroller stance and front end design
Modern-day interpretation of the classic headlight nacelle
A 160 mm front tire, the widest-ever on a Harley-Davidson production model, wraps the solid Lakester front wheel
16 kg weight reduction to previous model
Standard ABS
240 mm rear tire with solid Lakester rear wheel
2018 Harley-Davidson Fat Boy Price:
The new Harley-Davidson Fat Boy is priced at INR 17,49,000/- (ex-showroom Delhi)
2018 Harley-Davidson Heritage Classic:
Design cues evoke the blacked-out styling of vintage 1950s Harley-Davidson models, updated with a modern edge.
Key Features:
New detachable windscreen
New rigid, lockable, sealed, water-resistant saddlebags
Taller suspension with increased passenger and cargo payload capacity
17 kg weight reduction to previous model
Standard cruise control and ABS
2018 Harley-Davidson Heritage Classic Price:
2018 Harley-Davidson Heritage Classic is priced at INR 18,99,000/- (ex-showroom Delhi)
"Our new offerings strongly demonstrate Harley-Davidson's focus on reinventing products for motorcycle enthusiasts and aspiring riders. The 2018 Softail® custom motorcycles have been inspired by Harley-Davidson's history, authenticity and styling DNA through a modern lens. The response to the first look has been very positive and we are confident that the motorcycles will further enhance the sport of leisure motorcycling in India," said Peter MacKenzie, Managing Director, Harley-Davidson India and China.
All 2018 Softail models are powered by the most powerful engines ever offered in Harley-Davidson Big Twin cruisers, the new Milwaukee-Eight 107 V-Twin. Milwaukee-Eight engines retain the iconic 45-degree V-Twin cylinder angle with a broad-shouldered top end accentuated by a single camshaft design that tapers to a slim bottom end for a muscular contour.
The new Softail frame's rigid mounting points are engineered to tightly package the engine and reinforce chassis stiffness. Milwaukee-Eight engines for Softail models also feature a refined, dual internally counter-balanced system that reduces engine vibration while maintaining the familiar Harley-Davidson feel. Harley-Davidson's trademark 'potato-potato-potato' sound comes through strong with less intake and mechanical noise.
The new Harley-Davison Fat Boy, Heritage Classic, Fat Bob and Street Bob feature all-new designs that differentiate them from their predecessors and each other. The more rigid frame elevates the form and function of these luxury motorcycle while maintaining the classic look of a hardtail and delivering a thoroughly modern ride. The new chassis allows increased lean angles, sharper turn-in response, quicker acceleration, nimble flickability, lighter weight and easier side-stand lift off than previous models.
At the core of the 2018 Harley-Davisdson Softail chassis is a new high stiffness carbon steel tubular frame which combined with the swingarm significantly increases the rigidity of the chassis. The frame itself is 65% stiffer than the outgoing Softail design, which leads to a 34% increase in overall chassis stiffness. Its design also achieves reduced complexity with a 50% reduction in component parts and 22% reduction in welds.
Brand new high-performance dual-bending valve front suspension, which were first introduced on 2017 Touring models, delivers damping performance that is similar to a cartridge fork but with improved, more responsive damping characteristics. It is optimised for both comfortable cruising and spirited riding with 130 mm of travel. Revised rake and trail also enhance handling ability.
There are two unique swingarms, one for narrow and one for wide rear tires. The wide chassis is 5.89 kg (15%) lighter, while the narrow chassis shaves 8.16 kg (20%). The swingarm transfers rear wheel movement to the under-seat monoshock.
The new monoshock rear suspension preserves the classic hardtail look while revamped geometry improves ride quality, traction and control. Easily adjustable for spring preload it enables a 217 kg range of payload capacity for increased passenger comfort and optimum handling.
The all-new Softail models are up to 17 kg lighter than the older generation. This helps to deliver an improved power-to-weight ratio that provides quicker acceleration, better braking and dynamic cornering capability. Some models feature new specifically designed tires and feature optimised constructions and improved compounds for confident, long-wearing performance in all riding conditions. New seat designs and materials provide an improved fit for a wider range of riders and greater comfort for cruising.