Rajputana Custom Motorcycles (RCM) has created another masterpiece. Called as the Jordaar Version 2, this custom bike is based on the Harley Davidson Iron 883 Sportster. The first version of the Jordaar was made in the year 2014.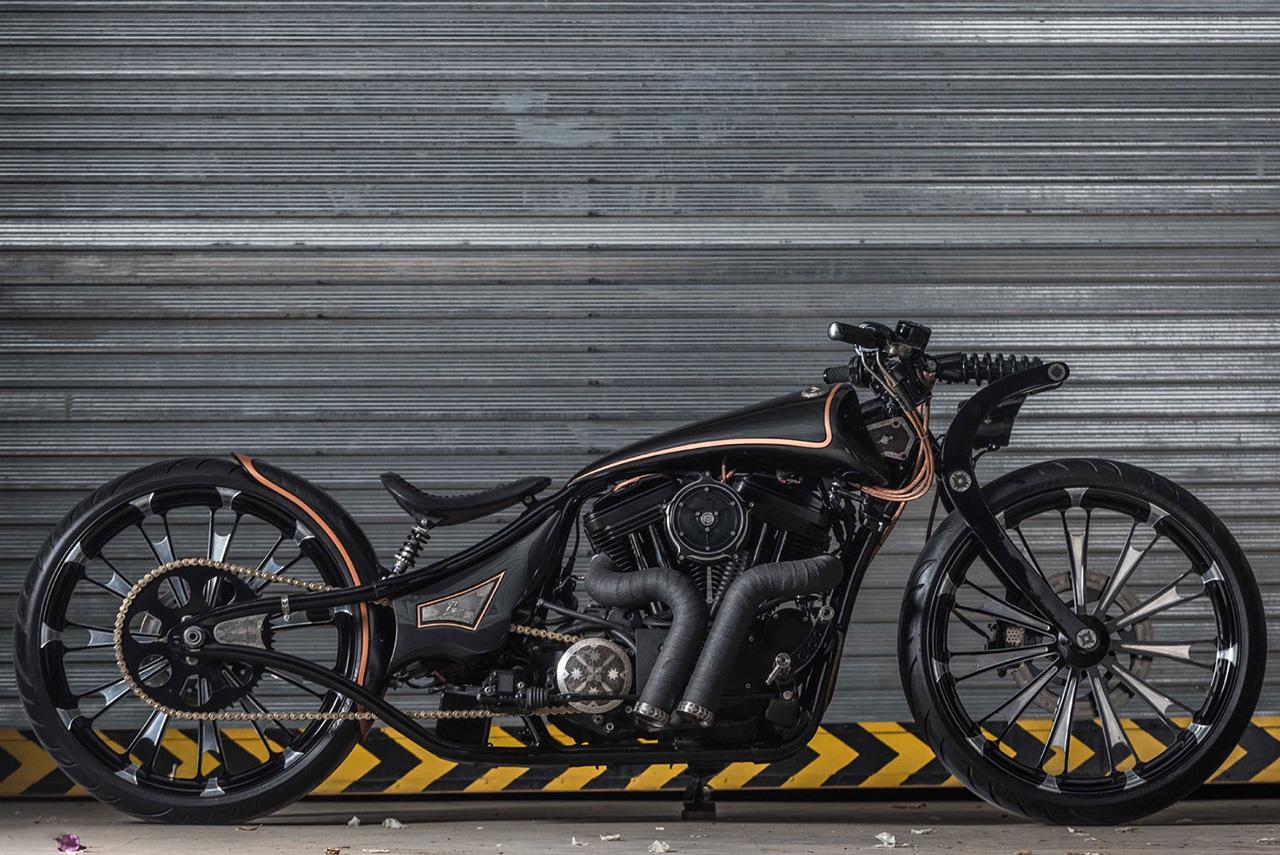 Jordaar is a hindi word which translates to strong, mighty, powerful, violent in English. The custom motorcycle comes with lots of handmade parts which includes the sleek fuel tank, oil tank, air filter cover, hand levers and the leather saddle. Each part is meticulously crafted which can be seen in the parts made from Damascus steel and the ones with Koftgari detailing.
The RCM Jordaar V2 rides on a custom made suspension setup and also includes some really great looking 23-inch alloy wheels which have been fitted with low profile tyres. The custom bike is finished in a deep shade of black and gets copper pinstripes along the body lines which gives this ferocious looking machine a touch of elegance. The exhaust pipes have been customized as well and are wrapped in a black heat wrap material. The ends of the pipes also get specially made rings.
The stock Harley Davidson Iron 883 Sportster on which the Jordaar is based is powered by an 883 cc Air-cooled engine which produces 50 hp at 5500 rpm and 70 Nm at 3500 rpm. The engine is mated to a 5-speed gearbox.
Rajputana Custom Motorcycles Jordaar V2 Price:
The RCM Jordaar V2 can be ordered for a price of INR 18 Lakh. This does not include the price of the base Harley Davidson Iron 883 Sportster which starts at INR 8.39 Lakh (ex-showroom).
Rajputana Custom Motorcycles Jordaar V2 – Image Gallery:
Check out the video below by 101India, if you would like to know more about Vijay Singh of Rajputana Customs. It shows his journey of becoming a biker, a bike builder, and everything that led up to creating the Jordaar HD883, a beast of a machine.
About Rajputana Custom Motorcycles:
The Jaipur based Rajputana Custom Motorcycles was started by Vijay Singh Ajairajpura, a passionate biker himself. Their first bike the 'Original Gangster' was showcased at the New Delhi Auto Expo 2010 which garnered an overwhelming response and since then RCM has been creating masterpiece after masterpiece.
Rajputana Custom Motorcycles has catered to bike enthusiast like the famous actor John Abraham as well. The team sticks to creating 12 bikes a year in order to give utmost attention to each of the builds.
Image Source – Rajputana Custom Motorcycles