The all-new Suzuki Swift Sport has made its world debut at the 2017 Frankfurt Motor Show (IAA 2017). The new Suzuki Swift Sport now comes with an even more aggressive styling and is also lower and wider than its predecessor.
Can't see the video here? Head to YouTube
2018 Suzuki Swift Sport Key Highlights:
Kerb weight is down 80kg to only 970kg
Powered by a 1.4 BoosterJet petrol engine
Maximum Power is 130 kW and torque is 230 Nm
Swift Sport's acclaimed handling is more responsive than ever
Exclusive front grille and bumper, and aerodynamic front-lip spoiler, side skirts, rear diffuser and roof-end spoiler.
Dual exhausts
New interior – Accent panels, Colour-contrasted gauges and Precision dials
Semi-bucket seats and high-quality textures
New-generation Suzuki HEARTECT platform
2018 Suzuki Swift Sport Image Gallery:
"We know that our customers value a dynamic driving experience above everything else. So we've made the new Swift Sport lighter, faster and more stimulating in every way" said Masao Kobori – Suzuki Swift Sport Chief Engineer.
2018 Suzuki Swift Sport Engine:
The 2018 Suzuki Swift Sport is powered by a 1.4 BoosterJet petrol engine that has been tuned to deliver high performance with good fuel economy. This engine produces a maximum power output of 103 kW at 5500 rpm and 230 Nm of torque at 2500-3500 rpm. The motor is mated to a 6-speed manual transmission same as that used in the previous Swift Sport but has been enhanced to provide short-stroke and nimble shifting.
The engine is able to produce impressive torque from low in the rev range thanks to the new turbocharger unit. The small displacement and direct fuel injection system featuring seven-hole injector nozzles optimises fuel consumption and also results in cleaner exhaust.
2018 Suzuki Swift Sport Chassis:
The new Swift Sport is built on the new-generation Suzuki HEARTECT platform that promises to deliver enhanced vehicle performance through light weight and high rigidity. The use of the new platform has also resulted in a total kerb weight of just 970kg which is 80kg less than its predecessor. The torque-to-weight ratio of the new Suzuki Swift Sport is approximately 4.2 kg/ Nm, making it one of the most competitive hot hatch models in the market.
2018 Suzuki Swift Sport Suspension:
Just like the previous Swift Sport models the latest iteration also possess the advanced handling capabilities which have been further refined with greater driving stability, optimized roll rigidity, and improved dynamic response.
The new Suzuki Swift is equipped with Monroe front shock absorbers. The thickness of the stabilizer joint bars have been increased to improve roll stability and a Teflon seat is added to the stabilizer mount. The wheel hub and wheel bearings have been made into a single unit. The width between the bearings has been expanded which has increased camber rigidity during cornering by 15%.
The rear suspension has been engineered to achieve superior stability even at high speeds. The new Swift Sport gets an exclusively trailing arm which has been designed to minimise deformation during cornering. Toe rigidity has been improved by 1.4 times compared to its predecessor, and camber rigidity is higher by a factor of nearly three. It is also equipped with Monroe rear shock absorbers with a revised valve structure and optimised damping force characteristics for enhanced handling and control on the road.
2018 Suzuki Swift Sport Exterior:
The new Swift Sport features an exclusive and aggressive look. It features a new front grille and bumper which extend beyond that of the standard Swift. The large honeycomb grille gets a unique staggered design.
The Muscular shoulders, blacked-out A-pillars and vertically arranged front and rear lamps similar to the regular model are complemented by the black aerodynamic under spoilers spanning the front, sides and rear. A roof spoiler while enhancing the sporty looks also improves the aerodynamics of the hot hatch.
The new Suzuki Swift Sport also gets Thin-spoke 17-inch alloy wheels, Carbon fiber-style embossing for the front grille, front-lip spoiler, side skirts and rear diffuser. The tapered shape for dual exhaust tips relay presence with their wide light-reflecting surfaces.
The new Swift Sport measures 3890 mm in length, 1735 mm in width and 1495 mm in height. It also sports a wheelbase of 2450 mm and has a ground clearance of 120 mm. When compared to the previous Swift Sport the wheelbase is 20 mm longer while tread is 40 mm wider both front and rear. It is also lowered by 15 mm and widened by 40 mm, thus creating a more grounded, athletic stance.
2018 Suzuki Swift Sport Colours:
The new Swift Sport will be available in 7 shades including Burning Red Pearl Metallic (ZWP), Speedy Blue Metallic (ZWG), Pure White Pearl (ZVR), Premium Silver Metallic (ZNC), Mineral Grey Metallic (ZMW) and Super Black Pearl (ZMV). Along with these, it will come in an exclusive Champion Yellow shade that originates from the colour scheme of the Suzuki Works Rally car which participated in the Junior World Rally Championship.
2018 Suzuki Swift Sport Interior: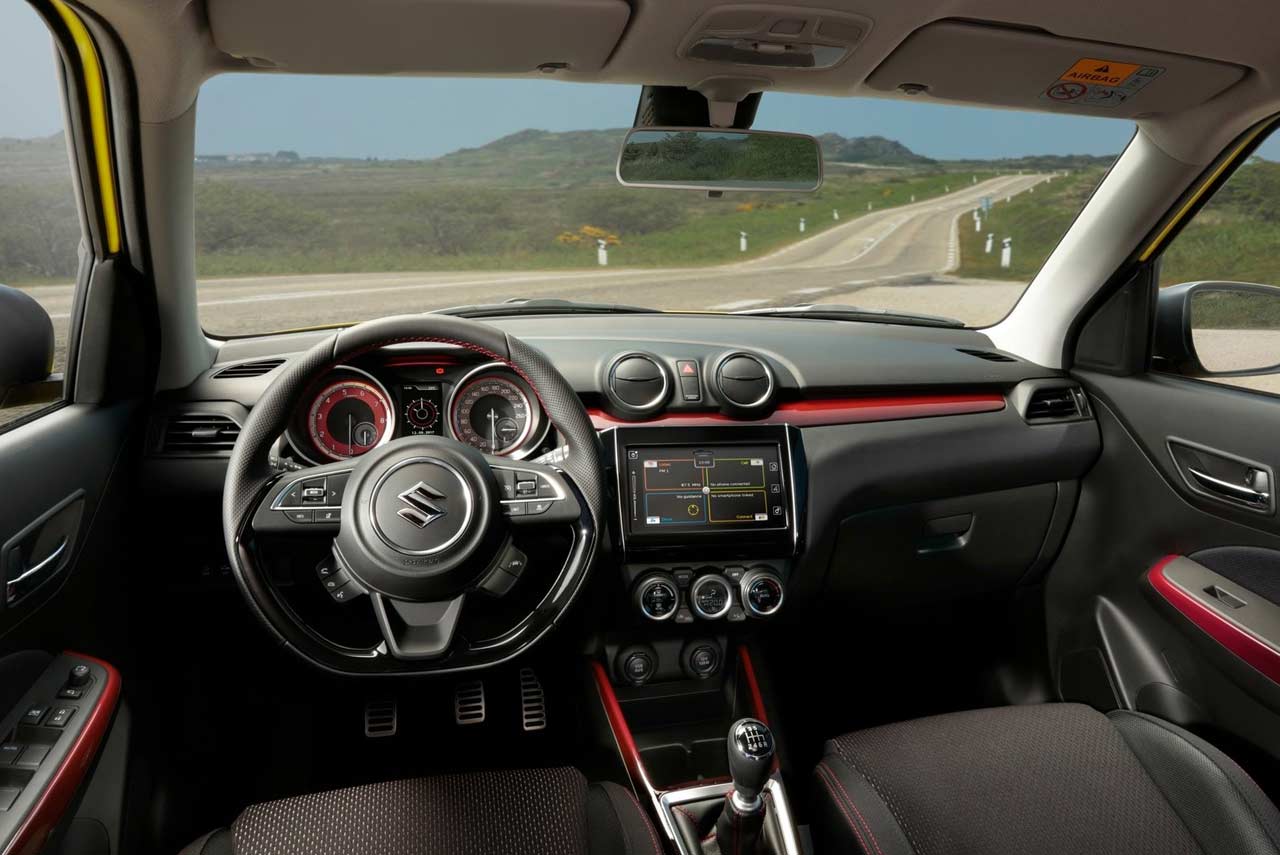 The cabin of the new Swift Sport has been created to provide an immersive and interactive sports driving environment. It features a driver-oriented instrument panel along with red interior accents. The main gauges look interesting with the contrasting colours while the new boost and oil temperature gauges enhance the sports driving experience.
Throughout the cabin, there is use of precision-crafted, high-quality textures and materials. The new Swift Sport's semi-bucket shape front seats enhance the sports driving sensation for the driver and the passenger.
The flat bottom steering wheel with dimpled leather gives a secure grip and gets satin finish, piano black accents and red cross-stitching. The look of the cabin is further enhanced by the chrome finished shift knob and sports alloy pedals. The new Swift Sport also features the 7-inch Suzuki SmartPlay touchscreen infotainment system which comes with inbuilt navigation and enables smartphone connectivity through Apple CarPlay, Android Auto or MirrorLink.
2018 Suzuki Swift Sport Safety Features:
The new Suzuki Swift Sport is equipped with Advanced forward detection, Dual Sensor Brake Support (DSBS), Lane departure warning, Weaving alert function, High beam assist and Adaptive cruise control. The hot hatch also features Radar Brake Support, Emergency stop signal, Electronic Stability Program (ESP), Tyre pressure monitoring system (TPMS), Total Effective Control Technology (TECT) impact-absorbing body, 6 SRS airbags and Pedestrian injury mitigation body.
Save