Lamborghini has introduced the Huracan Rear Wheel Drive Spyder for the Indian market. The soft-top version of the Lamborghini Huracan LP580-2 retails at a start price of INR 3.45 crores (Ex-showroom, Mumbai). The launch happened at the Lakme Fashion Week 2017 in Mumbai.
The Lamborghini Huracan RWD Spyder combines the lifestyle appeal of open-air motoring with the pure thrill of rear-wheel drive engineering. It sports a new dynamic and aggressive designed front and rear to distinguishing it from the four-wheel drive version. The roof top can open and close in just 17 seconds even while cruising at speeds upto 50 km/h.
Present at the launch Mr. Sharad Agarwal, Head of Automobili Lamborghini India said, "The Lamborghini Huracán Rear-Wheel Drive Spyder is a perfect amalgamation of style meets performance. It combines the lifestyle appeal of a convertible with the pure thrill of rear-wheel drive engineering. We have created a luxurious masterpiece for our customers who wish to seize every day and head out onto the open road with their best foot forward. The Lamborghini Huracán Rear-Wheel Drive Spyder is for those with passion who want to experience lifestyle without compromising on performance."
Power comes from a mid-mounted naturally aspirated 5.2 litre V10 engine which produces 580 hp at 8,000 rpm and 540 Nm of torque at 6,500 rpm. All this immense power is send to the rear axles via the Lamborghini Doppia Frizione (LDF) seven-speed dual clutch system which allows the fastest gear changes and includes 'launch control' for highest level of acceleration from a standing start.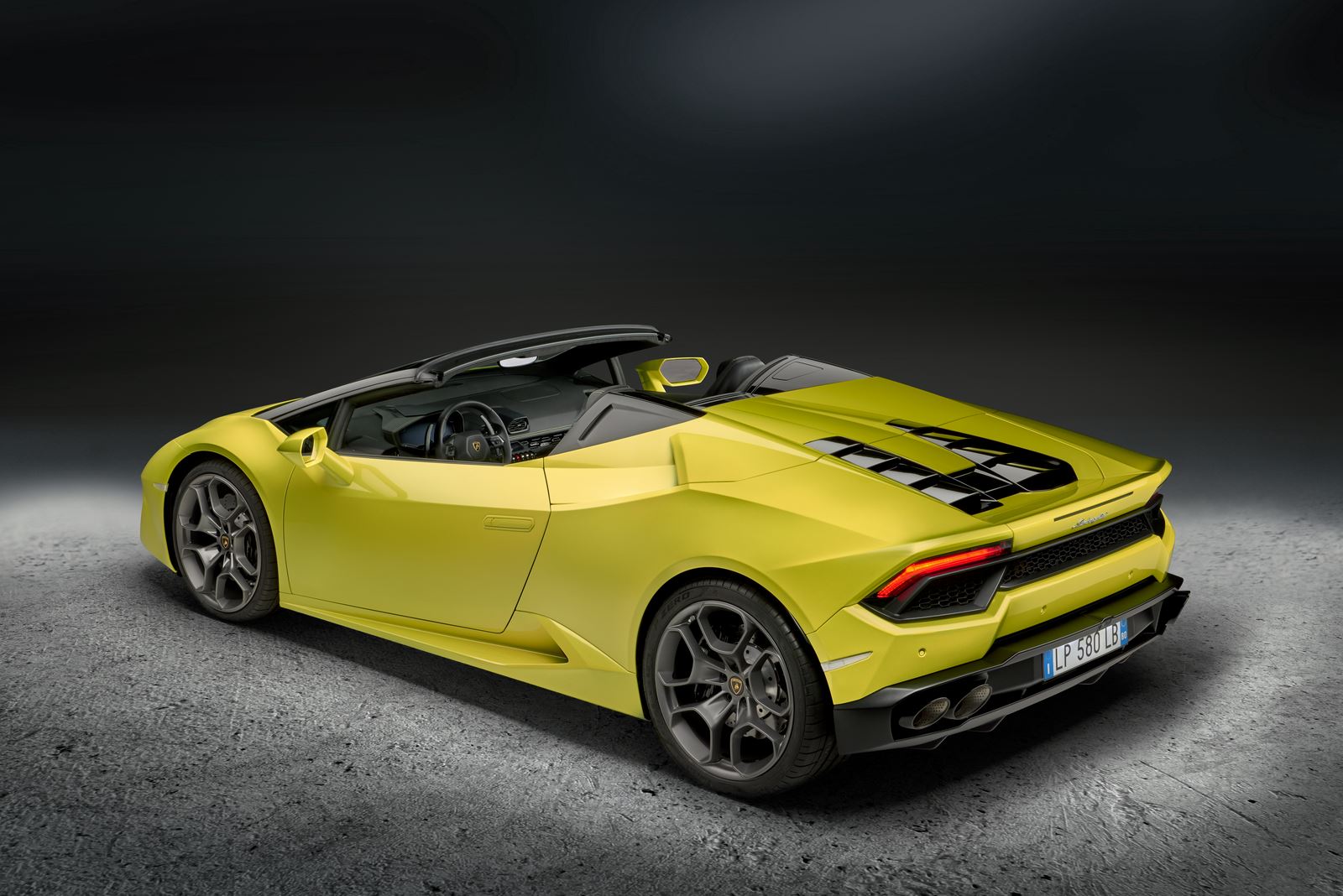 The electronic power steering (EPS) and optional Lamborghini Dynamic Steering (LDS) tuned specifically for the rear-wheel drive setup, ensure maximum agility and control in every driving condition depending upon the driving mode selected.
Driving modes can be selected using the ANIMA (Adaptive Network Intelligent Management) button on the steering wheel. The driver can select – STRADA for daily use, SPORT for sporty driving , and CORSA for outright track-oriented performance.
With a dry weight of just 1,509 kg, the Spyder gets a weight-to-power ratio of 2.6 kg/hp. The supercar can accelerate from 0-100 km/h in 3.6 seconds and 0-200 km/h in 10.4 seconds. Top speed is claimed to be 319 km/h. Weight distribution is biased 40% at the front and 60% at the rear.
The 19-inch Kari rims are wrapped in Pirelli PZero tires which have been developed for the rear-wheel drive Huracan. Specially contoured steel discs with aluminium callipers assist in weight reduction and improved cooling.
The elegant and sporty interiors were developed to provide an engaging driving experience and can be customised with countless options in terms of colours and finishes. The cockpit features the latest Lamborghini Infotainment System II with a 12.3-inch hi-res TFT instrument panel.
Like all Huracan models, this one too gets cylinder deactivation. This improves engine efficiency, reduces fuel consumption and reduces CO2. Five of the ten cylinders are temporarily deactivated by switching off one cylinder bank when full engine capacity is not required. Upon accelerating the system switches back to ten-cylinder mode. The switchback is done instantaneously making it virtually impossible for the driver to detect it.
Lamborghini Huracan Rear Wheel Drive Spyder – Image Gallery
Save
Save