At AutoMobility LA, Hyundai showcased the all-new 2024 Hyundai Santa Fe, featuring an innovative 'Open for More' development concept. This concept revolves around the newly widened liftgate opening and the spacious interior of the vehicle. The 2024 Santa Fe's broad liftgate seamlessly links the interior to the external surroundings, enhancing passengers' daily experiences. The liftgate area, traditionally used for storage, now serves as a terrace-like space, allowing for effortless enjoyment of the outdoor environment around the vehicle. In preparation for the production of the fifth-generation Santa Fe, Hyundai Motor Manufacturing, LLC has allocated $190 million for new investments in tooling and equipment upgrades.
The all-new Santa Fe enhances its city-friendly, adventure-ready appeal with a generous, terrace-like living space created by its new, longer wheelbase and larger liftgate opening. The longer wheelbase also allows the new model to offer standard third-row seating comfort without compromising overall roominess.
Exterior Design: Embodying the robust presence of a bold SUV
Santa Fe employs a distinctive design approach, commencing with the innovative enlarged liftgate concept to enhance the enjoyment of outdoor activities. This concept then extends outward to shape the overall exterior design. The vehicle's efficient, rectangular surfacing and elongated wheelbase convey a confident and assertive presence on the road, suitable for both urban environments and nature-focused settings.
The front view of the Santa Fe makes a striking statement, featuring an elevated, level hood line, an H-shaped headlamp signature, and meticulously crafted fenders. The H-shaped headlamps and lower front valance draw inspiration from the new flat-profile Hyundai logo, projecting a bold and distinctive image. The extended wheelbase adds a touch of sophistication, with clean side sculpting, a flatter roofline, ample fender volumes, robust wheel arches, a shorter front overhang, and the option of 21-inch alloy wheels. Moving to the rear, the widened liftgate opening exudes stability and incorporates streamlined, sculptural surfacing details. The H-shaped taillamps complement the front view, creating a clean and attractive lighting signature from every angle. Notably, the new liftgate design is nearly six inches wider than that of the previous generation Santa Fe.
In North America, the Santa Fe is offered in 11 exterior colors, including Phantom Black, Serenity White Pearl, Shimmering Silver Metallic, Ecotronic Gray Pearl, Ecotronic Gray Matte, Ultimate Red Metallic, Earthy Brass Matte, Hampton Gray, Terracotta Orange, and Rockwood Green Pearl.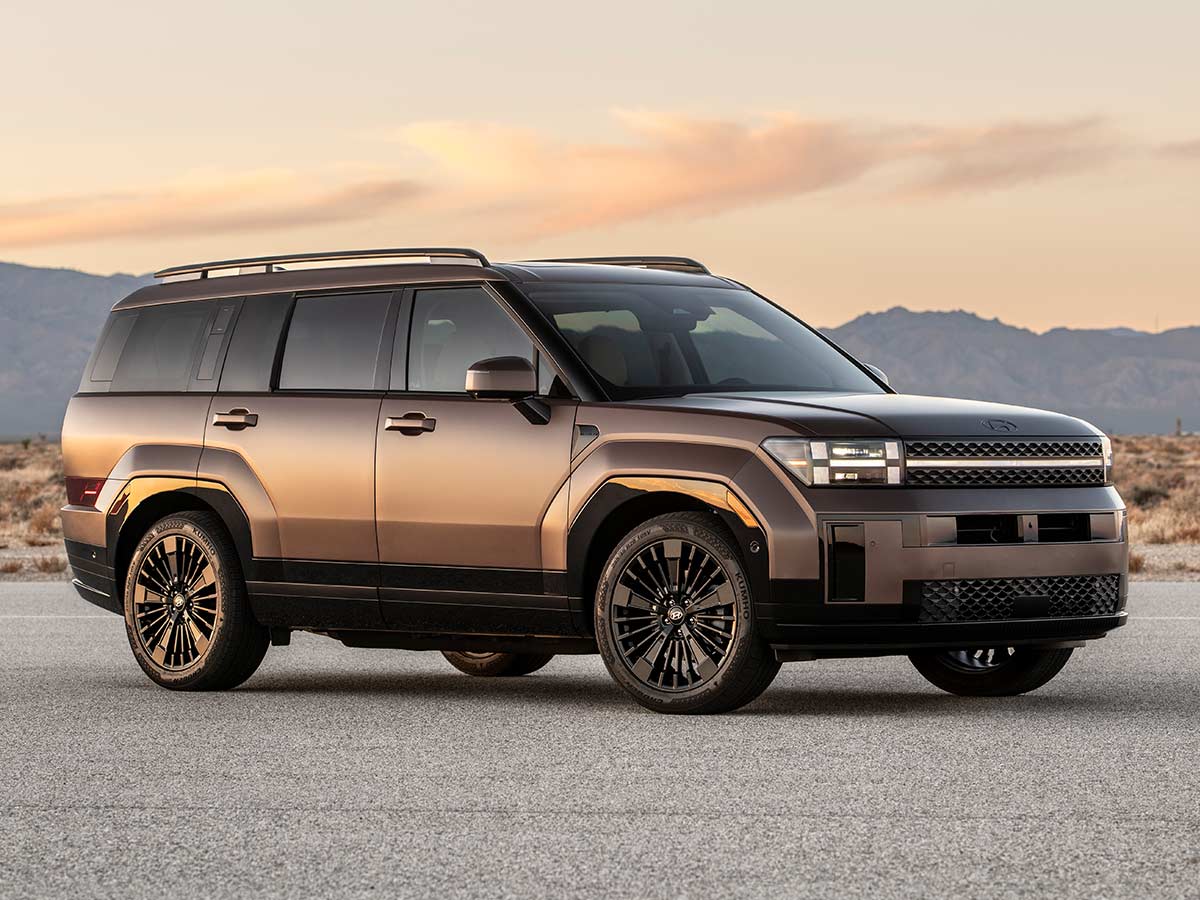 Interior Design: Impeccably integrating horizontal and vertical design elements
The entirely new interior of the Santa Fe complements the external design themes by accentuating both horizontal and vertical design elements in harmony with the exterior language. An H-shaped design motif extends to the upper instrument panel and air vents, creating a sense of openness and achieving a well-balanced and cohesive design.
The revamped interior experience is enriched with convenient features, including a novel UV-C sterilization compartment and a dual, wireless charging system (15W) for smartphones, offering users a sophisticated and streamlined interaction. Santa Fe pioneers the Panoramic Curved Display, a first in its class, seamlessly integrating the 12.3-inch digital gauge cluster and infotainment system to improve driving visibility and infuse a premium ambiance.
Capitalizing on the extended wheelbase, the all-new Santa Fe maximizes interior space for enhanced passenger comfort. The fully foldable second- and third-row seats transform the rear liftgate opening into a terrace-like space, effortlessly facilitating the enjoyment of the outdoor surroundings. This design concept is rooted in lifestyle data, identifying consumer interest in contemporary outdoor trends like car camping and gear-intensive adventures.
Santa Fe's interior underscores its commitment to eco-friendliness through the use of sustainable materials for soft surfaces, including the headliner, seatbacks, and various coverings like the instrument panel, door trim, and seats. This dedication extends to the exterior, where the glossy black paint on trim panels incorporates recycled carbon materials. In the North American market, the Ecotronic Gray exterior color utilizes a natural bamboo charcoal-coating method.
Offering a range of interior colors, Santa Fe provides options like Obsidian Black, Supersonic Gray, Pecan Brown, and Forest Green.
Practical Body Design for Urban and Outdoor Activities
The all-new Santa Fe features a practical body profile that caters to both urban and outdoor pursuits. It boasts impressive cargo capacity, making it ideal for urban lifestyles and outdoor adventures, accommodating sports equipment, camping gear, and travel luggage with ease. The roof storage accessibility is enhanced by a self-concealing grab handle discreetly integrated into the exterior C-pillar, maintaining a flush exterior surface without interruptions.
Prioritizing living space, Santa Fe increases second- and third-row legroom, offering best-in-class third-row legroom and improved rear headroom. The second-row legroom length for the Santa Fe 2.5T has grown by 1.4 inches, while the hybrid model sees a 0.8-inch increase in second-row legroom.
Premium Comfort and Convenience Features for City and Outdoors: The all-new Santa Fe is equipped with premium comfort and convenience features to elevate the user experience. The available first-row Relaxation Comfort seat with a leg rest allows occupants to relax in a comfortable position, simulating a weightless experience. In the six-passenger Santa Fe, power-reclining captain's chairs in the second row enhance comfort for rear passengers. The second-row power fold-and-dive seats, a world's first for this type of seat, add a cushion-angle adjustment. Santa Fe introduces a world's first bilateral, multi-console storage space accessible to both front and rear passengers.
Convenience features include an available dual wireless charging system for smartphones, standard Wireless Apple CarPlay and Android Auto, a powerful USB-C terminal with a maximum charging rate of 27 watts, and a third-row USB port. Additionally, an available UV-C sterilization compartment in the top of the glove compartment utilizes ultraviolet light to sterilize frequently-used items like cell phones, wallets, glasses, and similar items. The option for a Bose 12-speaker premium sound system is also available.
Advanced Technology and Safety Features: The Santa Fe offers Over-The-Air (OTA) updates for wireless updates to vehicle systems, updating key controllers without the need for a visit to a Hyundai service center. Digital Key 2 allows for vehicle access, startup, and remote control through the owner's smartphone using Near-field Communication (NFC), Bluetooth Low Energy (BLE), and Ultra-wideband (UWB) protocols.
For enhanced visibility, the available digital center mirror assists the driver when the rear view is temporarily obstructed by items in the cargo area. It also improves nighttime visibility with a brighter image in dark environments. The radar-based Rear Occupant Alert (ROA) serves as a safety precaution, reminding the driver of rear occupants, such as children and pets, after the engine is turned off.
Confidence-Boosting Driver Assistance and Safety Features
The Santa Fe is equipped with an array of active driver assistance and safety features designed to instill confidence in drivers. These features contribute to a comfortable and assured driving experience, whether commuting or embarking on a weekend adventure.
Included features, such as Forward Collision-Avoidance Assist, offer warnings and emergency braking if the vehicle ahead suddenly slows down or if there's a detected risk of a forward collision. Lane Following Assist, utilizing a windshield-mounted camera, aids in keeping the vehicle centered within its lane. The Driver Attention Warning (DAW) system assesses driving inputs, issuing warnings to alert the driver to low attentiveness. Additionally, Forward Attention Warning (FAW), a Hyundai first in North America, employs an infrared camera on the steering column to track the driver's eye gaze and monitor attention levels for enhanced safety.
The available Navigation-based Smart Cruise Control helps maintain a safe speed while navigating curves on the main section of a highway. Highway Driving Assist assists in maintaining a selected speed and distance from the vehicle ahead, facilitates lane changes on a highway, and helps center the vehicle within the lane during driving.
Other driver assistance and safety features in the Santa Fe encompass Intelligent Speed Limit Assist, Rear View Monitor, Rear Cross-Traffic Collision-Avoidance Assist, Front and Rear Parking Distance Warning, an available Surround View Monitor, available Remote Smart Parking Assist, and Safe Exit Assist.
Efficient Power for City Commutes and Outdoor Expeditions
The 2024 Santa Fe offers two robust and fuel-efficient powertrain options to cater to both urban commuting and outdoor adventures. The standard powertrain features a 2.5-liter direct-injected, turbocharged engine (Theta III engine family) paired with an eight-speed dual-clutch transmission. This configuration is estimated to deliver an output of 277 horsepower at 5,800 rpm and an estimated torque of 311 lb.-ft. at 1,700 – 4,000 rpm.
For environmentally-conscious buyers, there's an alternative in the form of a 1.6-liter direct-injected, turbocharged hybrid (Gamma III engine family) coupled with a six-speed automatic transmission. This hybrid powertrain is estimated to provide a combined engine and motor output of 232 horsepower and an estimated torque of 271 lb.-ft.
Next-Gen XRT Model
Unveiling its global premiere, the new Hyundai Santa Fe XRT stands as an outdoor-centric sport model meticulously crafted to meet the diverse demands of enthusiasts. Engineered for adept navigation through challenging terrains, this model ensures confident and effortless handling, providing adaptable utility for a range of outdoor activities. In contrast to the Santa Fe Calligraphy trim tailored for upscale urban living, the XRT is specifically designed to cater to adventure-driven enthusiasts seeking robust capabilities.
This latest iteration of the Santa Fe XRT model incorporates dark chrome and black trim elements and cladding across the exterior, including black roof rails adorned with cross bars, cultivating a rugged and adventure-ready aesthetic. The inclusion of a 30-inch all-terrain tire fitment, featuring 245/60R18 tires, further enhances its off-road prowess. Notably, the new Santa Fe XRT boasts an additional 1.5 inches of ground clearance, and when equipped with the towing package, achieves a noteworthy 4,500 lbs. towing capacity.