Hyundai Motor India Ltd., country's first Smart Mobility Solutions Provider and largest exporter since inception, has unveiled and opened bookings for it's highly anticipated – i20 N Line, the first model to debut under Hyundai's N Line range of cars for India.
Deriving inspiration from Motorsports styling, i20 N Line fuses exhilarating style with a dynamic driving experience to deliver excitement every day.
Hyundai i20 N Line has been developed to epitomize sporty and fun driving experiences, making every day commutes playful and fun. The dynamic and exhilarating style of i20 N Line showcases its Motorsport inspired DNA, while its vivid and striking colours make sure you never go unnoticed. Built for the athletic, individualistic and outgoing driving enthusiast, the i20 N Line has been developed to deliver a sporty & dynamic driving experience to perfectly compliment everyday excitement. Hyundai i20 N Line is based on Four Key Pillars for the Indian Market:
Energizing Exteriors
Engaging Interiors
Enthusiastic Performance
Enticing Technology
Perfectly combining these key elements, Hyundai i20 N Line has been built to excite the senses, giving an adrenaline rush every time you press the ignition button.
2021 Hyundai i20 N Line Colour Options:
Hyundai i20 N Line will be offered with 4 Mono Tone Colour Options – Thunder blue (New & Exclusive), Fiery red, Titan grey and Polar white; as well as 2 Dual Tone colour options – Thunder blue with Phantom black roof and Fiery red with Phantom black roof.
The i20 N Line has been developed to exemplify fun to drive elements that are combined with a sporty appearance. Based on Hyundai's 'Sensuous Sportiness' design identity, the sharp and dynamic aesthetic of i20 N Line exudes the car's Motorsport Inspired design cues.
The facade of the i20 N Line, easily sets it apart in a crowd with a Chequered Flag Inspired Front Grille that also boldly displays the N Line logo. Featuring a Sporty two tone bumper with a dedicated design and Athletic Red inserts, i20 N Line projects an aerodynamic and sporty allure. Additionally, front aggressive hood lines amplify the dynamic and sporty look of i20 N Line.
Over to the side, the dynamic and sporty image is characterized by R16 (D = 405.6 mm) Diamond Cut Alloy wheels with N Logo on the Hub. Accentuating the hatchback's energetic stance, i20 N Line has been equipped with Red Front Brake Callipers while the side sill garnish with athletic red inserts add to the overall sporty attitude of the car.
The i20 N Line's rear design further amplifies the dynamic look with a Sporty tail gate spoiler with side wings. A Dark Chrome connecting tail lamp garnish rounds up the i20 N Line's exciting design, while the Twin Tip Muffler builds on the hatchback's sporty and athletic imagery. The i20 N Line will also feature the N Line emblem on the tailgate, a feature unique to India.
The cabin of the i20 N Line draw significant inspiration from motorsports to create a lively and exhilarating theme for the driver and passengers. The interior of the i20 N Line expresses a stylish, tempting and futuristic look, featuring elements that perfectly compliment the overall design theme of the exterior. Combining bold, futuristic and Stylish designs, i20 N Line forms a thrilling temptation that amplifies everyday excitement.
As you step into the cabin of the i20 N Line, a Sporty Black Interior with Athletic Red Inserts create an exciting atmosphere. Boosting its sporty appeal, the i20 N Line has been equipped with:
Chequered Flag Design Leather* Seats with N Logo
Athletic Red Interior Highlights
Exciting Red Ambient Lights
Sporty Metal Pedals.
iMT (Intelligent Manual Transmission) Gear Knob with N Logo
DCT (Dual Clutch Transmission) Gear Knob with N Logo
3-Spoke Steering Wheel with N Logo
*Artificial Leather
At the heart of the i20 N Line is a power packed 1.0 l Turbo GDi Petrol engine that is offered with a 7-Speed dual clutch transmission (DCT) or a 6-Speed intelligent manual transmission (iMT). The powertrains have been configured to deliver an exceptionally sporty and fun driving experience to set your pulse racing and draws inspiration from Motorsport DNA. The enthralling 1.0 l Turbo GDi petrol engine is tuned to produce 88.3 kW (120 PS) / 6000 r/min of maximum power and 172 Nm (17.5 kgm) / 1500 – 4000 r/min of maximum torque. With this configuration, i20 N Line is capable of achieving a superlative 0 – 100 Kmph acceleration time of 9.9 seconds (Based on internal testing). While easily achieving a sporty and exhilarating drive, i20 N Line is also very efficient, and achieves a mileage of 20 kmpl.
Engine
Displacement (cm3)
Maximum Power
Maximum Torque
Transmission
Fuel* Efficiency (Best in Segment)
1.0 l Turbo GDi petrol
998
88.3 kW (120 PS) / 6000 r/min
172 Nm (17.5 kgm) / 1500 – 4000 r/min
7-speed dual clutch transmission (DCT)
20.25 kmpl
6-speed intelligent manual transmission (iMT)
20 kmpl
*As per ARAI Test Result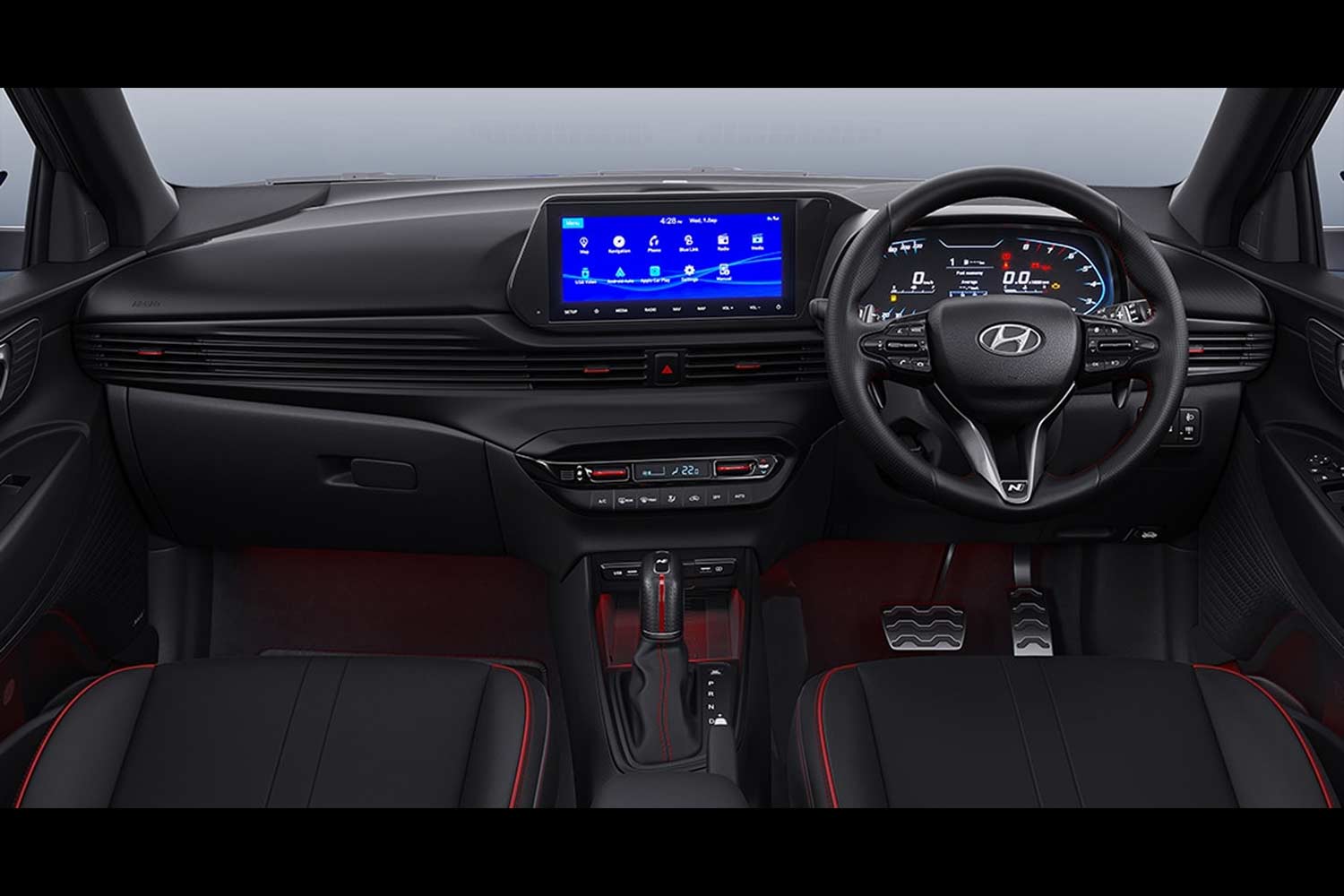 To offer an enthusiastic driving experience the i20 N Line has been equipped with paddle shifters for 7-speed dual clutch transmission (7 DCT) variants, enabling drivers to quick shift and get the best out of their i20 N Line. Complementing the hatchback's sporty and exciting drive, a roaring and grunting exhaust note never lets you go unnoticed, making a striking difference, both inside and outside the cabin.
Hyundai i20 N Line has been engineered for agility, ensuring an enthralling experience every time you start the engine. Experience the agile and dynamic handling of i20 N Line that features a sportier suspension tuning for a pure adrenaline rush. To enhance the ride quality, Hyundai has further improved the front body control and pitch control that delivers a solid and planted feel. Further, to equip drivers with fun and playful drive dynamics, the handling of i20 N Line has been enhanced to feature an improved cornering stability and high speed stability for an unmistakably confident drive. With a confident steering and improved on-centre steering feel, i20 N Line is set to deliver unfiltered fun. i20 N Line offers advanced drive controls with standard safety features such as:
All 4 Disc Brakes
Electronic Stability Control (ESC)
Hill Assist Control (HAC)
Vehicle Stability Management (VSM)
To perfectly compliment cool and fun experiences with the i20 N Line, Hyundai is offering customers multiple advanced and leading technologies that curate a futuristic and intuitive experience in the cabin. Generating an enticing yet intuitive experience for the driver, i20 N Line features a 26.03 cm (10.25″) HD touchscreen infotainment & navigation system and Digital cluster with TFT multi information display (MID) that lets you access a host of information and functions.
i20 N Line will take connected car solutions to a new level in the segment through Hyundai Bluelink with over-the-air (OTA) map updates (16 Free OTA Map Updates over 8 Years). Offering a total of 58 connected features, i20 N Line also gets New VR (Voice Recognition) Commands such as:
Welcome Message "Hi, Hyundai welcomes you, Enjoy a safe and pleasant drive"
Driver Side Window Controls
Sunroof Controls (Open/ Close)
Where am I? (Navigation Assistance)
Live Soccer Score
Contact Information
To meet the needs of new age customers, Hyundai i20 N Line with Hyundai Bluelink offers a Voice enabled smart electric sunroof. The i20 N Line has also been equipped with an Electro Chromic Mirror (ECM) with Telematics buttons (RSA, SOS and Bluelink). Through the Bluelink App, customers can avail enhanced safety, security and convenience, while enjoying a vast list of features that curate up a seamlessly connected drive experience. Hyundai i20 N Line will offer customers a host of safety features:
6 Airbags
Tyre Pressure Monitoring System (With individual tyre pressure indicator)
Driver Rear View Monitor
Automatic Headlamps
Emergency Stop Signal
Puddle Lamps with Welcome Function
Equipped with smart and innovative technology that fosters a superior level of exclusivity, Hyundai i20 N Line will get a Welcome Greeting function that lends a warm feeling every time you step inside the cabin. The sporty and cool experience is further accentuated with Bose Premium 7 Speaker System that ensures an unrivalled acoustic indulgence. Hyundai i20 N Line will also offer customers a world of convenience with features such as:
Wireless charger with cooling pad
Smart entry with push button start/stop
Smartphone connectivity – Apple Carplay & Android Auto
Cruise Control
Rear AC Vents
Glovebox Cooling
As a Lifetime Partner in mobility and beyond, Hyundai i20 N Line will offer customers complete peace of mind with WONDER Warranty Options – 5 years/40 000 kms or 4 years/50 000kms or 3 Years/100 000 kms, 3 Years – Free Road-Side Assistance & 3 Year – Blue Link Subscription. Hyundai is also offering free 16 map update up to 8 Years through Bluelink OTA. Hyundai i20 N Line is set to wow customers with lowest cost of maintenance in this segment. For additional customer delight, 31 Hyundai genuine accessories are designed to build customer excitement and add up to the aesthetic choices of customers.
Hyundai is a progressive, innovative, and customer-oriented brand. With the introduction of Personal Mobility Advisor at our signature outlets, we aim to provide a personalized & hassle free service experience to our customers. Along with video chat with customer & live streaming of car Service from workshop, Personal Mobility Advisor will act as a single point of contact to our customers which will ensure complete peace of mind & an overall enhanced ownership.
2021 Hyundai i20 N Line Images: