The Porsche Panamera changed the way a luxury sports sedan should be. It combined the characteristics of a sports car with a business sedan, the result was a car with an unmistakeable silhouette with a 4-door and 4-seat configuration. In this article we bring you some awesome looking Porsche Panamera Black on Black examples from across the world.
9 Porsche Panamera Black on Black Examples:
1. Porsche Panamera Matte Black by Folienwerk-NRW: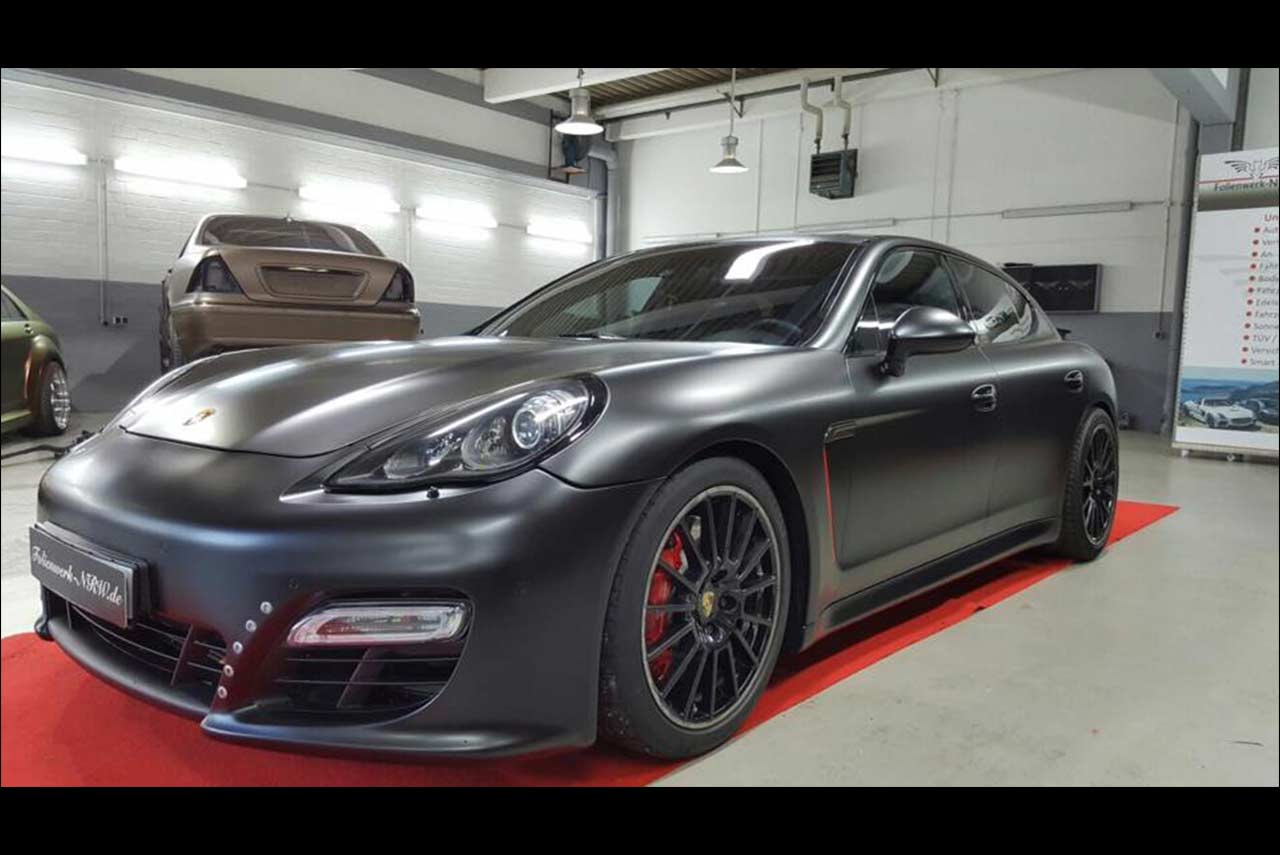 This Porsche Panamera GTS has been wrapped in matte black by Folienwerk-NRW and it looks menacing. This model of the Panamera GTS is powered by a 4.8-litre naturally aspirated V8 engine which delivers 430 hp and 520 Nm of torque.
Source: Motorward
2. TopCar Porsche Panamera Stingray:
The TopCar Porsche Panamera Stingray has a unique but recognizable appearance. This Panamera is painted in a Matte Black finish and gets a full body kit as well.
Source: Porsche Tuning Mag
3. TechArt Porsche Panamera Black Package:
The TechArt Porsche Panamera Blacked out version is also finished in Matte black which gives the luxury sports sedan a very sinister look. The appearance is further enhanced by the 22-inch alloy wheels.
Source: Clutch'd
4. Porsche Panamera Diesel tuned by Mcchip-DKR: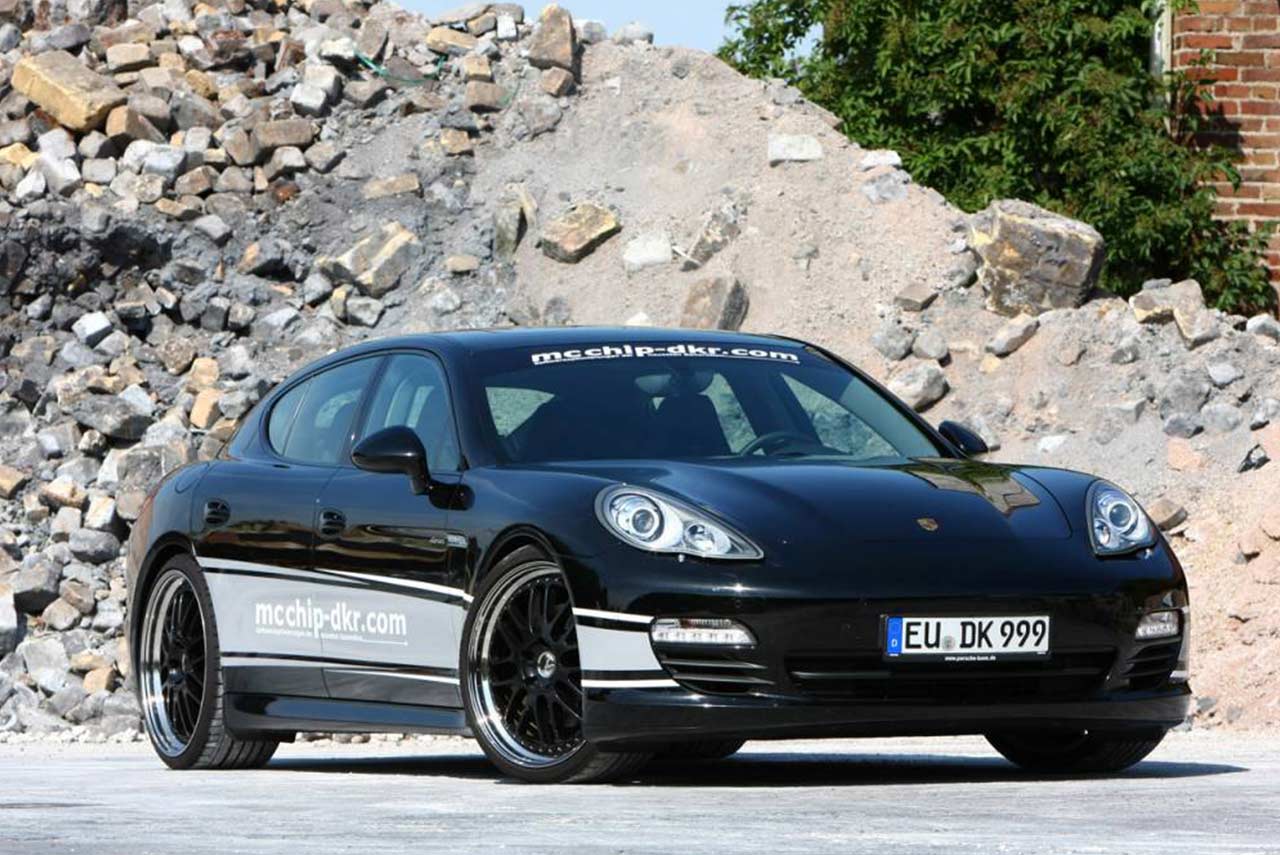 This Porsche Panamera in black tuned by Mcchip-DKR produces 285 horsepower with 600 Nm of torque and can reach speed upto 246 km/h. This Porsche Panamera black model would have looked cooler without those side graphics though. It runs on Cargraphic 22-inch alloy rims which are wrapped in high-performance Dunlop Sport Maxx tires.
Source: Fancy Tuning
5. TopCar Stingray GTR: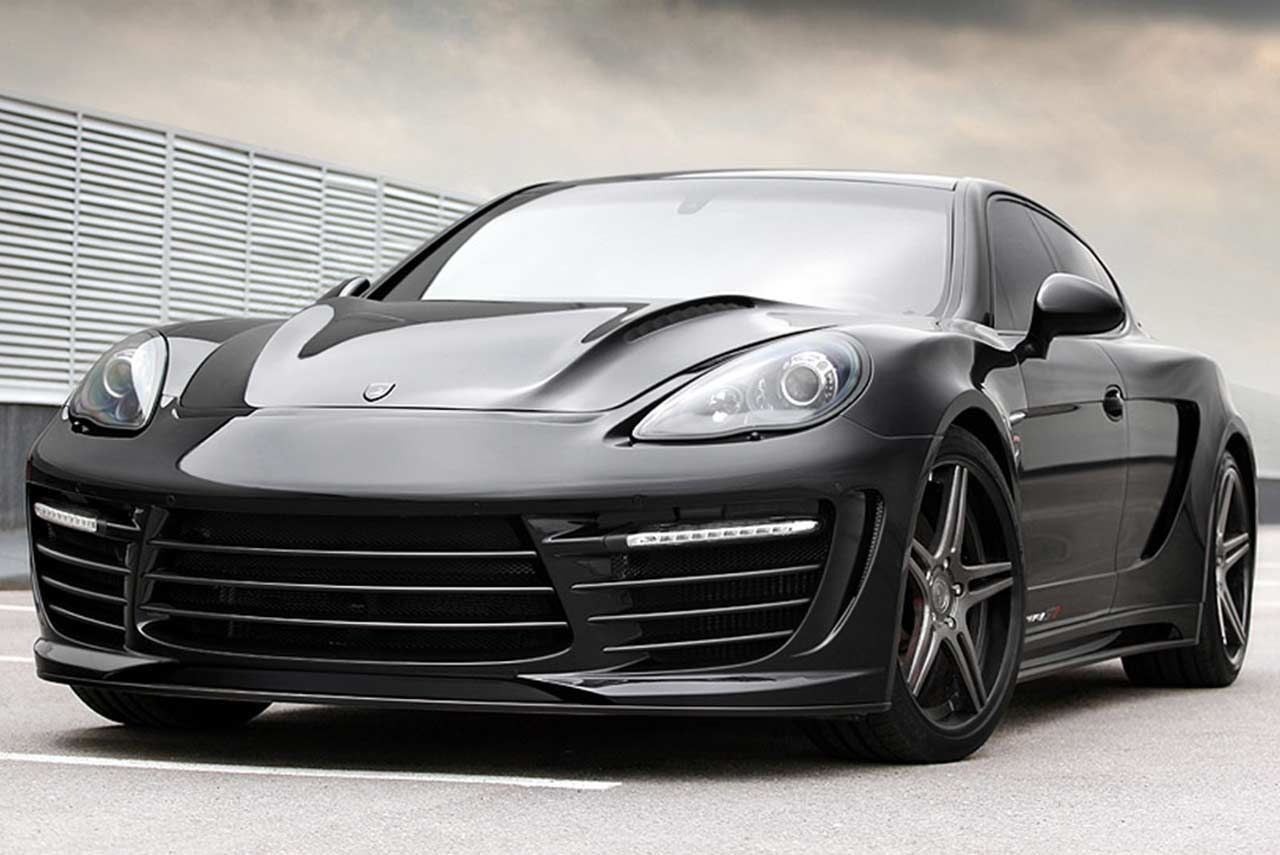 The TopCar Stingray GTR is a modified Porsche Panamera with a widebody kit. The car is finished in black and gets Carrera GT inspired side scoops as well.
Source: Sub5Zero
6. Porsche Panamera Turbo modified by Prior Design:
This is a 2013 Porsche Panamera Turbo tuned by the German tuner house Prior Design. The luxury 4 seater car really looks sporty in that black colour and with those 22-inch ADV.1 alloy wheels.
Source: CarSession
7. Satin Black Porsche Panamera GTS by ReStyleIt:
This beautiful looking Panamera GTS has been wrapped by the guys at ReStyleIt. The satin black finish enhances the smooth flowing lines of the car and highlights the prominent features of the car.
Source: ReStyleIt
8. TechArt GrandGT:
The Techart GrandGT is a styling kit for the Porsche Panamera which adds to the car's sporty looks. It also gets performance upgrades which boost the output of the Porsche Panamera Turbo to an amazing 571 hp.
Source: FancyTuning
9. Porsche Panamera Black Colour by Gemballa:
This Porsche Panamera by Gemballa features 22-inch GT Sport rims and is finished in a shade of deep black. It also includes with modifications to the engine, suspension, and bodywork.
Source: Fancy Tuning
Hope you liked these Porsche Panamera Black on Black Examples. Do stay tuned for more such content. You may also share your thoughts and ideas in the comments section below.