Jaguar Land Rover Special Vehicle Operations (SVO) has revealed the most powerful, agile and extreme performance Jaguar road car ever – the Jaguar XE SV Project 8. The high-performance sedan made its world debut at Goodwood Festival of Speed in West Sussex, UK.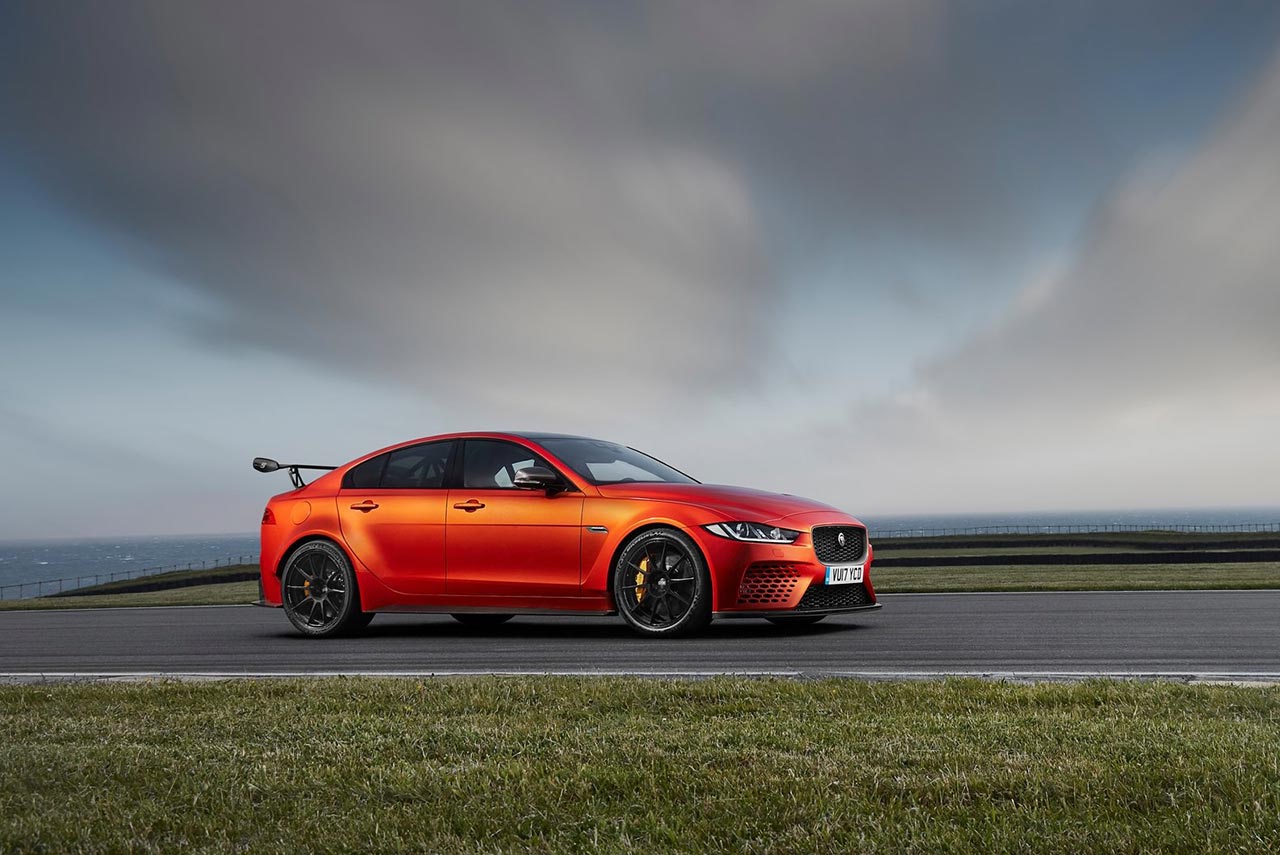 This is the second offering by SVO following the successful F-TYPE Project 7. The Jaguar XE SV Project 8 will be the first car to be completely hand-assembled by SVO's expert craftsmen at the new £20 Million SVO Technical Centre in Warwickshire, UK.
To retain the model's exclusivity, only 300 examples will be created in left-hand drive configuration. The Jaguar XE SV Project 8 will be available to order worldwide in two specifications at launch – Standard and Track Pack.
John Edwards, Jaguar Land Rover Special Operations Managing Director, said, "SVO's raison d'être is to produce halo vehicles that push the boundaries in terms of luxury, performance and all-terrain capability. Project 8 is a great example of what happens when enthusiastic designers, engineers and manufacturing specialists are given the opportunity to create an extreme performance sports car without compromise. Project 8 will be assembled by hand in the new SVO Technical Centre, and we're confident that our enthusiastic and demanding clients will love driving Project 8 as much we do!"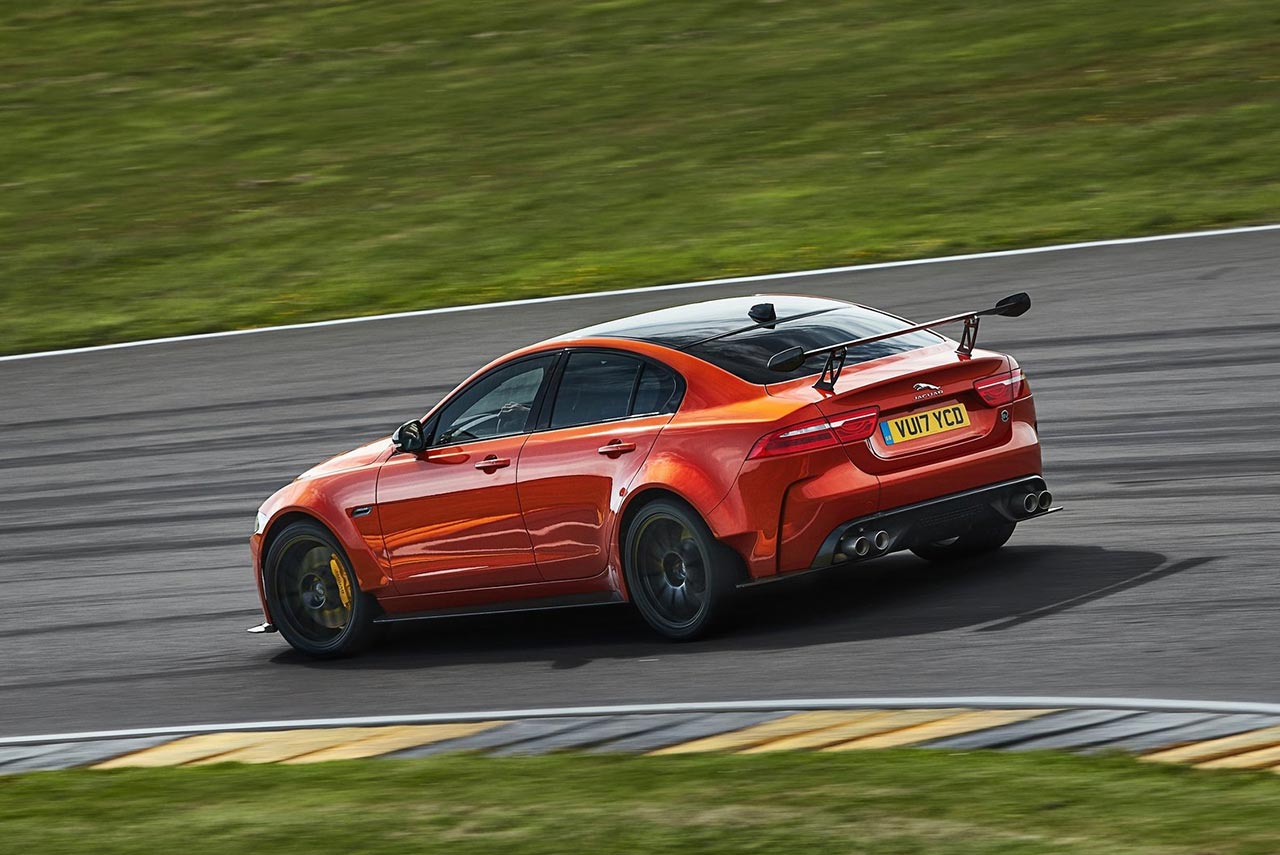 At the heart of the Jaguar XE SV Project 8 is the most highly tuned version of Jaguar Land Rover's 5.0-litre Supercharged V8 petrol powertrain. This engine has been modified to develop 600PS and 700Nm, the highest output of any Jaguar road car.
The Jaguar XE SV Project 8 can reach a top speed of 200 mph. It is also the fastest accelerating Jaguar yet and can do zero to 60 mph in just 3.3 seconds. To achieve the astonishing power figures, SVO engineers have tuned the engine calibration software and enabled better breathing on both air intake and exhaust sides of the engine.
The Project 8 is also equipped with an extensive modified cooling system along with lightweight Titanium Variable Active Exhaust to provide consistent performance during extended periods of track use.
Coupled to the 5.8-litre supercharged engine is a re-calibrated version of Jaguar's eight-speed Quickshift All-Wheel Drive (AWD) system which is capable of selecting gears in just 200 milliseconds and shifting non-sequentially.
Also for the first time, the Electronic Active Differential (EAD) is equipped on the Jaguar's smallest sports saloon. It works with the Intelligent Driveline Dynamics system to precisely manage torque delivery to each of the rear wheels. Project 8 is also the first Jaguar to get a dedicated Track Mode, which enhances body control and sharpens both throttle and steering responses for ultimate precision, control and driver feedback.
To ensure optimum performance on road or track, the Jaguar XE SV Project 8 is fitted with double-wishbone front and Integral Link rear suspension with stiffer springs and manually adjustable Continuously Variable Dampers which lower the car by 15 mm for track use. It also uses Formula 1-style silicon nitride ceramic wheel bearings which are an industry-first for a road car.
Mark Stanton, SVO Director, said, "We have really been able to unleash the potential of our engineering and design teams in specifying Project 8. We are at the beginning of a very challenging and exciting development programme which will see us focus on ensuring Project 8 delivers track performance on a level previously not targeted by Jaguar. The SVO team is full of performance car enthusiasts that are now briefed to deliver motorsport science and soul in what is effectively a four-door supercar."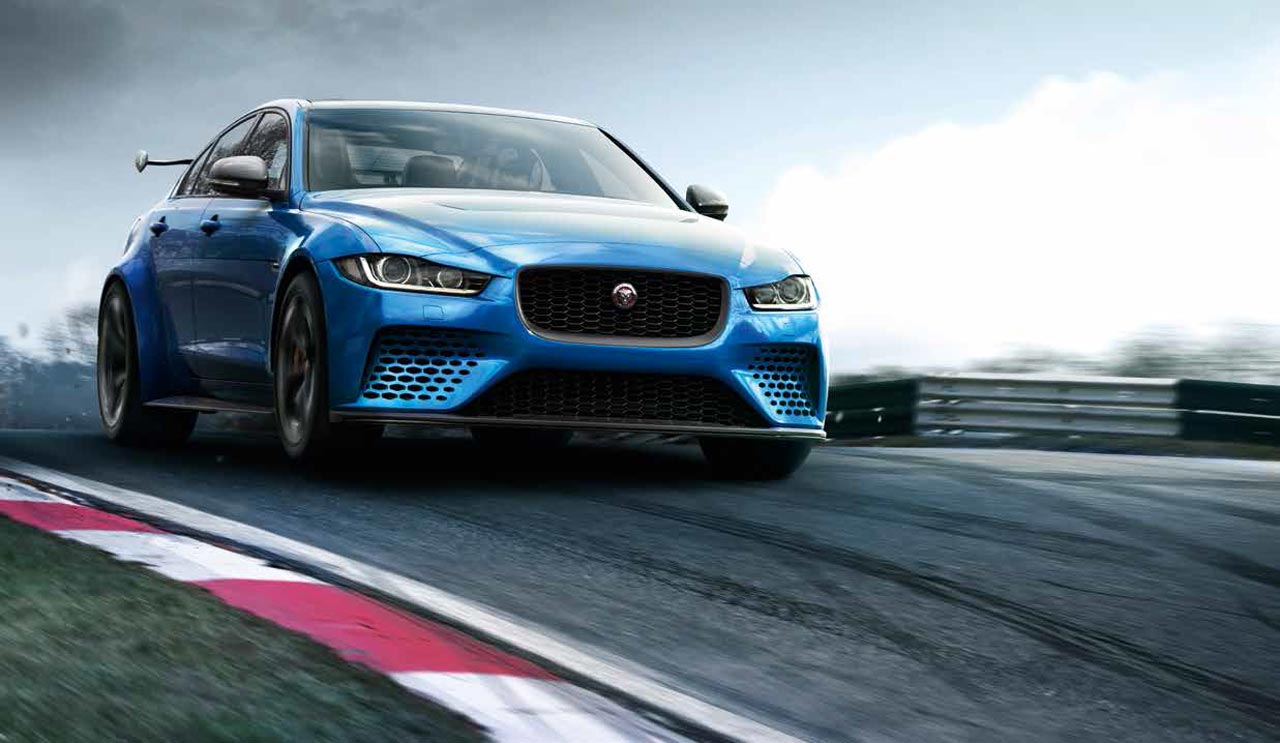 Stopping power for the Project 8 comes from the new Carbon Ceramic Brakes (CCB) which are again a first for Jaguar. The Jaguar CCB system is different to the Carbon Ceramic Matrix (CCM) componentry fitted to the F-TYPE SVR. The CCB features 400 mm two-piece front discs with six-piston aluminium callipers and 396 mm two-piece rear discs with single-piston sliding callipers. Project 8 also uses motorsport-grade Synthetic Racing Fluid (SRF) with an exceptionally high dry boiling point, which is ideal for use under arduous braking.
Jaguar's Torque Vectoring by Braking technology helps minimise understeer by independently braking inside wheels during cornering, and works with the Electronic Active Differential to precisely control torque delivery to the rear wheels. Selecting Track Mode activates calibration settings tailored to circuit use for Intelligent Driveline Dynamics, Adaptive Dynamics, Dynamic Stability Control (DSC), ABS, Torque Vectoring by Braking and EPAS systems.
The Jaguar XE SV Project 8 runs on the largest ever wheel and tyre package fitted to a production Jaguar sports sedan. The front wheels measure 9.5 x 20-inch at the front and 11 x 20-inch at the rear. The light weight forged aluminium alloy wheels are wrapped with high-performance Michelin Pilot Sport Cup 2 tyres.
Jaguar has a rich history of producing stunning, aerodynamically-efficient cars. The regular XE is the most aerodynamic Jaguar ever and now the XE SV Project 8 takes that tradition of uncompromised form and function to the next level.
Ian Callum, Jaguar Design Director, said, "Project 8 is a performance-driven car. As such, all of the enhancements we've made to the XE sports saloon – already a benchmark for dynamics – are established through physics as well as aesthetics. The result is clearly a powerful looking and very fast motor car, The aerodynamic elements are hugely significant beyond 150mph, even more so beyond 180mph. This is one of the most extreme vehicles we have ever created, but still very much a Jaguar."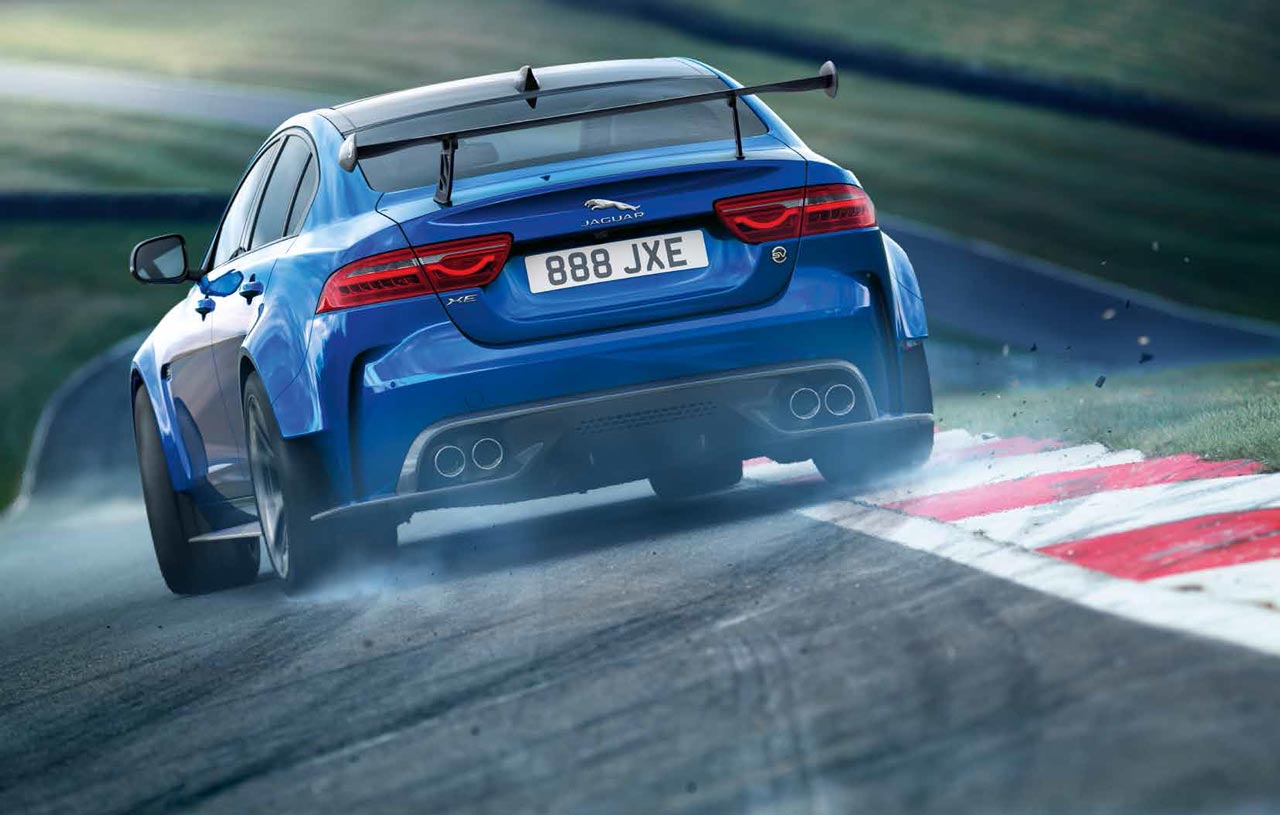 The high-performance four-door sedan features a number of purposeful modifications by SVO's design and engineering experts, only the roof and front door skins remain unaltered. The award winning lightweight aluminium-intensive monocoque too receives a number of revisions.
Modification on the exterior include 55 mm flared aluminium rear wing panels, to accommodate the 305-width tyres, Aluminium rear doors reprofiled with more muscular body flare and reprofiled boot floor to improve airflow through the rear diffuser.
There is also extensive use of Lightweight Carbon Fibre material throughout the body of the Jaguar XE SV Project 8 which contributes to the lowest kerb weight of any current V8-powered Jaguar sedan.
Carbon Fibre and composite components exclusive to Project 8 include, 19 mm flared carbon fibre front wings with cut-away lower trailing edges, to accommodate 265-width tyres and repositioned Xenon headlamp units, front carbon fibre bumper with integrated centre and lower outer grilles for optimised airflow management and manually adjustable two-position two-piece carbon fibre front splitter.
It also features carbon fibre bonnet with integrated air extraction duct, carbon fibre lower side skirts, rear carbon fibre bumper with drag-reducing airflow management creases and cut-away lower wheel arch trailing edges, rear carbon fibre diffuser and manually adjustable two-position single-element rear aerodynamic wing.
The Jaguar XE SV Project 8 has undergone extensive rolling road wind tunnel and Computational Fluid Dynamics (CFD) simulation testing to refine the aerodynamic package. The special edition model includes a flat underbody, to achieve a 205% reduction in the lift with front splitter and rear aerodynamic wing in Track Mode, delivering more than 122 kg of downforce at 186 mph which is 25% more than Project 8's nearest competitor.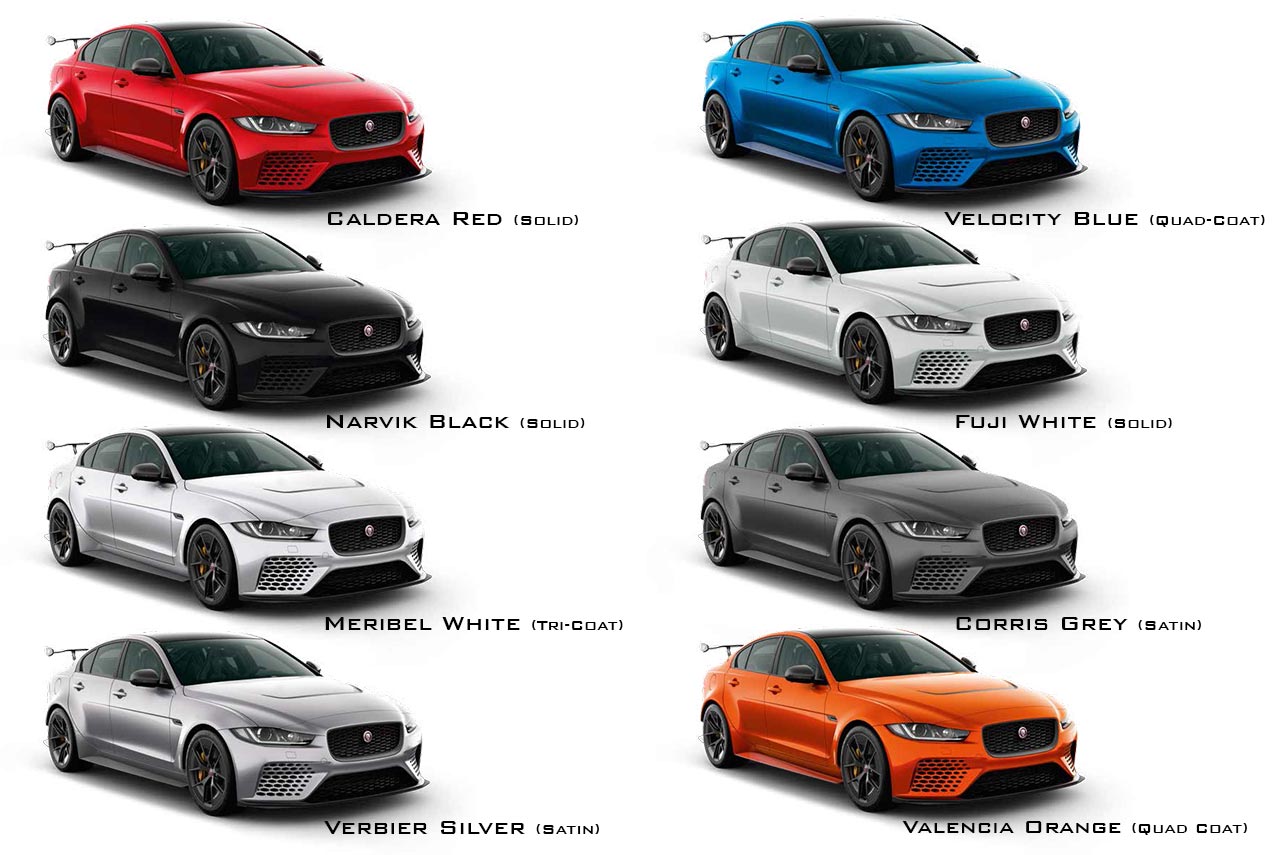 Every Jaguar XE SV Project 8 will get unique badges on the front splitter and endplates of the rear aerodynamic wing, plus an SVO roundel on the rear panel. The tuned version of the XE will come in eight body colour choices. Three shades which include Fuji White, Narvik Black and Caldera Red are standard while the other five colour options that include Valencia Orange, Velocity Blue, Meribel White, Verbier Silver and Corris Grey are enhanced SVO Design options incorporating colours and finishes from the SVO Premium Palette.
Project 8 owners will also be able to personalise their car by specifying further optional colours and finishes from the SVO Premium Palette range which includes 19 colours in tri-coat, tinted clear coat, pearlescent, ChromaFlair and satin matte finishes. Also available as an option are the race-inspired decal packs which accentuate the Project 8's high-performance attributes.
Customers who would like to further individualise their Jaguar XE SV Project 8 can get it done from the Bespoke by SVO team. They can choose from 10,000 exterior paint hues, plus different accent colours for brake callipers, front grille surround, aerodynamic parts and mirror caps, as well as unique racing-inspired decal packs, anodised paddle shifters, Personalised Tread Plates and Commissioning Plaques.
The high-performance theme continues inside as well. The Project 8 is offered in two configurations – a four-seat specification as standard, or a more circuit-focused two-seater when specifying the optional Track Pack.
The standard four-seat specification features Jaguar's latest magnesium-framed front Performance seats. It comes with unique Oyster contrast-stitched Premium Jet leather bolsters and Miko suede cloth centres. Project 8 logos are stitched into the headrests. The rear seats which can seat only two occupants are redesigned with additional lateral support built into the seat squabs and bolsters.
Black soft-touch Alcantara covering the instrument binnacle and dash topper helps to reduce reflections in the windscreen. The same material is also used on the door cards and rim of the Project 8-branded Sports Steering Wheel. Gloss Carbon Fibre detailing extends to the Project 8-branded Tread Plates, Riva Hoop incorporating '1 of 300' Project 8 aluminium Commission Plaque, and the gear selector surround.
The driver can operate the eight-speed Quickshift transmission either by aluminium paddle shifters mounted behind the steering wheel or by a central Pistolshift lever with Command Shift which is another first for XE.
Project 8 is also the first Jaguar to feature a dedicated Track Mode, which tailors driveline and stability control systems for circuit use, and sharpens both throttle and steering responses for ultimate precision and driver feedback.
The Jaguar XE SV Project 8 features the latest Virtual 12.3-inch TFT Instrument Panel Display with full-screen 3D Map View navigation that gives the driver all the required information on speed, revs and dynamic performance, whether on road or track.
The high-performance sedan is also fitted with tablet-style touchscreen 10.2-inch Touch Pro infotainment system as standard. It features Dynamic-i, which adds a stopwatch, G-meter readout and accelerator and braking graphics to the central touchscreen display. Dual View technology allows the passenger and the driver to view different content on the central control screen simultaneously. The sedan also has 4G Wi-Fi hotspot, enabling up to eight devices to connect to the internet, and fully supports Jaguar InControl Apps.
Owners can connect to the car from anywhere using the Jaguar InControl Remote app which enables a range of functions such as checking how much fuel is in the tank, unlocking or locking the doors and pre-setting of the climate control system.
The Project 8 also features a specially developed 380W Meridian Sound System with 11 speakers. It also comes with Secure Tracker that enhances security by providing proactive vehicle monitoring. Jaguar Protect function provides optimised Jaguar Assistance in the unlikely event of a malfunction, it will even automatically make an SOS call and summon the emergency services incase a collision occurs.
Jaguar XE SV Project 8 Price:
Prices for Project 8 reflect the high-value engineering content and hand-built assembly process of this specialist car. The high-performance car is priced from £149,995 (approx. 1.25 Crore) in UK.
Jaguar XE SV Project 8 – Image Gallery:
Jaguar XE SV Project 8 – Brochure: