Stunt rider, Masaru Abe from Japan has created a new world record for the continuous wheelie by completing 500 km with the front wheel popped up on his Yamaha Jog scooter.
The feat was achieved at the Kawaguchi Auto Race facility in Saitama, Japan and was supported by RedBull. It took Abe almost 13 hours to break the previous world record 331.0195km, set by motorcycle trials rider Yasuyuki Kudo in 1991. Masaru Abe was able to ride non-stop for 500.5322 km.
The stunt rider was able to maintain a speed of around 40 km/h around the oval shaped Kawaguchi Auto Race track through excellent body balance and throttle work on the Yamaha Jog. Smashing the world record wasn't an easy task at all. Powerful wind and the sloping track made holding the wheelie difficult.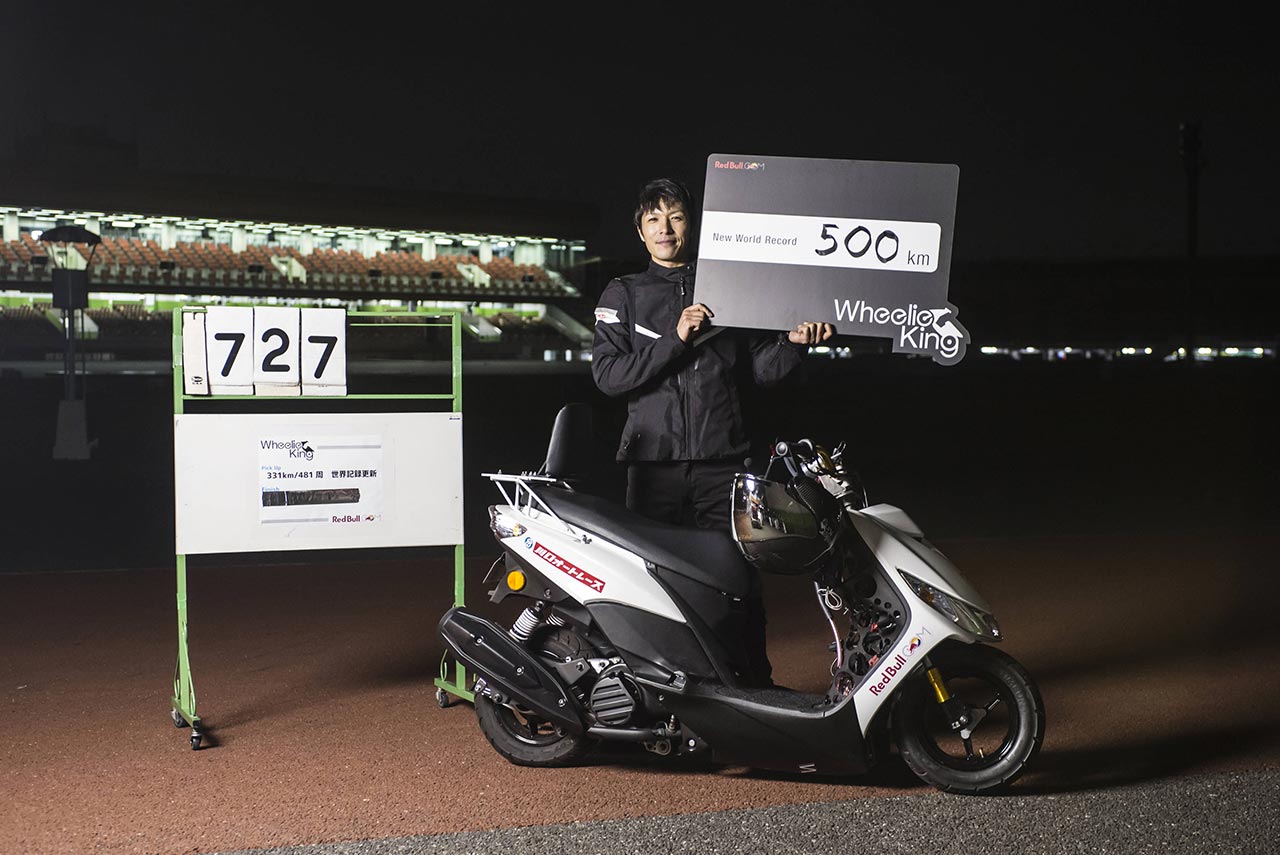 Masaru Abe had set a target for completing 600 km wheelie but just two hours into the performance, he started experiencing lower back pain and had to down painkillers to keep on going. After 12 gruelling hours, Abe was heard shouting, "It hurts! I hate this! I want to stop". Finally at the 13th hour, when the pain became unbearable, Abe brought the front wheel of the Yamaha Jog to ground at an impressive distance of 500.5322 km and earned himself the title, Wheelie King.
When asked how he felt, Masaru Abe said, "If I didn't go further than what I thought my own limit was, then someone else would. I thought if I were going to try to break the record, then I would have to post unattainable numbers that would leave people speechless. That was the most pain I have ever felt. Both of my arms were numb from the pain and I had lost feeling in them. My vision was blurred. I was only partially conscious. I was completely dehydrated. I'd never experienced that before."
Stunt Rider Masaru Abe – Wheelie King – Image Gallery: