Honda Motorcycle & Scooter India Pvt. Ltd. (HMSI) has inaugurated the fourth assembly line at its Narsapura plant in Karnataka. With the added capacity of 0.6 million units, the Karnataka plant is now Honda's biggest plant worldwide with a production capacity of 2.4 million units annually.
Honda 2 Wheelers India's combined annual production capacity from all four plants stand at 6.4 million units annually, making India the No. 1 production hub for Honda's two-wheeler operation globally for the first time.
Mr. Shinji Aoyama, Chief Officer, Regional Operations – Asia and Oceania, Honda Motor Co., said, "Honda's two-wheeler business spans more than 120 countries worldwide and India is leading the demand. In 2016-17, India alone contributed 28% to Honda's global 2 Wheeler sales and became the No. 1 contributor to Honda's two-wheeler business. The growing Indian 2 Wheeler market is top priority for Honda. To better meet dynamic market demand and to prepare for the future opportunities, today Honda has inaugurated the fourth assembly line in the Karnataka plant. With this, the Narsapura plant will now produce 24 lac two-wheelers annually. This makes the Narsapura the world's largest two-wheeler plant for Honda and also India the No. 1 production base for Honda globally."
Mr. Minoru Kato – President & CEO, Honda Motorcycle & Scooter India Pvt. Ltd. said, "In the first quarter of FY'2017-18, Honda Wheelers India aggressive growth led the industry momentum. Growing double the speed of industry at 19%, Honda alone contributed 68% to industry's new volumes resulting in 3% market share gain to ever highest of 30%. While expanding leadership in scooter segment (59% market share), Honda is now also the new No. 2 motorcycle brand of India. The latest expansion further fortifies Honda's ability to serve the market faster with its increased annual production capacity to 6.4 million units from all plants. In the long term, Honda 2 Wheelers India's steady and strategic investments will power our dreams to make India the Export hub worldwide."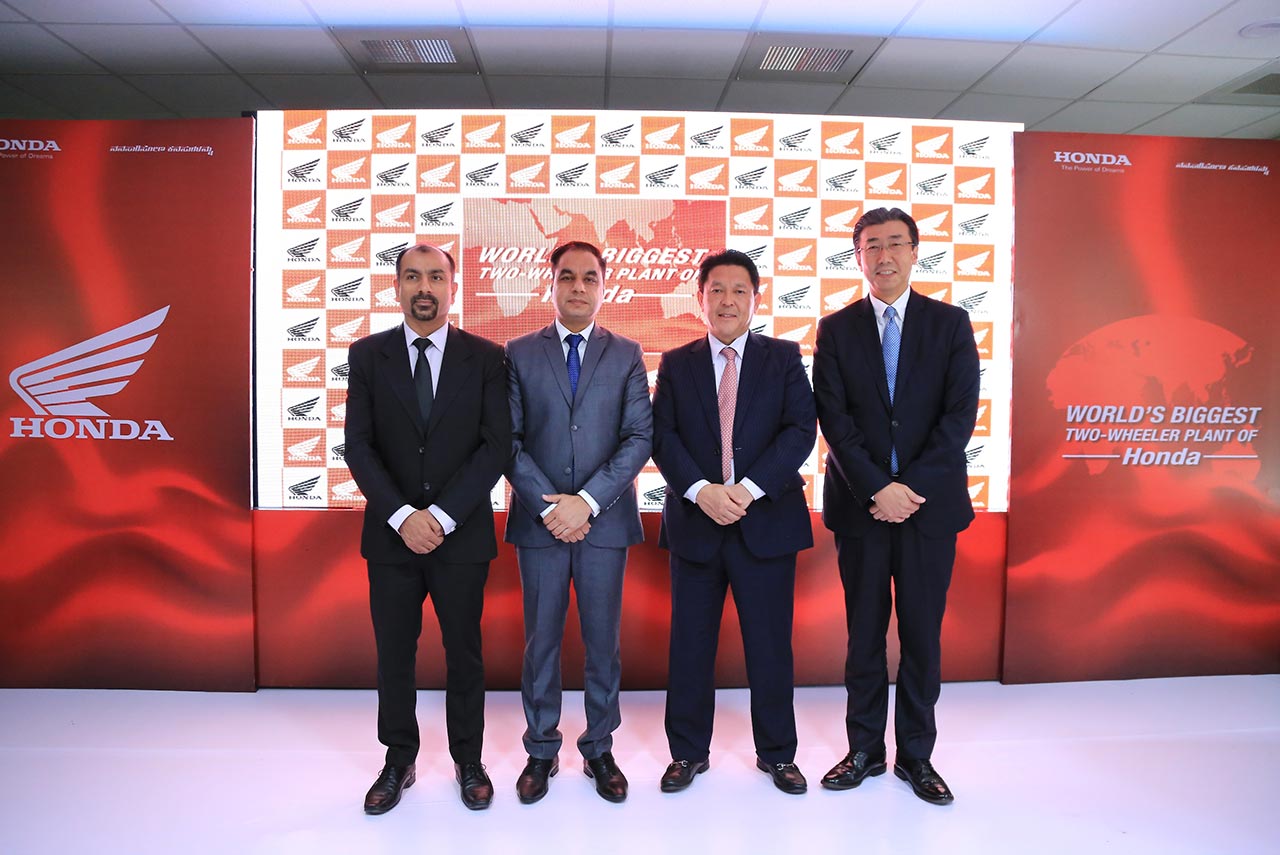 Honda's Narsapura plant has also given a big boost to socio-economic development in Karnataka. The company along with its 26 suppliers have invested over INR 5,400 crore and this has lead to nearly 22,000 employment in the state.
The Narsapura plant also boasts of many innovations and manufacturing firsts. It is the first Honda 2 Wheeler plant in the world which utilises fully automated paint booth air balancing system. Additionally, Honda has also employed 14 robotic processes to reduce fatigue of operators and increase the production efficiency.
The Karnataka factory is also the only Honda 2 Wheeler plant in India with 100% rain water harvesting system and zero liquid discharge plant. It recycles nearly 4 lakh litres of water which is reused per day with zero external water consumption.
The plant will soon achieve 80% of energy requirements from solar power. It will generate 85,000 KWH solar power per day and reduce carbon footprint by 50,000 tonnes of CO2 emissions annually by October 2017.