Renowned for setting new standards in luxury electric vehicles with the award-winning Lucid Air, which secured the 2023 World Luxury Car Award, Lucid is once again pushing the boundaries of excellence. The groundbreaking Lucid Gravity luxury electric SUV, highly anticipated and a natural evolution of the innovations introduced in the Lucid Air sedan, is poised to redefine the luxury electric SUV experience. This high-performance vehicle, capable of accommodating up to seven adults along with their belongings, promises a projected driving range exceeding 440 miles without compromising on luxury. The public unveiling of the Lucid Gravity SUV took place at the Los Angeles Auto Show, with production scheduled to commence in late 2024.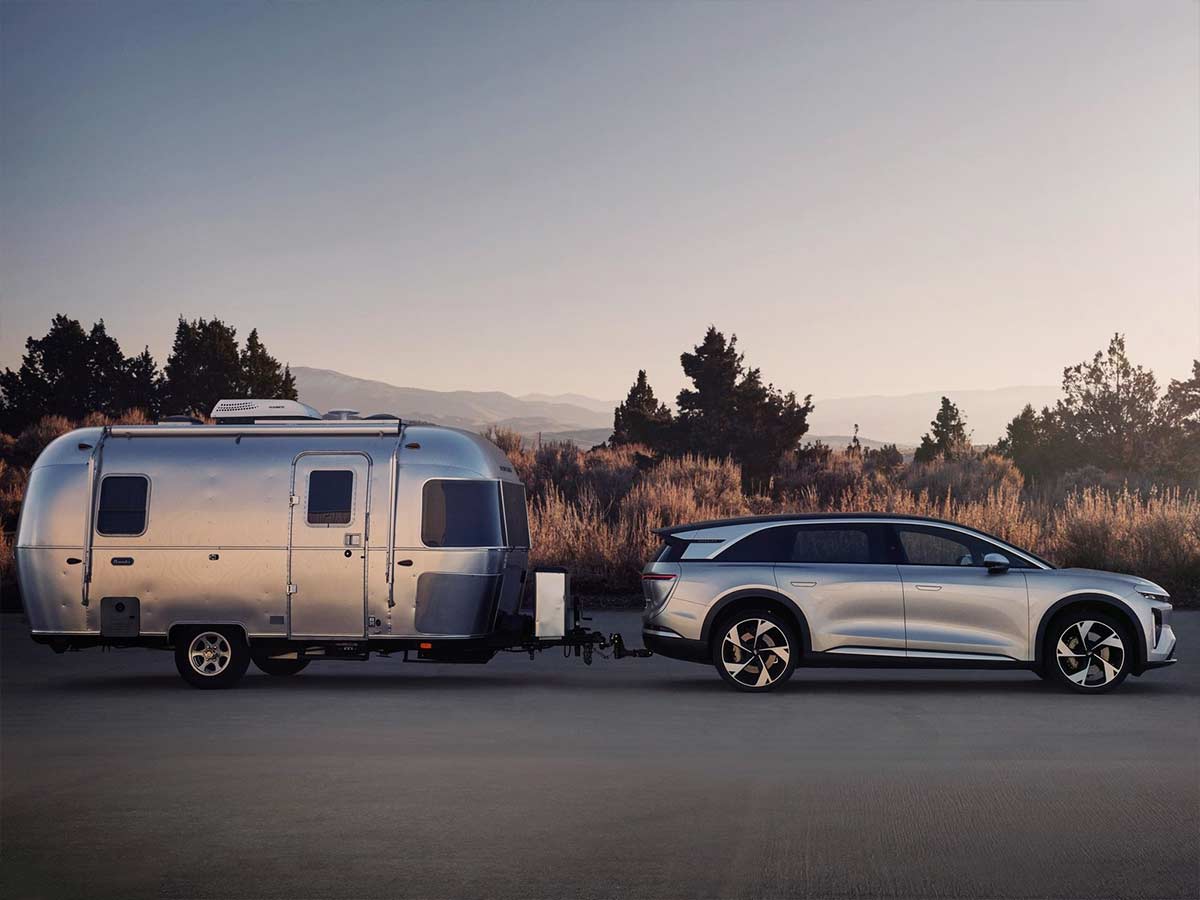 Design Harmony: Balancing Form and Functionality
Lucid's dedication to design excellence, spacious interiors, and versatility distinguishes Gravity from its competitors. The exterior design choices exemplify Gravity's fusion of aesthetics and practicality. Emphasizing efficiency, the aim is to achieve a drag coefficient of less than 0.24, surpassing the aerodynamic profiles of other three-row SUVs. Gravity makes a commanding statement with a substantial frunk, sleek profile, elongated cabin, pronounced shoulders, and a sporty tail spoiler, demonstrating its ability to meet the diverse needs of daily drivers.
Internally, Gravity wows with generous and adaptable cargo spaces. The cabin provides ample seating, including the convenience of second and third-row seats that fold flat, revealing over 112 cubic feet of total usable cargo space for a seamless blend of comfort and cargo capacity. The sliding second-row seats, coupled with integrated convenience tables, elevate the back-seat experience. Remarkable legroom extends to the third row, accommodating a comfortable seven-passenger configuration, making it the ideal vehicle for any adventure.
Gravity signifies a definitive evolution of Lucid's user interface, known as Clearview Cockpit, featuring an intuitive 34-inch curved and uninterrupted OLED display that hovers above Gravity's innovative new steering wheel, aligning closely with the driver's line of sight. Lucid's Pilot Panel returns in Gravity, equipped with a quick-access touch bar and positioned alongside a new glass center console that smoothly slides open for additional storage. This SUV introduces Lucid's next-generation software with over-the-air updates, ensuring continuous vehicle improvement.
Combining Sports Car Performance with Lucid's Extensive Driving Range
Gravity achieves outstanding performance through a completely new platform meticulously crafted as a sporty SUV. This seamlessly integrates with Lucid's next-generation proprietary ultra-compact powertrain technology, featuring the most power-dense EV motors globally and an evolution of its 900V electrical architecture. Beyond being a luxury SUV, Gravity stands as a powerhouse, achieving 0-60 mph acceleration in under 3.5 seconds. It boasts a substantial payload capacity exceeding 1,500 pounds and an additional towing capacity of 6,000 pounds.
Expanding the realm of performance beyond paved roads, Lucid introduces Zero Gravity with the Gravity SUV—an enhanced optional air suspension package. This system automatically adjusts to varying terrain needs, ensuring a smooth and comfortable ride on any surface. Manual adjustments offer the flexibility to raise Gravity for enhanced off-road capability or lower it for optimal performance and range.
The Gravity Human Experience: Elevating Beyond Surface Luxury
Gravity's in-car luxury experience is truly exceptional, catering to both the physical and mental aspects of well-being. Every detail of Gravity, from the carefully selected materials and impeccable fit and finish to the thoughtfully placed accents, has been crafted with sustainability and eco-consciousness in mind. Going beyond immediate sensory gratification, Gravity provides a holistic human experience that prioritizes overall well-being.
The introduction of interactive well-being features such as Lucid Sanctuary and Lucid Spaces takes every Gravity experience to a new level. Lucid Sanctuary, a revolutionary set of experiences, is meticulously designed to bring tranquility on the go, whether you're on the road or parked at a charging station. Through a single tap, Lucid Spaces transforms the cabin into a serene oasis, immersing drivers in the calming atmosphere of locations like Lake Tahoe or Joshua Tree. Additionally, Lucid has partnered with experts at Meditopia to offer a guided meditation experience, providing a personal space for mindfulness without leaving the vehicle.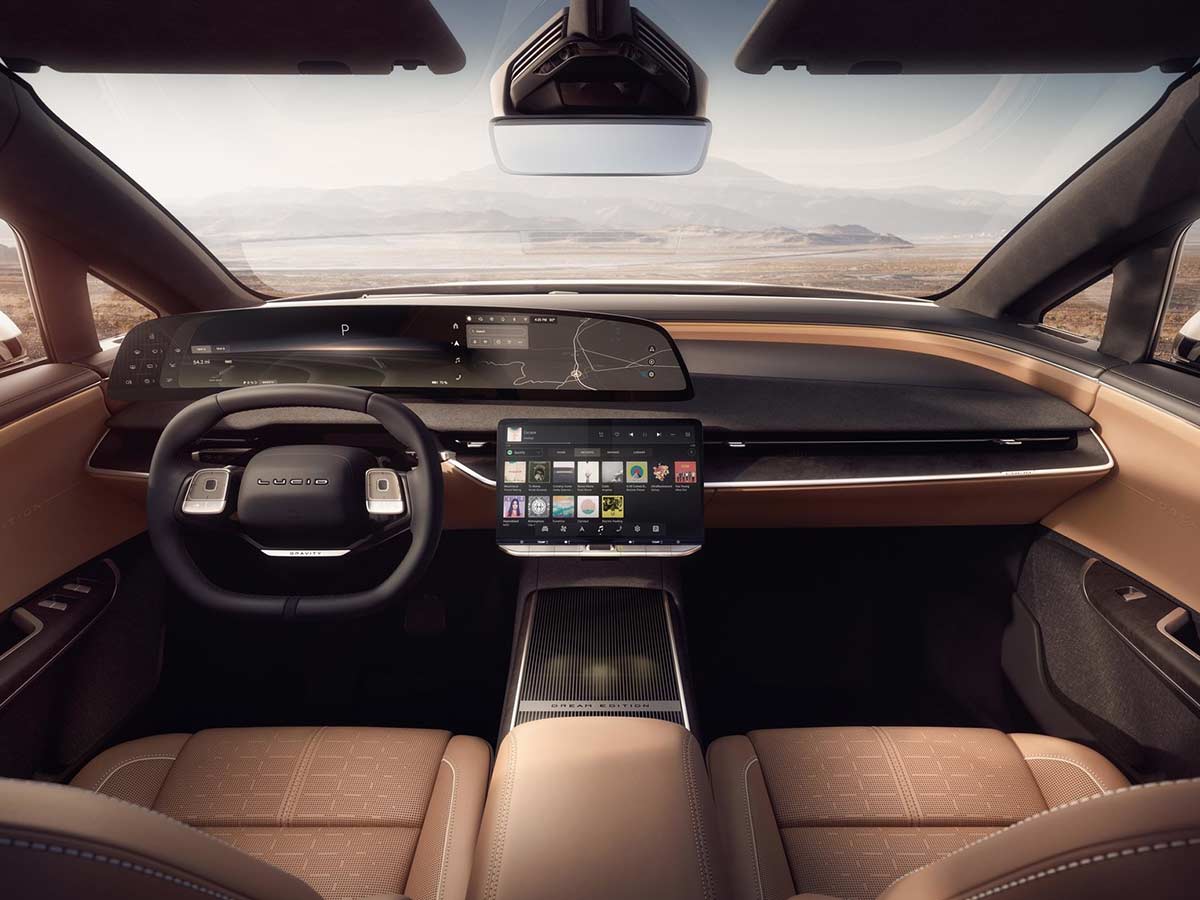 Price and Availability
Prioritizing the delivery of cutting-edge technology and superior electric vehicle experiences to a wide audience, Gravity is set to offer competitive pricing within the full-size premium SUV category, with an anticipated starting price below $80,000. Production is slated to commence in late 2024.