All-new model builds on the success of the original Toyota C-HR as an innovator among European C-segment SUVs
Designed, engineered, and built in Europe, for European customers
Radical exterior design creates the impact of "a concept car on the road"
Contemporary interior styling combines functionality with modern comfort
Focus on sustainability with increased use of recycled and animal-free materials and reduction in carbon emissions through weight-saving and new production processes
A personalised user experience that provides seamless and intuitive control & connectivity, including a new digital key
Fully electrified range with 1.8 & 2.0-litre hybrid electric and 2.0-litre
plug-in hybrid electric systems with increased EV capability
Geofencing function on 2.0-litre PHEV automatically switches the car to EV operation when it enters a low emission zone (LEZ)
TOYOTA C-HR: A LANDMARK MODEL FOR TOYOTA IN EUROPE
The launch of the original Toyota C-HR was a landmark for both Toyota and the European C-SUV segment. It was a radical addition to a highly competitive market, striking a contrast with conventional SUV styling with a dramatic, sharp-edged design closer to the look of contemporary sports coupes.
Its success as an innovator helped transform public perception of Toyota in Europe, adding a strong emotional dimension to the brand. Customers responded strongly with more than half citing the car's styling as their principal reason for purchase. The Toyota C-HR went on to become Toyota's best-performing model for conquest sales.
The all-new, next generation Toyota C-HR takes the stand-out quality and status of its predecessor to a higher level with avantgarde design, advanced technologies and a range of electrified hybrid and plug-in hybrid powertrains with increased power, greater driveability and extended all-electric driving capabilities. It also reinforces Toyota's commitment to Europe: the new model was conceived in Europe with European customers firmly in mind, and it is being built exclusively in Europe, including assembly of its high-voltage battery units.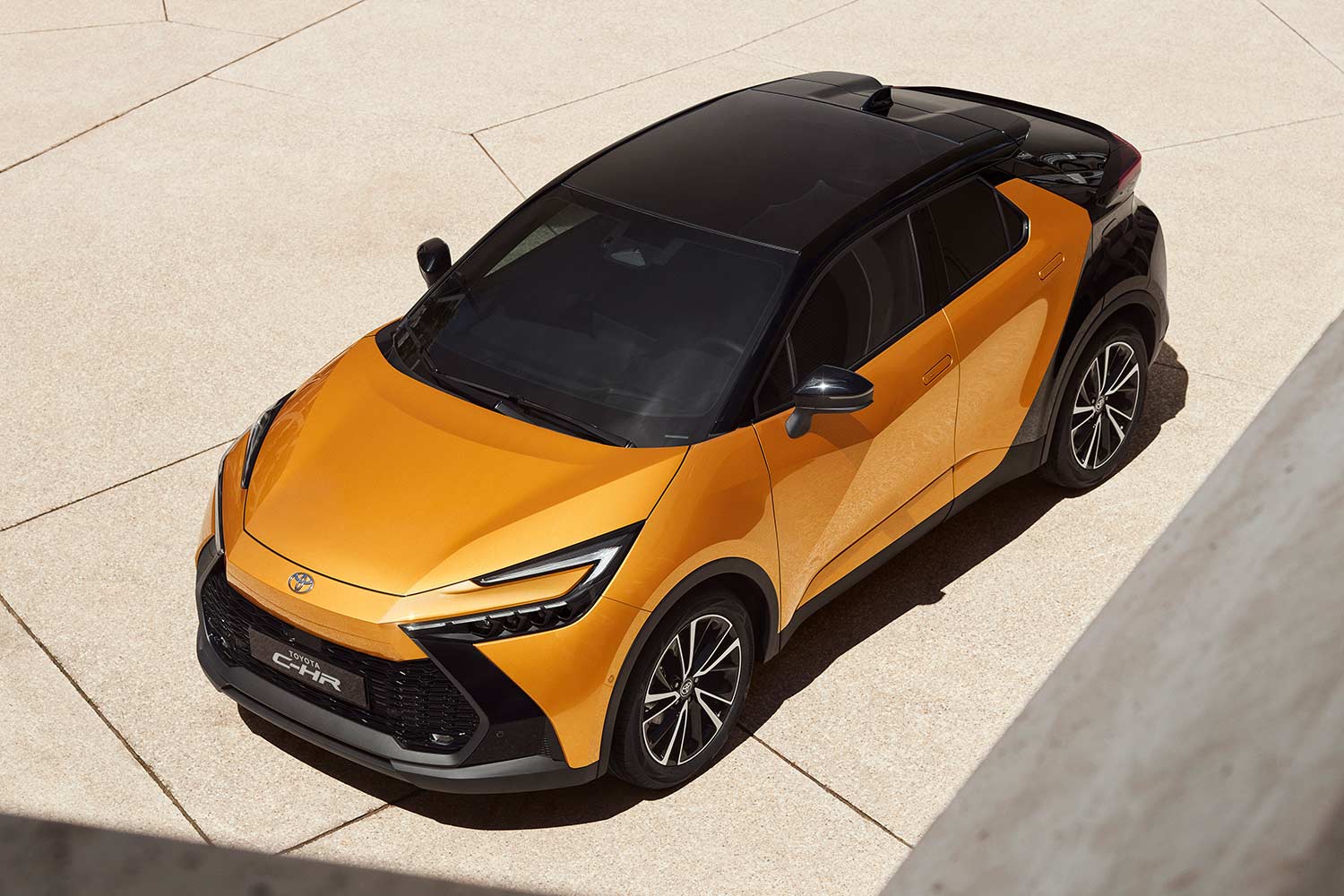 DESIGNED TO STAND OUT, NOT BLEND IN
The new Toyota C-HR's striking design is faithful to the styling displayed by the prologue model revealed in late 2022. Its distinctive exterior has the impact of "a concept car on the road".
The original Toyota C-HR broke the mould of SUV design with its coupe-like lines. These are rendered even more sharply in the new model with its "super-coupe" profile. The frontal treatment presents the new face for Toyota SUVs, seen also on the all-electric bZ4X and new Prius. True to the styling cues seen on the Toyota C-HR prologue, the look is keen and piercing, with a sense of the car being ready to surge forwards. The theme of interlocking shapes is prominent in the diamond-cut character lines along the side of the vehicle, underscoring the flush door handles – featured on a Toyota for the first time – and adding emphasis to the car's road presence.
The car's dynamic, condensed look is further strengthened by short overhangs and large wheels – up to 20-inch diameter. A new style of bi-tone paint design will be available, extending the contrast black roof down to the rear bumper and into the car's rear three-quarter section. Efforts were focused on creating a seamless look with tighter shut lines and perfect integration of such as the cameras, radar, and headlight washers with a "concealed tech" approach.
Toyota's design and aero teams worked closely together to ensure the exterior was aerodynamically efficient as well as visually impressive. This has ensured optimisation of airflow over and around the vehicle in details including the precise profiling of the front bumper and format of the rear roof spoiler.
The original Toyota C-HR marked a leap forward in sensory quality; the new model goes further with an interior that has an even more premium and refined feel and appearance. All control elements are concentrated in the driver's zone, while a horizontal instrument panel arrangement and a "wing" design theme give passengers the sense of the cabin wrapping around them, enhancing the sense of comfort.
A PERSONALISED USER EXPERIENCE
Toyota has created a seamless, intuitive, and personalised user experience designed to go beyond customer expectations and recognising the value today's customers place on a connected in-car ecosystem where they can use an app on their phone, a touchscreen or voice commands to control a wide range of functions. The aim has been to create a clear, intuitive and personalised experience that anticipates the user's needs.
A welcome scenario automatically unfolds as the driver approaches their vehicle, with a brightening of exterior lights – including illumination of the new Toyota C-HR light signature on the back door. The driver's preferred settings for (where specified) seat position, digital instrument display, head-up display and multimedia screen are automatically applied.
The Toyota C-HR features a new, 12.3-inch fully digital combimeter (depending on trim grade). Graphics are sharp and information is clearly zoned and easy to read. The display can be adjusted to prioritise different content according to driver preference or the kind of journey being made, for example making the active ADAS function information prominent when joining a motorway. There are three pre-set layout which can be personalised using switches on the steering wheel. Quality and ease of use are enhanced by consistent use of colours, fonts for the combimeter and the multimedia display screen.
The Toyota C-HR will be available with a digital key system, where the user only has to have their phone on their person to access and start the vehicle.
The Toyota C-HR's ambient lighting system offers a wide range of colours – a choice of up to 64 – to introduce options for interior direct and indirect lighting to reflect the cabin environment – cool or warm – or the time of day. A programme of 24 changing shades has been designed, synchronised with the passing of each hour to progress from bright morning tones to more relaxing ones in the evening. The lighting scheme will also help enhance safety: the audible and visual alerts of the Safe Exit Assist system will be reinforced by interior lighting changing to red, to warn of a door being opened when there is a risk of collision with traffic or cyclists approaching from the rear. The Toyota C-HR is the first Toyota model to benefit from these extensions to ambient lighting functionality.
The all-new Toyota C-HR will be available with the Toyota Smart Connect multimedia package, including (according to model grade) an eight or 12.3-inch touchscreen, on-board voice agent and wireless smartphone connection via Apple CarPlay or Android Auto. The system will provide EV range information and local charging locations in its POI function. Owners will also be able to use the MyT smartphone app for remote control of vehicle functions, including operating air conditioning system to heat or cool the car before making a journey. The high level of innovation in the all-new Toyota C-HR includes a unique-in-class automatic parking function. An app will also be available to allow fully remote parking, with the driver outside the vehicle, allowing for even more precise manoeuvring into limited spaces.
ADVANCED SAFETY AND DRIVER ASSISTANCE
All versions of the all-new Toyota C-HR will benefit from the latest Toyota Safety Sense portfolio of active safety and driver assistance features. Their range and functionality have been extended to provide even greater safeguards against many common accident risks and to reduce the burden on the driver. For added convenience, future system software updates can be delivered over-the-air, with no need for a retailer visit.
The key developments include new Acceleration Suppression that slows any sudden use of the throttle when risk of a collision with a vehicle ahead is detected. Also new, Proactive Driving Assist (PDA) works at low speeds, providing smooth deceleration when the driver comes off the throttle when approaching a slower vehicle ahead, or entering a bend. It also provides Steering Assist, which recognises a bend ahead and adjusts steering force to help the driver make a smooth and stable turn.
Owners will also be able to choose an advanced safety package for their car, including features such as Lane Change Assist with Front Cross Traffic Alert, a Driver Monitor Camera (enhancing performance of the EDSS), an Automatic High-Beam System with camera control to adjust light distribution; and (where local regulations permit) hands-free driving to automatically follow the vehicle ahead in a stop-start traffic jam.
SUPPORTING SUSTAINABILITY AND REDUCING CARBON
Extensive measures have been taken to reduce carbon emissions and make greater use of recycled materials, supporting sustainability and the circular economy concept.
Compared to its predecessor, the new car has double the content of recycled plastics – used in more than 100 different parts. These include a new fabric for the seat upholstery that's made from recycled PET bottles.
The bumpers are formed from a new resin material that is pre-coloured in the mould – an innovation that is expected to save hundreds of tonnes of CO2. Further savings have been achieved by adopting a new automated painting process using water-based paints and by using a new animal-free material as an alternative to leather for the steering wheel cover.
Design and technology measures have also been taken to reduce the car's weight, including new high-strength steels and a new panoramic roof design. The fixed panoramic roof has low-emissive and infra-red-reducing coatings which keep heat inside the cabin in winter and prevents overheating in sunny summer weather. This avoids the need for a conventional sunshade, saving 5 kg in unit weight, improving headroom by 3 cm and reducing the need to use the air conditioning to maintain a comfortable temperature.
FOUR ELECTRIFIED POWERTRAINS
The all-new Toyota C-HR will be introduced with a choice of four electrified powertrains, a line-up that demonstrates Toyota's well-proven multi-technology path to carbon neutrality. Toyota believes that diverse options need to be offered to give customers access to affordable and practical vehicles that will accelerate the pace of CO2 reduction as of now and help ensure a successful transition to zero emission mobility.
The range comprises 1.8 and 2.0-litre hybrid electric (HEV) versions and a 2.0-litre plug-in hybrid electric (PHEV) model. The 2.0-litre HEV variant will additionally be available with the option of intelligent all-wheel drive (AWD-i).
The new models benefit from the latest, fifth generation Toyota technology which delivers a class-leading balance of increased power and low emissions, meeting the needs and priorities of customers at the heart of the C-segment market. This has been achieved with a comprehensive redesign of key hybrid system components to reduce size and mass, including a new transaxle and power control unit (PCU) and a more powerful high-voltage battery.
The 1.8-litre Hybrid powertrain, as also featured in the new Corolla family, is focused on eco performance but has significantly more power than the current 1.8-litre hybrid electric Toyota C-HR. The Hybrid 200 is an even stronger proposition, its higher output contributing to a rewarding hybrid driving experience with uncompromised efficiency.
The 2.0-litre Plug-in Hybrid – a best-in-class system – has a dual DNA: it provides effortless all-electric EV driving for daily use and highly efficient hybrid electric performance for longer trips. The system can take much of the stress out of driving, with true EV capability with a very competitive range, and with Regeneration Boost – a "one pedal"-like driving experience – with three operating levels- for easier progress in city traffic. It will also automatically adjust the drive mode to optimise energy efficiency, recognising the best opportunities for energy recharging when following a route via the car's navigation system. Thanks to the introduction of a new geofencing function, the Toyota C-HR PHEV will automatically switch to EV operation when the car enters a low emission zone (LEZ), optimising battery usage across the entire trip (when using a navigation system and sufficient battery charge is available).
The AWD-i option available on the available on 2.0-litre HEV version gives added traction and stability when pulling away, cornering, or driving on slippery surfaces, supported by an additional compact, high-torque electric motor-generator on the car's rear axle. This system can operate over a wide range of vehicle speeds and road conditions.
AGILE, RESPONSIVE HANDLING
Every aspect of the Toyota C-HR's dynamic performance has been analysed to deliver enhancements, building on the model's established reputation for nimble, agile handling. The new powertrains have been calibrated to achieve intuitive acceleration performance and controllability, with a more direct relationship between use of the throttle and the vehicle's response, increasing driver confidence and the fun-to-drive factor. Suspension, brakes and steering have also been redesigned and tuned to achieve an ideal balance between vehicle poise, ride comfort and responsiveness.
During development, the Toyota C-HR underwent extensive testing by a team of Toyota master drivers, both on track at the company's European test centre and on all kinds of roads and in different weather conditions across the continent, to ensure the best possible dynamic balance was achieved.
TOYOTA C-HR PREMIERE EDITIONS
The new Toyota C-HR will be introduced with two special Premiere Edition models, showcasing the highest levels of equipment and styling.
The GR SPORT Premiere Edition will add GR styling details, including a G-mesh pattern for the grille, new-design 20-inch alloy wheels, GR badging, "Liquid Black" ornamentation on the centre console and sports front seats with the GR logo embossed on the headrests. Its signature colour is Precious Silver in the new bi-tone execution that extends the contrast black finish from the roof across the back of the car; other colour options will be available. The equipment specification includes a head-up display and JBL premium audio system.
The High Premiere Edition has a signature Sulphur bi-tone exterior – other colours will also be available. The cabin features perforated leather seats with contrast Sulphur stitching, a head-up display and panoramic roof.
With its concept car-like design, seamless digital user experience, fully electrified powertrain range and nimble driving dynamics, the new Toyota C-HR has the qualities to maintain its position as an iconic model, attracting new customers and strengthening the Toyota brand in Europe.