Ford will soon be launching an adventurous version of its hatchback Figo. New details about the Ford Figo Cross has been revealed by Autocar India as they have already driven the prototype vehicle. The new model could be launched at the upcoming 2018 Auto Expo.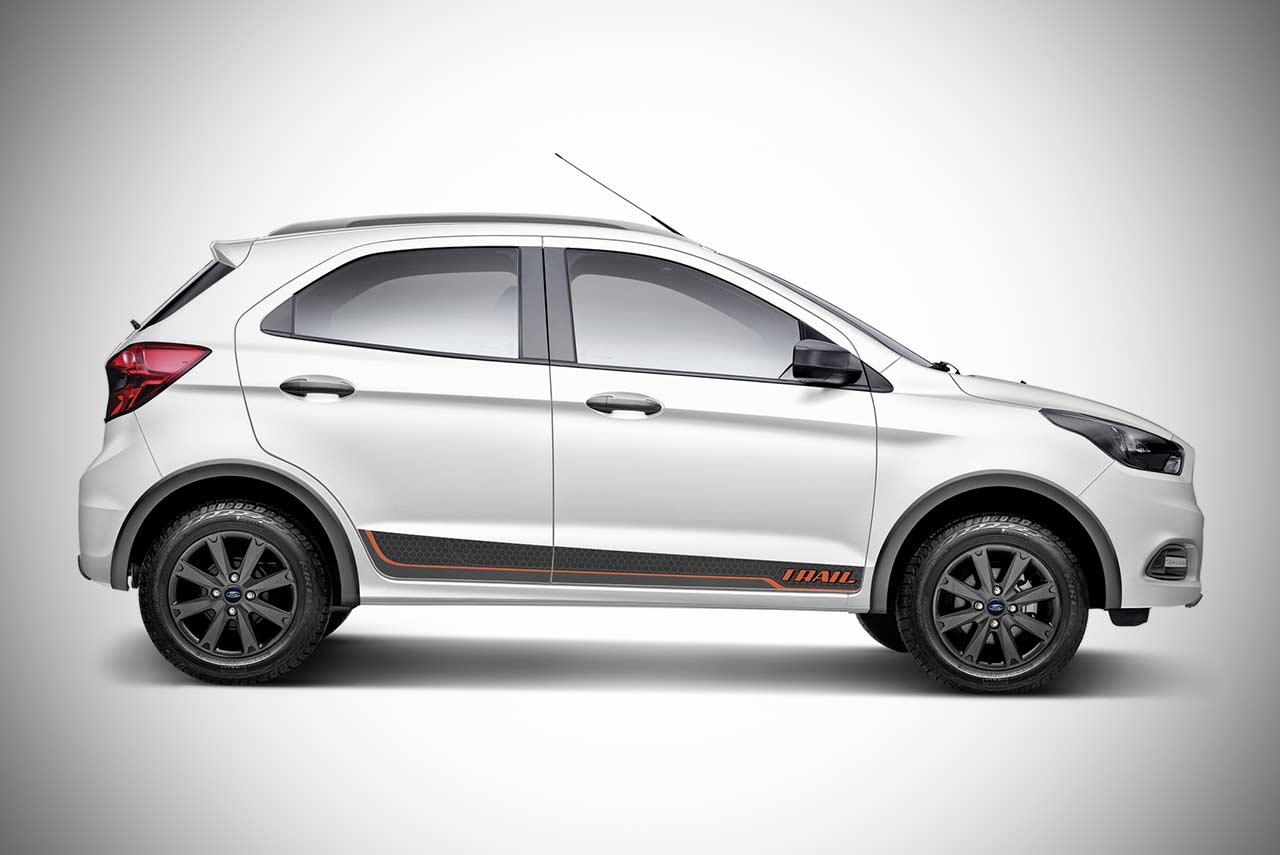 Here are 10 things that we know about the new upcoming model of the Ford Figo:
1. It could be named as Ford Figo Freestyle / Figo Cross:
The new crossover model is speculated to be either called as the Ford Figo Freestyle or Figo Cross. A similar variant is sold in Brazil under the Ka Trail branding, so the name, Figo Trail could also be on the list.
2. New Front End Design:
Camouflaged test mules have revealed that Ford designers have reworked the front fascia for the Figo Freestyle. The car will receive a new muscular hood, a more prominent grille and redesigned headlamps.
3. New Styling Elements for a Rugged Look:
The Ford Figo Cross / Figo Freestyle will receive an all-around body cladding to enhance its rugged looks. It will also ride on black alloy wheels. The crossover looks will be complemented by black roof rails, black outside rearview mirrors and black decals.
4. New Steering and Suspension setup:
Ford will provide a different steering and the suspension system for the Figo Cross compared to the standard Figo hatchback. According to Autocar India, the steering is said to be lighter at low speeds and the car is able to absorb undulations better for an enhanced ride experience.
5. Higher Ground Clearance:
The Ford Figo Cross / Figo Freestyle will have a 15 mm higher ground clearance than the regular hatchback.
6. Larger and Wider Wheels:
The Ford Figo Freestyle will also ride on larger and wider 185/60 R15 wheels.
7. Redesigned Dashboard with Touchscreen Infotainment system as standard:
Ford will provide touchscreen infotainment system as standard on all variants. While the base trims will get a 6-inch display, the top-end models will feature an 8-inch screen with SYNC 3.
8. New Ford Dragon Petrol Engine:
The new Ford 1.2-litre petrol engine from the Dragon engine family will make its debut with the launch of the Ford Figo Freestyle / Figo Cross. This naturally aspirated three-cylinder engine will be producing a class-leading power of 95 hp and a torque of 115 Nm. It will also be offered with existing 1.5-litre TDCi diesel engine which churns out 100 hp.
9. New 5-speed Gearbox:
The new petrol engine will be mated to the MX65 5-speed manual transmission from Getrag replacing the IB5 unit. An automatic variant could also be offered.
10. Six airbags, ABS with EBD, ESP:
The top-end model of the Ford Figo Cross / Figo Freestyle will be equipped with 6 airbags, Anti-lock braking system with Electronic Brake Distribution and Electronic Stability program similar to the regular Figo hatchback.
Source: Autocar India