So, your first thought would be, what in the world is something related to Game of Thrones doing on an automotive related website.
Well as the title mentions, we will be talking about what cars the characters would drive if they had one. Now I know cars and Game Of Thrones do not make sense but then in the world of imagination, anything is possible.
Before moving on to the real deal, here is a brief idea of what this show is about for people who have been living on some other planet or haven't been keeping up with the current times. So, Game of Thrones is a fantasy drama series based on George R.R. Martin's best-selling 'A Song of Ice and Fire' novel series. The TV show was created by David Benioff and D. B. Weiss and premieres on HBO in U.S. The series has a huge international fan following and viewership. If you want to know more, then well, just watch it. The Game of Thrones Season 7 has just started.
Coming back to the point, here are a few characters from the Game of Thrones series with their custom made cars that have been specially designed based on their personalities. Hope you enjoy watching them.
1. Cersei Lannister – Mercedes-Benz S600 Pullman Maybach Guard
A queen deserves the best and the Mercedes-Benz S600 Pullman Maybach Guard is just that. Similar to Cersei Lannister, the car looks elegant and imposing. The specially crafted limo gets touches of gold which adds to its luxurious character. The Guard as it is known is created to withstand attacks and protect the queen in a sticky situation. And yes, it is made from dragon-fire proof material just to be on a safer side (heights of imagination).
2. Daenerys Targaryen – Mercedes-Benz G63 AMG 6X6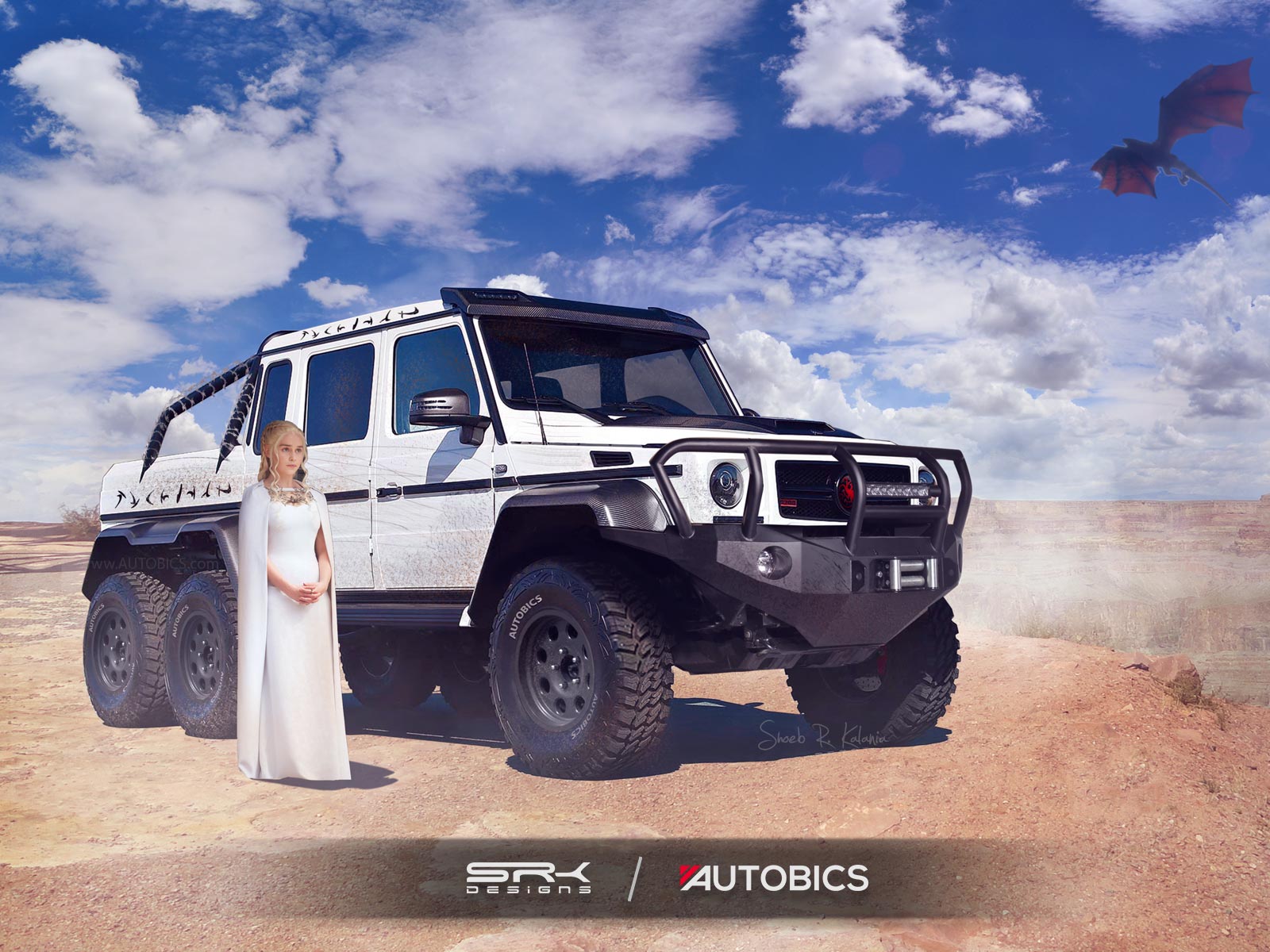 Yet another queen but this one is different and so is her choice of a vehicle. Leaving behind the comfort and luxury of a sedan Daenerys Targaryen also known as Daenerys Stormborn would happily ride in her tricked-out Mercedes-Benz G63 AMG 6X6. Just like the Mother of Dragons, the G63 AMG 6X6 has been purpose built to conquer any kind of terrain and emerge victoriously.
3. Jon Snow – Lamborghini Urus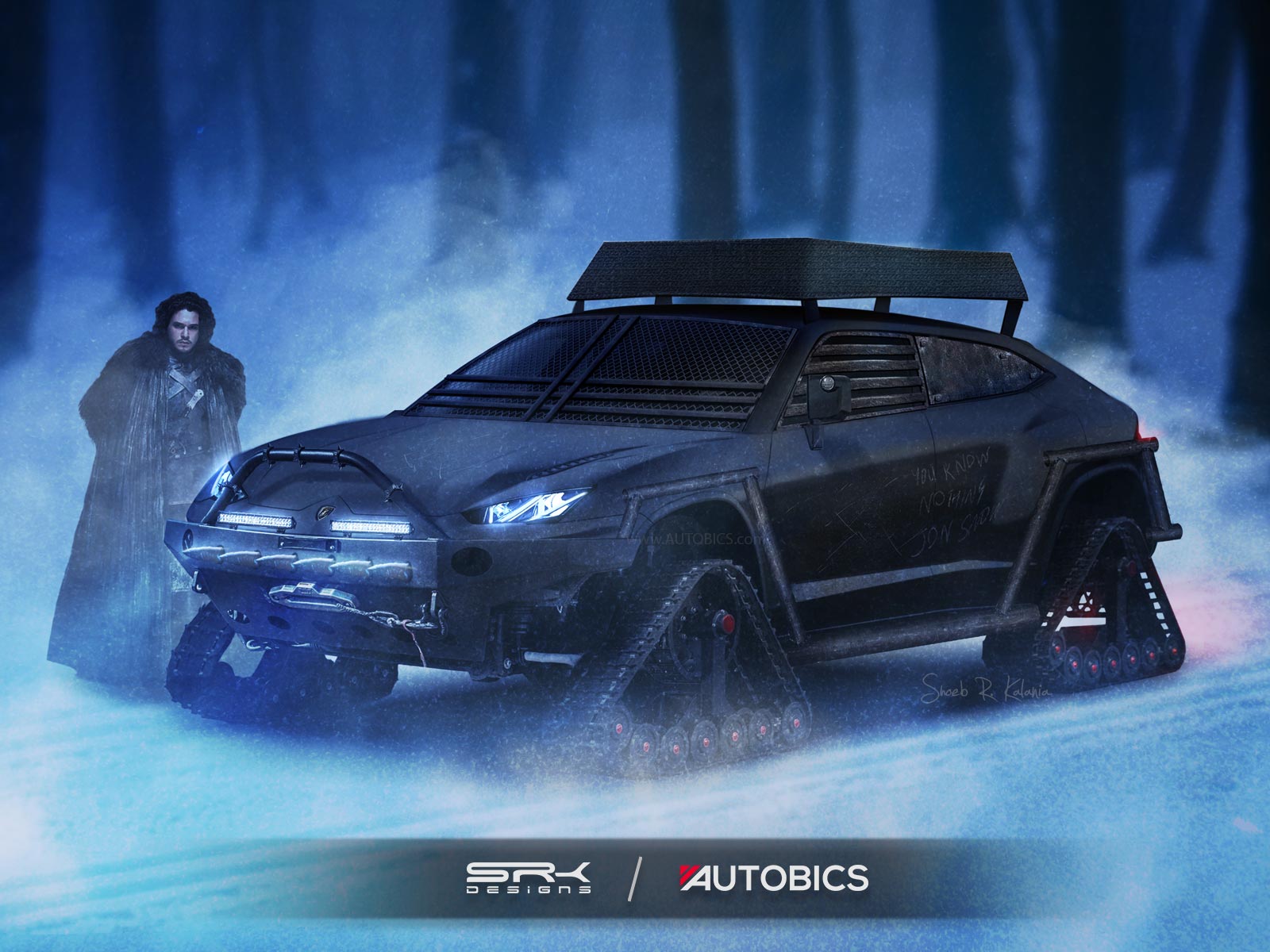 "You Know Nothing Jon Snow" but you do know which car to pick. The King of North had to have an SUV for himself but not any other except the Lamborghini Urus. Jon's Urus has been customised and comes with tank tracks that give it the ability to go anywhere. The SUV has been created from valyrian steel (Yes! Anything is possible in a fantasy world) to protect him from attacks of the white walkers and yes it also comes with Dragon Glass embedded on the front bumpers, so that he can just go past them.
4. Tyrion Lannister – Smart ForTwo
He might be small but he lives a big life. Just like him his car, the Smart ForTwo might be small but provides everything a big car would (except space). Tyrion's Smart car gets a two-tone look with a unique wooden finish and pearl white paint. Gold wire rims and the engraved gold pieces on the mirrors and tail lamp housings add to the flamboyant character of the car. Also, since the Smart was a bit short on space, a special trailer has been crafted to house Tyrion's collection of wine which he can enjoy whenever and wherever he wishes to.
5. Arya Stark – Fiat 500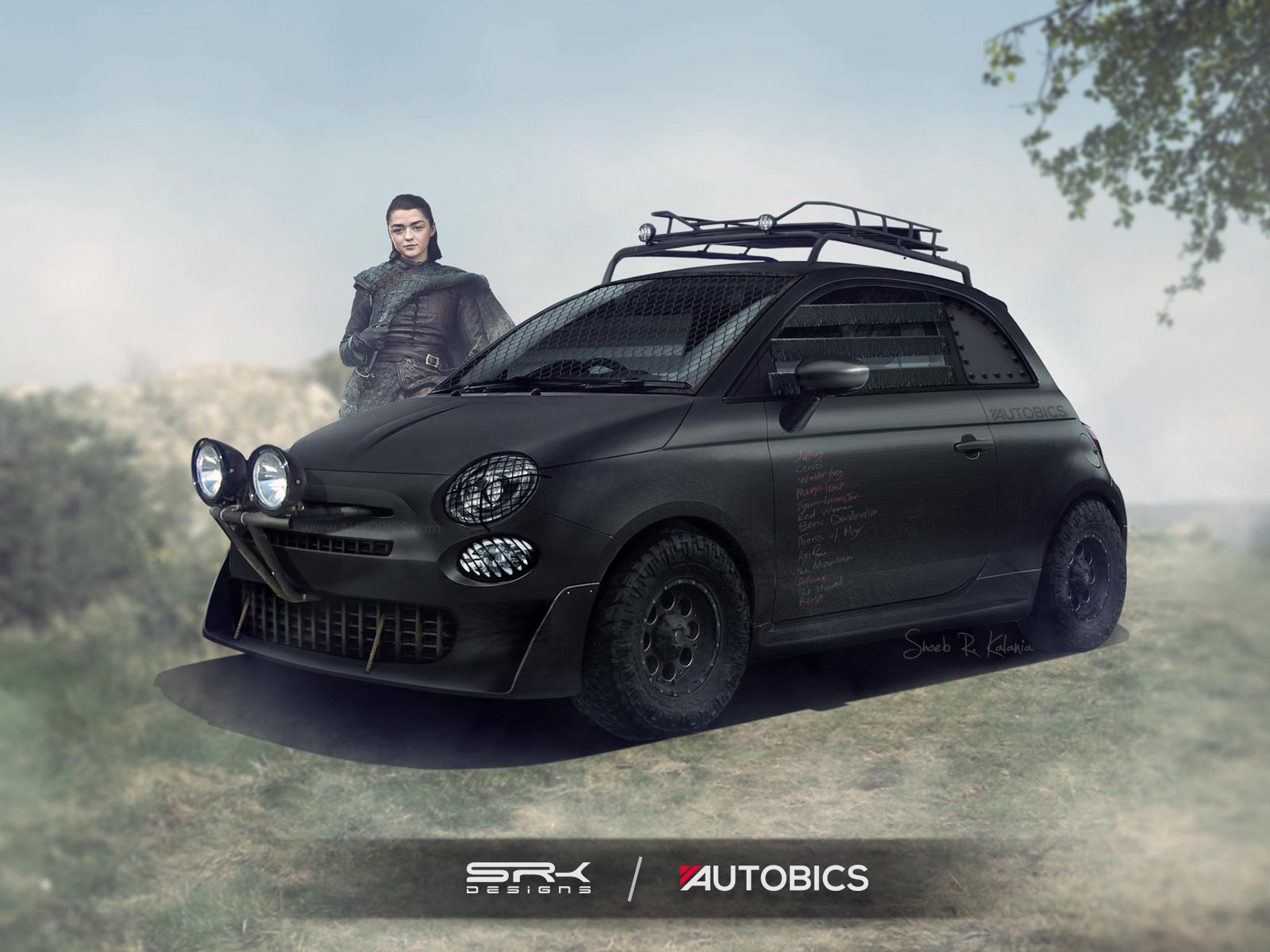 Arya Stark is always on the move. She requires something that is small and agile enough, just like her sword – Needle. What better than a Fiat 500 powered by a powerful engine from Abarth? The car has been purpose built and has no fancy stuff. It gives priority to function more than form. Just like Arya's character the Fiat 500 loses its feminine appeal and adopts a more rugged look. It is dark, mean yet cute.
---
So what do you guys think about these renderings?
If you liked this work, do share it with other Game Of Thrones fans you know.
Do provide your suggestions and thoughts on it. If you have any ideas do share them as well. I might do a few more cars on this series based on the response and update it here. So make sure you subscribe to the mailing list or join us on any of the social media channels.
Do follow us on: Facebook | Twitter | Instagram |Google+ | Youtube | Pinterest | Tumblr
<