Strengthening its AMG strategy in India further, Mercedes-Benz India the country's largest luxury car maker has launched Chennai's first and India's seventh AMG Performance Center at Trans Car India.
The inauguration of the new AMG Performance Centers in India is a part of Mercedes-Benz's current AMG network expansion plan to newer markets. It also marks the celebration of 50 years of AMG, globally. Mercedes-Benz now has 7 AMG Performance Centers in India – Mumbai, Delhi, Bangalore, Pune, Hyderabad, Kochi and Chennai.
"India is an emerging market and performance car segment has an immense growth potential in the country. We are experiencing increased interest among the discerning customers for an AMG vehicle, not only from the key metro cities but from the non-metros as well. With the inauguration of the Chennai AMG Performance Center, we further reinforce our commitment to connect with our potential customers, who seek the thrill of performance driving and the unmatched exclusivity that is associated with an AMG. The AMG Performance Center will attract ardent performance car enthusiasts, where they can choose from our vivid AMG car portfolio for the ultimate driving experience," said Roland Folger, Managing Director & CEO, Mercedes-Benz India.
"With the recent launch of the AMG GT R and the GT Roadster, Mercedes-AMG now has expanded its performance car portfolio in India to 12 products and leads the segment by holding a significant market share. The AMG Performance Center in Chennai will serve as a right place for performance car enthusiasts to experience and discover their much-aspired AMG model, concept and accessories for an unparalleled driving and ownership experience. The inauguration of an APC in Chennai also underlines the importance of Chennai market, which has been a key market for both Mercedes-Benz and AMG product," further added Mr. Folger.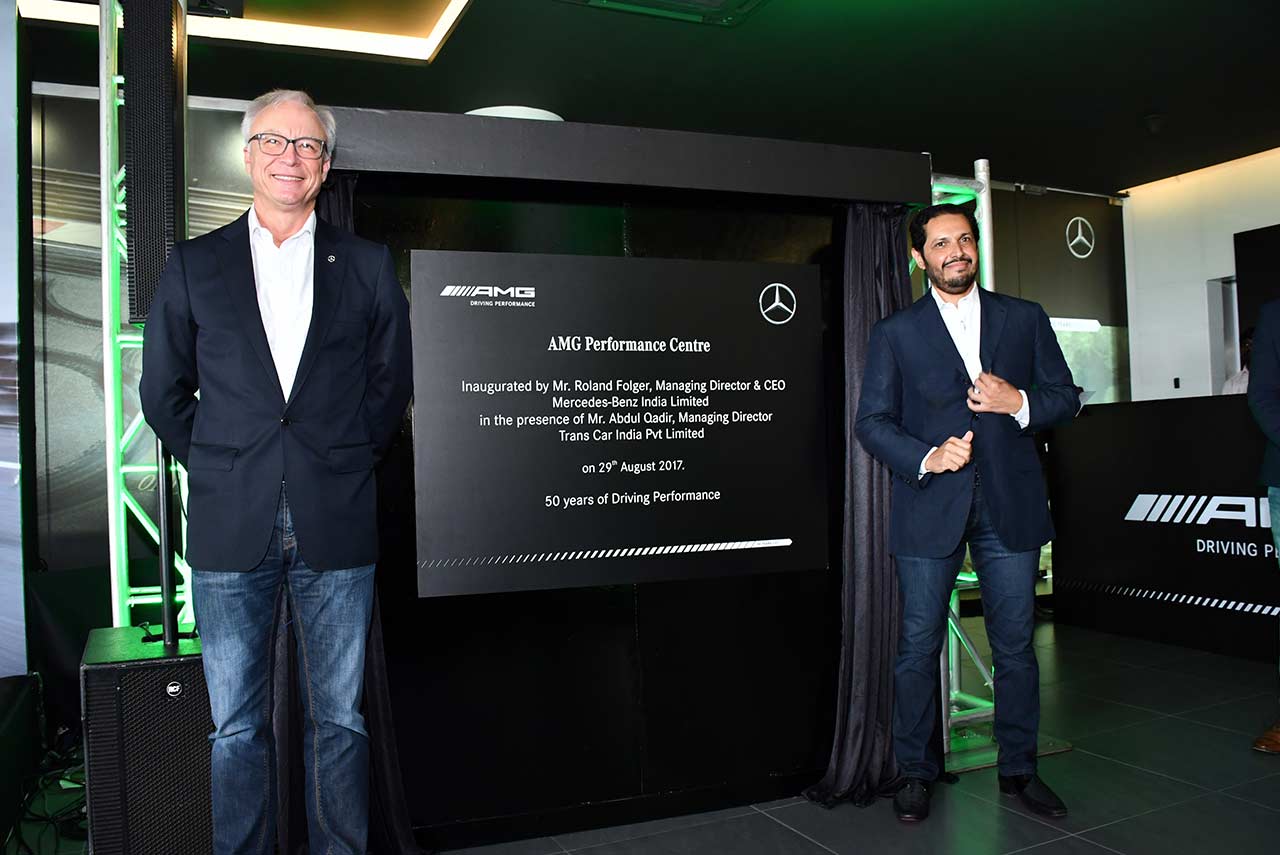 Key Highlights of the Chennai AMG Performance Center:
Full dry wall construction as per the global standard of AMG Performance Center
Dynamically flowing room, integrating free-form dry wall structure to demarcate the spaces with right angles are broken up, constantly producing new visual connection and slight lines along a fascinating spatial choreography
The Regupol flooring with tyre marks, kerbs and Pit lane marking immediately bring to mind the world of motor sport
The Shagpile carpet to create a pleasant atmosphere and improves the quality of the visit
Large textile graphics give an emotional and passionate look to the entire area for passionate enthusiasts
The interactive sound module is a guaranteed goosebump and the passionate performance enthusiasts can experience the distinctive features of the entire AMG vehicle – the sound
Exclusive boutique and accessories area with mannequin displays