Ferrari has introduced its latest offering in the Grand Tourer category in India. The company has launched the Ferrari GTC4Lusso and GT4Lusso T at the Navnit Motors Ferrari Showroom in Mumbai. Present at the launch were Mr Aurelian Sauvard, Marketing Manager, Ferrari Middle East and India, and Mr Sharad Kachalia of Navnit Motors.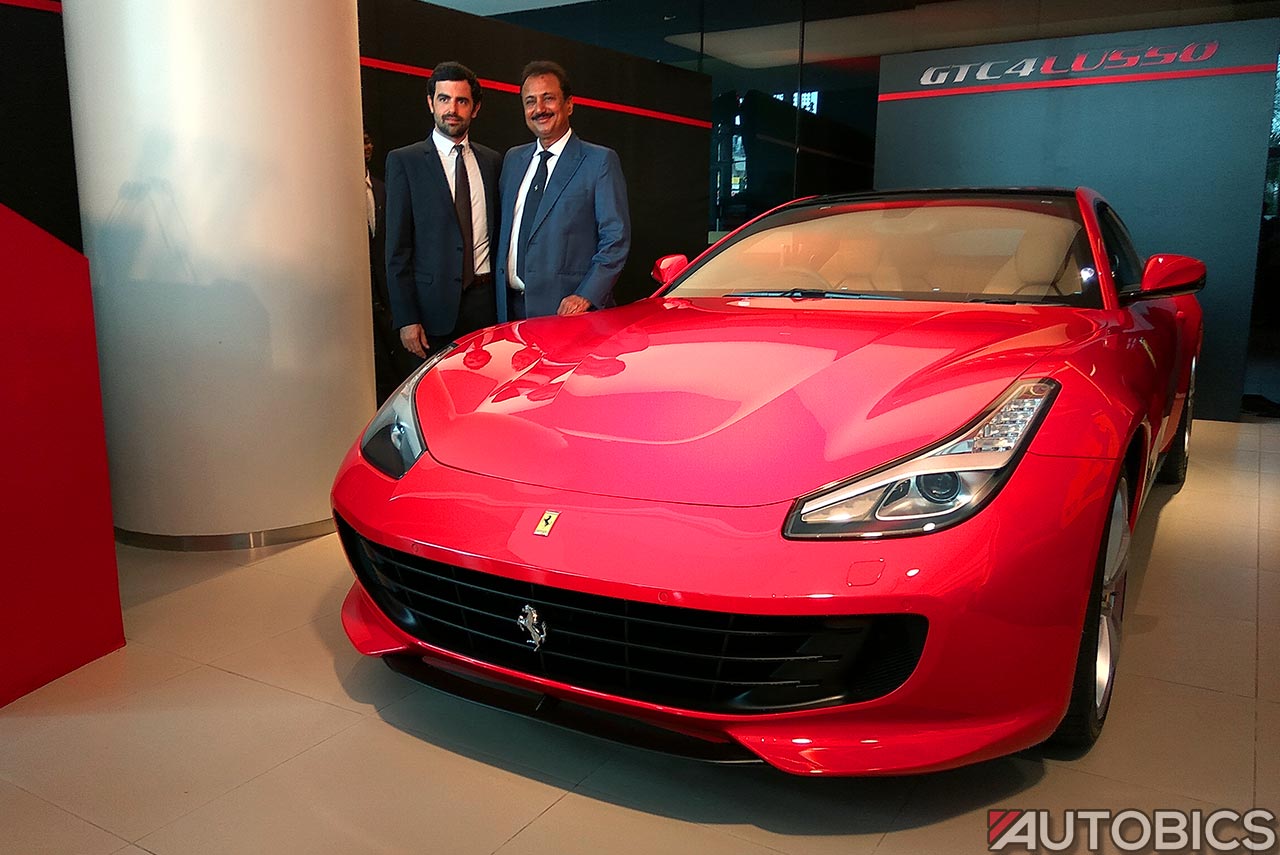 The Ferrari GTC4Lusso is Maranello's latest interpretation of the four-seater concept. The Grand Tourer combines extraordinary performance, sportiness and elegance. It is aimed at a new younger generation of Ferrari enthusiasts.
The Ferrari GTC4Lusso sports the latest evolution of the naturally-aspirated Ferrari GT V12 engine. This 6,262 cc motor produces 690 CV at 8,000 rpm and a torque of 697 Nm at 5,750 rpm. The car can accelerate from zero to 100 km/h in 3.4 just seconds
On the other hand, the Ferrari GTC Lusso T is powered by a 3,855 cc V8 engine that produces a power of 610 CV at 7,500 rpm and maximum torque of 760 Nm between 3,000 and 5,250 rpm. The car with the V8 motor can accelerate from 0 to 100 km/h in 3.5 seconds.
Transmission duty is done by a 7-speed F1 Dual Clutch gearbox. The GTC4Lusso also comes equipped with the new Ferrari-patented 4RM-S (four-wheel drive, four-wheel steering. The rear-wheel steering system is integrated with the latest evolution of the electronic controls of the SCM-E suspension, ESP 9.0 and third generation Side Slip Control (SSC3). It also gets a slotted diffuser and a rear spoiler integrated with the hatch which helps reduce drag and improve aerodynamic efficiency.
Inside the four-seater super car comes with a Dual Cockpit architecture which enhances the shared driving experience for all passengers. A great deal of attention was paid to improving in-car comfort and the cabin has been meticulously crafted using quality materials.
The Ferrari GTC4Lusso comes with new climate control and a new navigation and media system that gets a 10.2-inch HD screen with capacitive touch technology. There is also the new 8.8-inch touchscreen passenger display as well as Apple CarPlay.
Ferrari GTC4Lusso and GTC4Lusso T Price:
The GTC4Lusso was launched at a price of INR 5.2 Crore and the GTC4Lusso T priced at INR 4.2 Crore. Both prices are ex-showroom Mumbai
Ferrari GTC4Lusso Launch Image Gallery: