Toyota has unveiled the all-new Toyota Yaris Cross. The new Toyota Yaris Cross has been designed and developed for Europe, specifically to meet the requirements and preferences of the region's B-SUV market. It will be made in Europe too, at Toyota Motor Manufacturing France (TMMF), alongside the new generation Yaris hatchback, from 2021.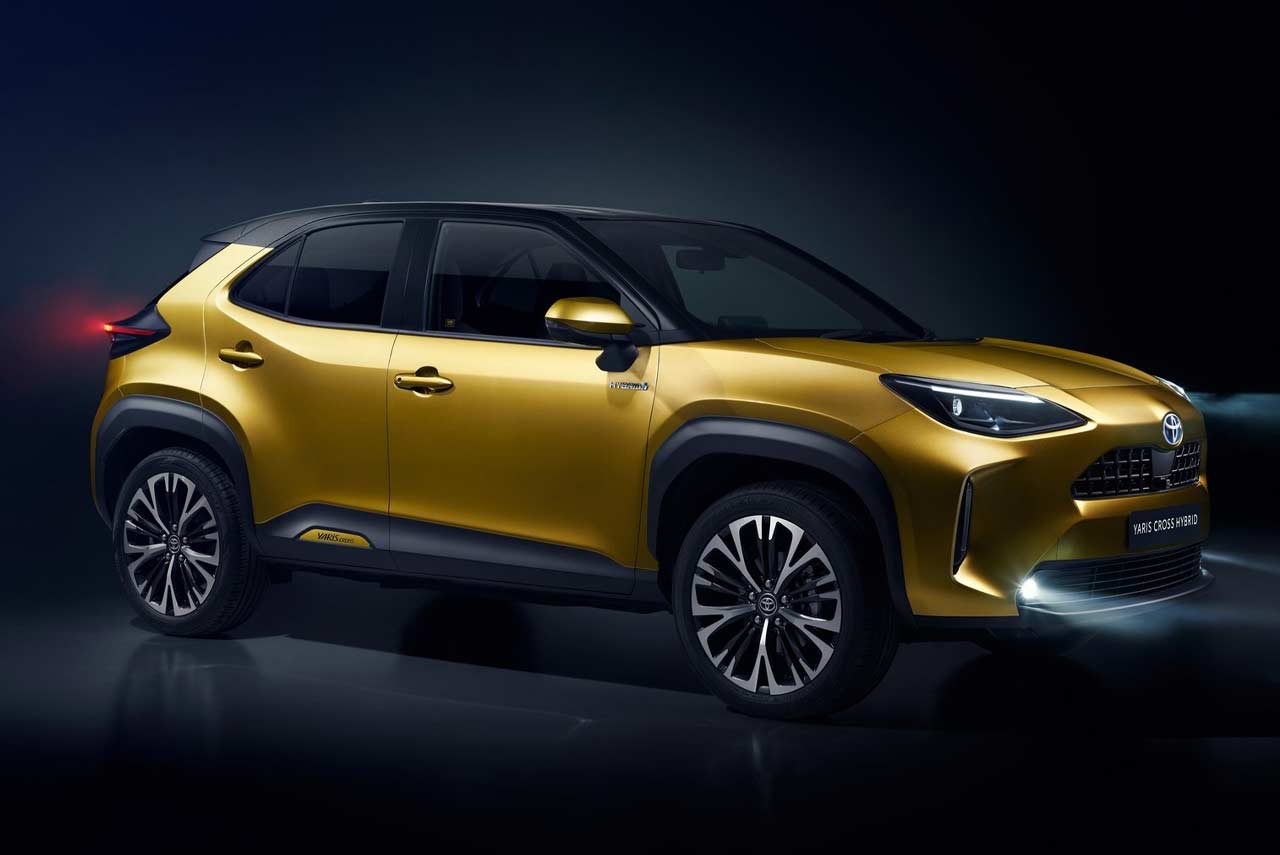 The new Yaris Cross draws on Toyota's strong heritage of advanced hybrid technology, small car design and SUV engineering. Toyota's world leadership in hybrid vehicle technology includes the first use of a hybrid system in a B-segment car with the original Yaris Hybrid in 2012. The unmatched experience it has gained ensures that Toyota Yaris Cross's new fourth generation hybrid powertrain delivers exceptional performance and efficiency.
As a member of the Yaris family, Yaris Cross is constructed on Toyota's new GA-B compact car platform. It also shares the "big-small" design and packaging concept that characterised the original Yaris, and presents a roomy interior within compact exterior dimensions.
Toyota Yaris Cross is also a genuine SUV, benefiting from Toyota's experience in originating the concept of the recreational SUV 25 years ago with the RAV4 – today the world's best-selling SUV – and more recently in producing the stylish and highly efficient C-HR. A raised ride height and the availability of AWD-i intelligent all-wheel drive reinforce its authentic SUV credentials.
The Yaris and Yaris Cross are the first models to use Toyota's latest 1.5 hybrid system, developed directly from the larger 2.0 and 2.5-litre powertrains used by recent new models such as the Corolla, C-HR, RAV4 and Camry. This features a new 1.5-litre, three-cylinder Atkinson-cycle petrol engine, precision-engineered to reduce friction and mechanical losses and optimise combustion speed. The result is high torque at low engine speeds and excellent fuel efficiency.
The engine's thermal efficiency is rated at 40%, which is greater than comparable diesel engines and ensures strong fuel economy and low CO2 emissions. The new hybrid system has a maximum output of 116 DIN hp. Special attention has been given to power delivery, making the system very responsive to drive. In terms of emissions efficiency, the front-wheel drive model starts from below 90 g/km CO2 and the AWD-i version from below 100 g/km.
Toyota Yaris Cross follows its sibling hatchback model in adopting Toyota's new GA-B vehicle platform. This ensures a high level of body rigidity and a well-balanced chassis, making the car responsive and agile. With the Yaris Cross, Toyota has produced an authentic SUV on a smaller scale, giving customers the higher driving position, practicality and interior spaciousness, they desire in a car with compact dimensions that make it well-suited to urban driving.
The design evokes the classic qualities of SUVs, with a higher body and larger wheels/tyres communicating strength and purpose. Toyota Yaris Cross has the same 2,560 mm wheelbase as the new Yaris hatchback, but is 240 mm longer overall, with 60 mm added to the front overhang and 180 mm to the rear, securing more interior space. The ground clearance is 30 mm higher and the vehicle is taller and wider overall – by 90 and 20 mm respectively.
There's a power back door for when your hands are full. And an adjustable deck height to give the flexibility of either a secure underfloor compartment or increased trunk space for larger loads. In addition, the deck board itself can be split in two, giving customers both increased space and an underfloor storage area. The trunk is also equipped with a new flex belt system to secure items and stop them shifting during driving.
Yaris Cross is just as spacious as it is practical. With all seats up and tonneau cover in place it delivers a large trunk volume. However, if more load capacity is needed, then there's a 40:20:40 foldable rear seat system to balance rear passenger space with cargo needs.\
One of the features that defines the new Toyota Yaris Cross as an authentic SUV is the availability of an intelligent all-wheel drive system – a unique feature in its class for a hybrid model.
AWD-i provides extra stability and traction in everyday driving, in poor conditions and on low-grip surfaces. An electric system, it is more compact and weighs less than mechanical AWD units, helping the Yaris Cross Hybrid AWD-i achieve lower fuel consumption and CO2 emissions than any of its all-wheel drive B-SUV competitors.
The system directs drive torque to the rear axle when pulling away and when accelerating. In normal driving, the Toyota Yaris Cross operates with front-wheel drive, but when low-grip conditions are detected, all-wheel drive is engaged automatically. This can be, for example, on wet cobblestones, in heavy rain, on wet or packed snow, or on sand.
The foundation of the new Yaris Cross's safety performance is its GA-B platform, giving the car an exceptionally rigid body. With the intention of meeting the highest and most rigorous independent test standards, it will further benefit from Toyota Safety Sense active safety systems and advanced driver assistance functions, helping to avoid a wide range of common accident risks through driver information, early warnings and, when necessary, automatic braking and steering intervention.
2020 Toyota Yaris Cross Images: