Automobili Lamborghini has lifted the covers off from its much-awaited product, the Lamborghini Urus which is the brands first ever modern SUV and also the world's first Super Sport Utility Vehicle.
2019 Lamborghini Urus Highlights:
Design, performance, driving dynamics and driving emotion – pure Lamborghini DNA
Suitable for everyday driving in a range of environments
4.0 litre V8 twin-turbo engine with 650 hp and 850 Nm of torque for maximum performance
Acceleration 0-100 km/h in 3.6 seconds and top speed 305 km/h
4WD system with active torque vectoring and four-wheel steering for perfect handling
Carbon ceramic brakes, adaptive air suspension and active roll stabilization for maximum safety and comfort
Up to six different driving modes + EGO mode available via 'Tamburo' driving dynamics selector
2019 Lamborghini Urus Images:
The Urus stays true to the concept model which was showcased back in 2012. It gets the brand's signature looks like the aerodynamic silhouette and sharp angular surfaces. Under the hood lies a 4.0 litre V8 twin-turbo engine that churns outs 650 hp (478 kW) at 6,000 rpm and 850 Nm of maximum torque at 2,250 rpm. This motor is equipped with an automatic eight-speed gearbox.
The Lamborghini Urus also has the best weight-to-power ratio at 3.38 kg/hp. This Lamborghini SUV can accelerate from 0-100 km/h in 3.6 seconds and reach 200 km/h in 12.8 seconds. It has a top speed of 305 km/h making it the fastest SUV available right now.
Stopping power for the Lamborghini Urus SUV comes from the standard Carbon Ceramic Brakes (CCB) which are the most powerful and largest. The front gets a 440 mm disc while the rear gets a 370 mm disc.
"The Lamborghini Urus is a visionary approach based on the infusion of Lamborghini DNA into the most versatile vehicle, the SUV. The Urus elevates the SUV to a level not previously possible, the Super SUV. It is a true Lamborghini in terms of design, performance, driving dynamics and emotion as well as drivable every day in a range of environments," says Stefano Domenicali, Automobili Lamborghini Chairman and Chief Executive Officer.
"The Urus fits perfectly within the Lamborghini family as a high-performance car. It is the culmination of intensive development and passionate skill to create a new breed of bull: a Super SUV that transcends the boundaries of expectations and opens the door to new possibilities, for both our brand and our customers," further added Mr. Stefano.
The Lamborghini Urus is a luxury SUV with a super sports car DNA. The SSUV takes design cues from the Lamborghini LM002 as well as the other supercars from the brand such as the Aventador, Huracan Miura, Countach and the Murcielago. It features a couple like sloping roof and adopts the two-thirds body, one-third window ratio of Lamborghini super sports cars.
The front end gets a very aggressive look thanks to the large air intakes. The sleek headlamps feature the distinctive Y-shaped DRL. The side feature very sharp lines and the YM002 inspired hexagonal wheel arches can house alloy wheels ranging from 21-inch to 23-inch which are wrapped in the specially made Pirelli P Zero Corsa tires. The Lamborghini SUV also gets frameless doors and the side air vent features an Italian flag.
At the rear, the Y- shaped LED tail lamps extend to the extreme edge enhancing the wide look of the Lamborghini Urus. The lamps are connected by a black insert with the 'Lamborghini' branding. The bottom of the bumper houses a very aggressive looking diffuser integrated with dual exhaust outlets on both the sides.
Inside, The Lamborghini Urus SUV has to be one of the most comfortable offerings from the brand. The sporty yet luxurious interior has space for five adults. The driver-oriented slim Y design of the dashboard, like the double silver wings which connect to the center console, is inspired by the LM002.
The Urus is specified with a Unicolor leather and trim in either Nero Ade or Grigio Octans and five additional optional colours. Dual-color Bicolor Elegante and Bicolor Sportivo specifications with options of both leather and Alcantara are also available.
It features a three-spoke flat-bottom steering which incorporates a vibration damper to enhance comfort in all driving conditions. It also gets the red started button and next to it lies the mode selector from which the driver can choose to opt from a range of driving modes which include the new Sabbia (Sand), Terra (Off-Road), and Neve (Snow) modes along with Strada, Sport, Corsa modes.
The SUV is also equipped with Lamborghini's four-wheel drive system which makes driving responsive and safe. The Torsen central self-locking differential provides maximum control and agility in all driving conditions. It also gets active torque vectoring via a rear differential, electromechanical active roll stabilization system, adaptive damping system.
Other key features of the Lamborghini Urus SUV include High Beam Assistant system, Front and rear parking sensors, Cruise control, PreCognition system, Traffic management systems, top-view camera and a trailer coupling mode.
It also gets electrically operated tailgate, Easyload Assist, Lamborghini Infotainment System with Apple CarPlay and Android Auto connectivity and 18-way fully-electric front amongst other features.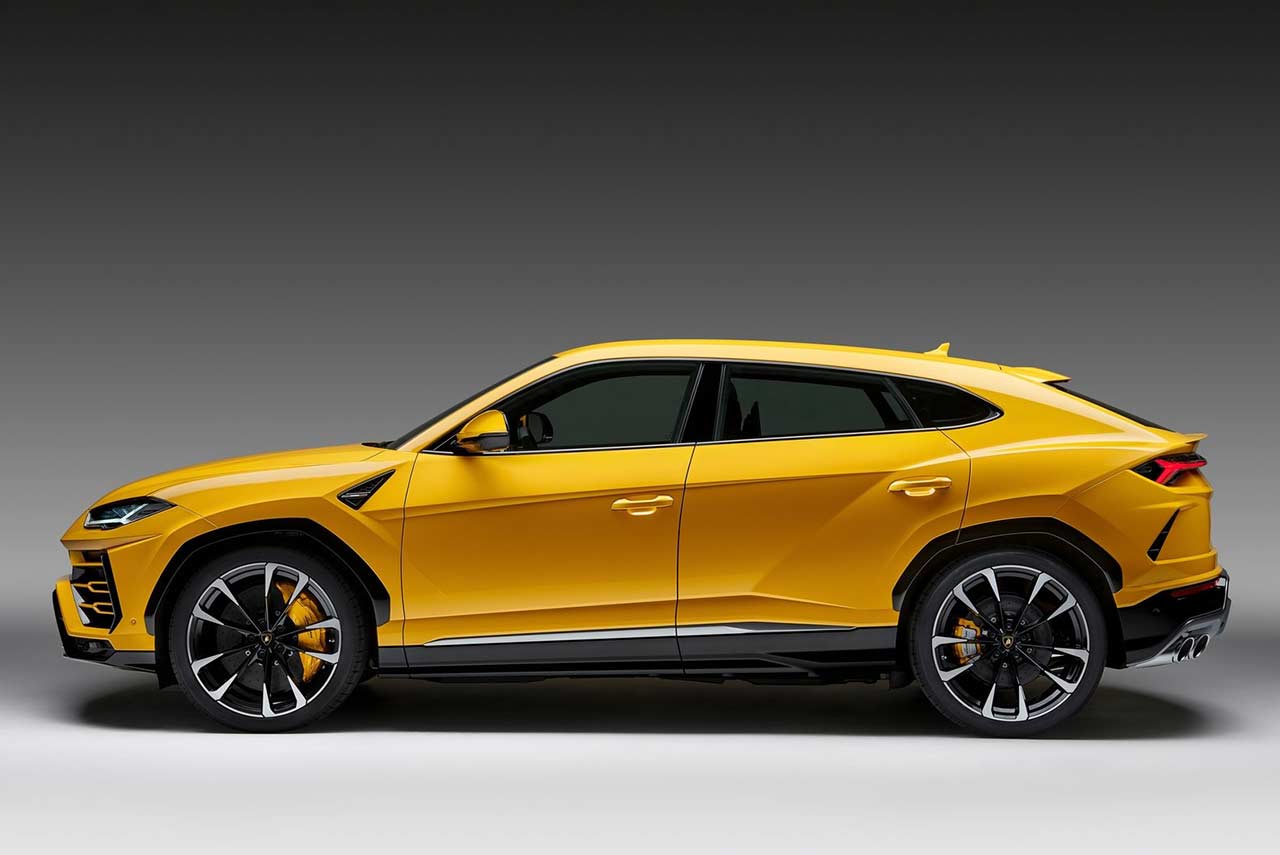 2019 Lamborghini Urus Price:
The first customers will take delivery of the new Lamborghini Urus in Spring 2018 at suggested retail prices as follows:
Europe: EUR 171,429.00 (suggested retail price, taxes excluded)
Italy: EUR 168,852.00 (suggested retail price, taxes excluded)
UK: GBP 131,500.00 (suggested retail price, taxes excluded)
USA: USD 200,000.00 (suggested retail price, VAT/GST excluded)
China: RMB 3,130,000.00 (suggested retail price, taxes included)
Japan: YEN 25,740,000.00 (suggested retail price, taxes excluded)
2019 Lamborghini Urus Colors:
The Urus gets 3 options in Solid finish: Nero Noctis, Giallo Auge, Bianco Monocerus and 10 options in Metallic finish: Nero Helene, Marrone Alcestis, Blu Astraeus, Bianco Icarus, Grigio Lynx, Verde Hebe, Blu Eleos, Grigio Nimbus, Rosso Mars, Rosso Anteros
2019 Lamborghini Urus Engine Specifications:
Type: Petrol V8, 90°
Displacement: 3996 cc
Valve per cylinder: 4
Turbocharger: Bi-turbo twin-scroll
Maximum power: 650 hp (478 kW) at 6,000 rpm
Specific power output: 162.7 hp/l
Maximum torque: 850 Nm at 2,250-4,500 rpm
Maximum rpm: 6,800 rpm
Type of transmission: 4WD with integrated front differential, central differential (Torsen) and active torque vectoring rear differential
Gearbox: 8-speed automatic gearbox, characteristic depending on drive mode
2019 Lamborghini Urus Performance:
Top speed: 305 km/h
Acceleration 0-100 km/h [0-62 mph]: 3.6 sec.
Acceleration 0-200 km/h [0-124 mph]: 12.8 sec.
2019 Lamborghini Urus Dimensions and Weight:
Overall length: 5,112 mm
Overall width (excluding mirrors): 2,016 mm
Overall height: 1,638 mm
Wheelbase: 3,003 mm
Track (front – rear): 1,695 mm – 1,710 mm
Ground clearance: 158 mm – 248 mm (adjustable via air suspension)
Curb weight: 2,200 kg
Weight-to-power ratio: 3.38 kg/hp
For more details you may refer the 2019 Lamborghini Urus press release attached.